Navigation
Biography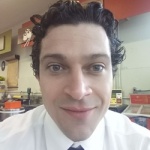 Yan de Oliveira Carvalho was born in Rio de Janeiro, Brazil. I have a BA in Business Management from Pennsylvania University in the USA and an M.B.A. from Universidad Europea de Madrid as well as a certificate in Marketing Communication in Canada.

Yan is a world citizen having had the opportunity of living in more than 10 different countries throughout his life and his passion for culture, language, and history has manifested itself due to his international experience.

He is fluent in 5 languages and currently lives in Rio de Janeiro working as a professional translator of English, Spanish and French into Brazilian Portuguese.

Even Though I studied business in my early educational career, I've always thrived in humanities, history, and language classes, a passion that has permeated and only grown throughout my life.

I'm currently pursuing a Postgraduate degree in History, Philosophy, and Sociology as well as a professional certificate in Translation while teaching languages and working as a professional translator.

My main interests are literature, history, and linguistics of Latin America and Latin-derived languages.

Analytics
11,870 pageviews on this user's contributions