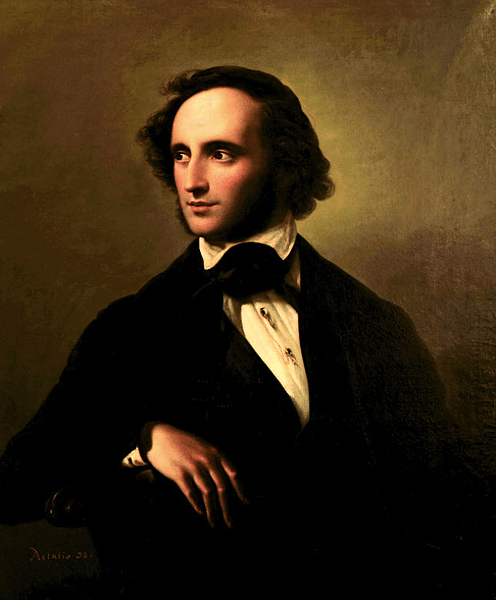 Felix Mendelssohn (1809-1847) was a German composer of Romantic music best known for his symphonies, overtures, concertos, piano pieces, and songs. Amongst his most popular works are his Wedding March from his score for A Midsummer Night's Dream and the rousing 'Fingal's Cave' from the Hebrides Overture.
Early Life
Felix Jakob Ludwig Mendelssohn was born in Hamburg on 3 February 1809. His family was well-off; his grandfather, Moses Mendelssohn, was a noted liberal philosopher, while his father Abraham was a banker in Gebrüder Mendelssohn & Co of Hamburg. His mother Leah Saloman was from a wealthy Jewish family from Berlin. Significantly, Leah was an amateur artist and musician. Abraham added 'Bartholdy' to the family name in 1816 after he inherited an estate so as to distinguish his now Christian family (at least in appearances) from the Jewish Mendelssohns. At this time, the persecution of Jews went through various degrees with the 'lightest' form resulting in a prejudice that meant Jews could not acquire the better positions in society. It was for this reason that Abraham wished to distance his children from the Jewish faith.
The family left Hamburg in 1812 for the safety of Berlin during the Napoleonic Wars (1803-1815) when the French occupied the former city. In their new home, Abraham became a town councillor, and he had all four of his children baptised as Christians – the famed poet Heinrich Heine, another Jew-to-Christian convert, had once stated that "The baptismal certificate is the entrance ticket to European culture" (Steen, 345).
Felix was taught piano by his mother, who herself had studied under a former student of Johann Sebastian Bach (1685-1750). Felix was also given a demanding education in everything besides music, from languages to painting, and his studies began at 5 a.m. six days a week. But it was in music that Felix excelled. By the age of nine, Felix could play perfectly and without music all nine symphonies of Ludwig van Beethoven (1770-1827). In 1820, Felix joined the distinguished Singakademie music society in Berlin, which was then directed by Carl Friedrich Zelter (1758-1832). The young boy soon showed his rare talent for music, composing his own pieces by the time he was 13 and string quartet symphonies by the time he was 15.
Mendelssohn & Goethe
In 1821, Mendelssohn had struck up an unlikely friendship with the poet Johann Wolfgang von Goethe (who was then in his 70s), visiting him in Weimar, playing for the poet for several hours each day, and even dedicating his Third Piano Quartet to the greatest of German poets. Mendelssohn was inspired by Goethe's Faust, particularly the scene involving witches, to write his 1825 Octet op. 20 for strings, described by the Encyclopedia of Music as "his first masterpiece. It encompasses a range of textures and styles, from the lyrical opening theme of the first movement, to the breathless rhythms of the scherzo, with its highly contrapuntal finale (a movement inspired by the 'Walpurgisnacht' in Goethe's Faust") (Sadie, 220).
The cantata for solo, choir, and orchestra Die erste Walpurgisnacht (The First Walpurgis Night) was similarly inspired by Goethe's story of druids escaping Christianity to perform their ancient rituals in the Harz Mountains in northern Germany. Finally, the young composer also wrote an overture (or symphonic poem) inspired by Goethe's two poems Calm Sea and Prosperous Voyage.
The Scottish Symphony was inspired by a visit to the royal
palace
of Holyrood in Edinburgh.
By 1825, Mendelssohn already had an impressive portfolio of compositions, but, unfortunately, Mendelssohn's foray into opera – Die Hochzeit des Camacho (The Wedding Camacho) – only managed one performance in 1827 before being pulled by the Berlin Schauspielhaus. More successful was his overture (and later, added instrumental music) for a production of A Midsummer Night's Dream in 1826. The full work contains his famous Wedding March. In the play, the march celebrates the marriage of Theseus and Hippolyta, and it has been a popular choice for brides to walk up the aisle to their beloved ever since.
Travels & Symphonies
Travels in the 1820s saw Mendelssohn visit Switzerland, Italy, France, and Britain. These trips inspired the composer to create his five symphonies, which have acquired a rather confusing numbering that does not reflect the order in which they were composed.
Mendelssohn conducted his First Symphony in C minor in 1824 at the Philharmonic Society in London. Written when he was still a teenager, the symphony is described by the music critic Colin Anderson as "a work of energy, emotionalism and beauty. Classical but bursting with exuberance, the final bars being particularly jubilant."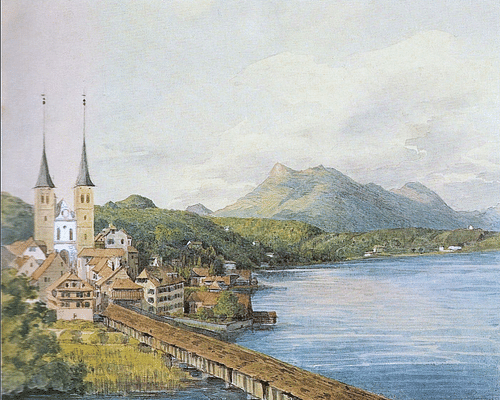 The Second Symphony (actually composed after the 3rd and 4th) was completed in 1840 and was played in Leipzig to commemorate the 400th anniversary of the printing press invented by Johannes Gutenberg (c. 1398-1468). The symphony is sometimes called the Lobgesang (Hymn of Praise) since it contains choral elements based on biblical texts.
The Italian Symphony (No. 4) and the Scottish Symphony (No. 3), although completed much later (1833 and 1842, respectively), were inspired by Mendelssohn's tours to those countries. The Italian Symphony has a memorable finale, which strongly reminds of the saltarello, a Neapolitan dance.
Mendelssohn was much more like a modern conductor than his peers, insisting his orchestra played together to create a distinctive sound.
The Scottish Symphony, inspired by a visit to the royal palace of Holyrood in Edinburgh, was dedicated to Queen Victoria (r. 1837-1901) and displays an experimental linking of the movements and repetition of themes. Another piece inspired by the dramatic landscape of Scotland, in this case, Fingal's Cave on the Isle of Staffa, which Mendelssohn visited, was Die Hebriden - Fingals Höhle (The Hebrides) overture (1830), The work was actually an extension of an 1829 piece by Mendelssohn titled The Lonely Island (Die einsame Insel). The piece "contains descriptive passages in which the waves crashing on the shore are depicted and, more poetically, the mystery of Fingal's Cave is hinted at by echoing instrumental fanfares" (Sadie, 229).
Mendelssohn's Fifth Symphony (so-called only because it was published after the other four), was actually completed in 1830. It is often called the 'Reformation' Symphony since it was commissioned to celebrate the presentation of the Augsburg Confession to Charles V, Holy Roman Emperor. As it happened, political events meant the occasion never took place as intended. The finale of the 5th Symphony is inspired by the choral Ein' feste Burg ist unser Gott (A mighty fortress is our God) written by Martin Luther (1483-1546).
Character & Family
The music historian C. Schonberg gives the following summary of Mendelssohn's talents, which developed faster even than those of other child prodigies like Wolfgang Amadeus Mozart (1756-1791):
He was one of the finest pianists of the day, the greatest conductor…perhaps the greatest organist. Had he wanted to, he could have been one of the great violinists. His ear was perfect, his memory all-encompassing. In addition, he was a humanist – cultured, widely read, interested in poetry and philosophy…But he never lived up to his initial creative promise. A certain conservatism, an emotional inhibition, kept him from reaching the heights.

(229)
Schonberg goes on to give the following description of Mendelssohn's appearance and character:
He grew up to be the epitome of the wealthy German bourgeoisie, and he grew up with nature on his side, for he was a handsome, high-spirited young man, lithe and active, with an aristocratic bearing, a high forehead, curly black hair, and a refined, expressive face. He was well-bred, somewhat snobbish, rather priggish later in life, distrusted exuberance, enjoyed a quiet family life…

(230)
Mendelssohn was extremely talented but also "almost obnoxiously self-assured and this manifested itself in him being prim, intolerant and dogmatic. He was highly strung, irritable and moody" (Steen, 342). Further, he "was not always tactful or patient in his dealings with orchestras and administrators" (Arnold, 1163). He was much more like a modern conductor than his peers, insisting his orchestra played together to create a distinctive sound and never slow to highlight a mistake. Mendelssohn was also a keen painter, capturing scenes from nature in watercolours.
Mendelssohn had a close relationship with his eldest sister Fanny Cecilia Mendelssohn (1805-1847). Fanny was a musician and composer, too, Felix once said that she was better at playing the piano than he. Some of Fanny's compositions were published under her brother's name since the conventions of society at that time prevented adult females from becoming known as musicians. Indeed, both her brother and father forbade Fanny from publishing work in her own right. Corresponding almost daily in some periods, Fanny became Felix's great confidante.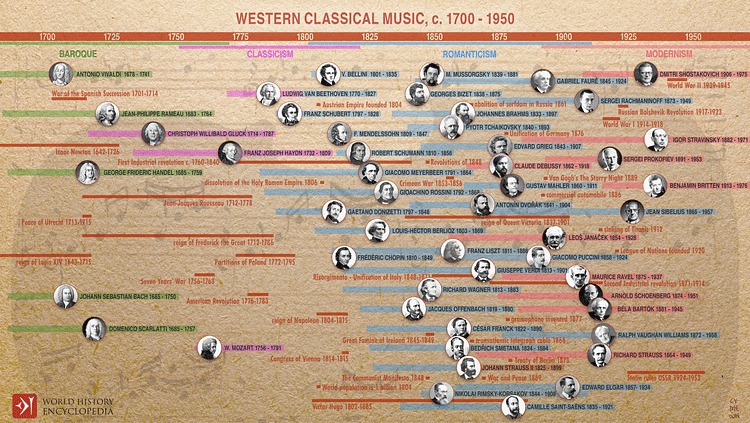 Mendelssohn married Cécile Jeanrenaud in March 1837 in Frankfurt; she was the daughter of a minister in the French Reformed Church. The couple had five children together, but so concerned were the family with keeping their private life private, very little is known of their relationship beyond that it was seemingly a happy one.
Promoting Other Composers
Mendelssohn made a significant contribution to the history of music not only by composing but also in promoting the works of others. He was both the director and conductor of the Lower Rhine Music Festival, held in Düsseldorf, and, from 1835 until his death, the Gewandhaus Orchestra in Leipzig. In both these roles he promoted less well-known works by such noted composers as George Frideric Handel (1685-1759). Mendelssohn discovered many of the 'lost' choral works by Johann Sebastian Bach. The works had been diligently kept by Bach's musical descendants and others, but Mendelssohn dug them out and began to perform them again, reviving a lasting interest in the Baroque composer. Mendelssohn conducted a performance of Bach's St. Matthew Passion in Berlin in March 1829, for example, an enterprise made possible with the help of the baritone and actor Eduard Devrient. The composer was tickled at the irony: "To think that it should be an actor and a Jew that have given back to the people the greatest Christian work" (Steen, 348). Mendelssohn also conducted the premiere of Franz Schubert's "Great" C major Symphony on New Year's Day 1839.
Mendelssohn was also the guest conductor at the 1837 Birmingham Festival. As a conductor and director of important music institutions, Mendelssohn championed the works of several contemporary composers and musicians. Robert Schumann (1810-1856), Clara Schumann (1819-1896), Anton Rubinstein (1829-1894), and Joseph Joachim (1831-1907) all benefitted from exposure given to them by Mendelssohn.
Mendelssohn was an innovator on and off the podium: he increased the number of musicians in his orchestra from 40 to 50 and ensured each player secured a pension. He got rid of the fashion of interrupting symphonies with a musical interlude which had nothing whatsoever to do with the main performance. Mendelssohn also guest-conducted across Europe, and he was influential on the next generation as hundreds more musicians studied at the Leipzig Conservatory, which Mendelssohn founded in 1843.
All of these conducting, teaching, and administrative duties did have an effect on Mendelssohn's composing, and he produced far fewer major works and concentrated on songs and chamber music in the late 1830s and early 1840s. Mendelssohn compiled eight books of songs in a format known as Lieder ohne Worte (Songs Without Words) as they were instrumental pieces composed for the piano. The composer explained why he did not want words to his music:
Even if, in one or other of them, I had a particular word or words in mind, I would not want to tell anyone, because the same word means different things to different people. Only the song says the same thing, arouses the same feeling, in everyone – a feeling that can't be expressed in words.

(Steen, 354)
In 1842, Mendelssohn did finally find time to complete his Scottish Symphony. His Violin Concerto, considered by many to be the first masterpiece of Romantic music in this form, was finished in 1844 after working on it for six years. In 1846, the Elijah oratorio was performed at the Birmingham Festival and in Manchester and London, another piece that had been in limbo for many years. Elijah was well-received, and there were plans to run another six performances of it in 1847 with Mendelssohn conducting, but tragedy intervened.
Mendelssohn's Most Famous Works
The most famous works by Felix Mendelssohn include:
5 symphonies
2 piano concertos
8 books of songs
A Midsummer Night's Dream instrumental music (1826 & 1842)
Octet op. 20 for strings (1825)
Hebrides overture (1830)
St. Paul oratorio (1836)
Violin Concerto (1844)
Elijah oratorio (1846)
Death & Legacy
Fanny Cecilia Mendelssohn died of a stroke in Leipzig in May 1847. Felix was greatly distressed by the sudden loss. The composer took a break from his hectic schedule and visited Scotland; he later wrote his Quartet No. 6 in F Minor in his sister's honour. Mendelssohn had been overworking himself, and he remained badly affected by the death of Fanny. In addition, the composer had been experiencing bad headaches for quite some time. He then suffered a stroke, but one that was not immediately fatal or with significant consequences. A period of recuperation in Switzerland was ineffective, and a second stroke in September 1847 left him partially paralyzed. A third stroke came on 3 November. Felix Mendelssohn died in Leipzig on 4 November 1847, he was just 38 years old. The composer was buried in Berlin next to his sister.
In the 20th century, Mendelssohn was often cited as a composer of limited range and one who was rather too predictable. This criticism continues today from some quarters. It is too easy to see the construction of his music, which is too easy on the ears to be considered truly innovative, truly Romantic. Perhaps Mendelssohn was rather too skillful in making his music seem effortless. Richard Wagner (1813-1883) described Mendelssohn's music as "so clear, so smooth, so melodious, as definite in form as a crystal, but also just as cold" (Steen, 362). Then again, Robert Schumann (1810-1856) once described Mendelssohn as "the Mozart of the 19th century" (Wade-Matthews, 358). Now the drama of the 20th-century music revolution has passed, Mendelssohn is once again being appreciated as perhaps he should be, his one-time faults now seen as strengths. Schonberg explains Mendelssohn's enduring popularity as down to him being a "sweet, pure, perfectly proportioned master" (241).