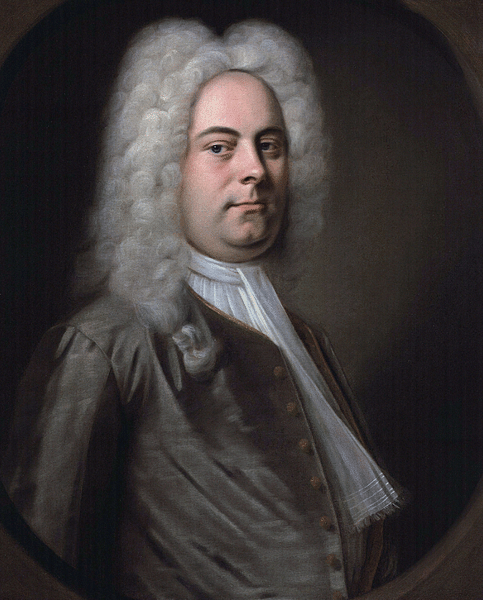 George Frideric Handel (1685-1759) was a composer of baroque music who was born in Germany but became an English citizen. His most famous works include his Messiah, Water Music, baroque Italian operas, and English oratorios. A hugely successful composer in his own lifetime, his last years were blighted by blindness. He is buried in Westminster Abbey.
Early Life in Halle & Hamburg
George Frideric Handel (Georg Friederich Händel before he anglicized his name) was born in Halle in Germany on 23 February 1685. His father was a surgeon-barber, and his mother was the daughter of a pastor. George learnt to play the organ under Friedrich Wilhelm Zachow (1663-1712), but music was not the focus of his education. Handel followed his late father's wishes and studied law at the University of Halle in 1701 but maintained his interest in music by performing his duties as the deputy organist of the city's cathedral. Handel's family had turned down the opportunity of a paid study period in Italy for Frideric, but his mind was now made up to pursue a full-time career as a musician. Handel was about to be promoted to become the official cathedral organist when he decided that Halle was not for him.
Handel left Halle for Hamburg in 1703, the centre of opera in Germany, and he got a job as the second violinist in the orchestra of the city's opera house. He did well and was promoted to maestro al cembalo, effectively the main conductor's deputy. That Handel took his opera seriously is evidenced by a curious incident involving the singer and composer Johann Mattheson (1681-1764). Handel and Mattheson argued over a part in one of the latter's operas and the two fought a sword duel in 1704 outside the theatre. Mattheson smashed his sword when he struck a coat button of Handel's and so, in the end, neither party was injured, and they made up.
Handel soon began to write operas of his own. Almira and Nero were both premiered in 1705. The former work was a success and the latter not at all. Handel was offered a permanent position at Hamburg's opera house, but he preferred instead to travel to Italy in order to try and learn more about the craft of writing opera from the country that was its home. Handel arrived in Florence in the autumn of 1706.
The Chandos Portrait of George Frideric Handel
Move to Italy
The composer secured the patronage of Prince Ferdinando de' Medici, which allowed him to write another opera, Rodrigo, in 1707. Rodrigo premiered in Florence and was a success. Moving on to Rome, Handel found another wealthy patron in Cardinal Pietro Ottoboni, which allowed him to learn the requirements of sacred music for Catholic church services. He wrote many cantatas in this period, and Il trionfo del Tempo e del Disinganno (1707), his first oratorio. While in Rome, Handel met fellow composer Arcangelo Corelli (1653-1713) and the Scarlatti family of musicians. Handel composed his first oratorio based on the Resurrection, and this was performed at the Palazzo Bonelli on Easter Sunday 1708. Handel next visited Naples and stayed a while in Venice where he wrote his opera Agrippina. The work was staged as part of the 1710 carnival celebrations and ran for an impressive 27 nights.
HANDEL'S ROUSING ANTHEM ZADOK THE PRIEST HAS BEEN PLAYED AT EVERY BRITISH CORONATION SINCE 1727.
In 1710, Handel left Italy and took up his appointment as the Kapellmeister at the court of George Ludwig, Elector of Hanover, future George I of Great Britain (r. 1714-1727). This role meant Handel was the director of all musical affairs at the court, and he was expected to regularly compose new works. He did not stay long since he secured from the Elector the right to take one year off, actually a condition of accepting the post in the first place. Accordingly, Handel moved to London in 1711.
Handel might have changed countries a few times, but his interest in opera remained constant. He eventually wrote over 40 operas, often lifting pieces of music from other composers, a common enough practice at that time. Opera in Handel's time was baroque opera, that is, the performance was more like a staged concert than the acted dramas of later opera composers like Giuseppe Verdi (1813-1901) and Giacomo Puccini (1858-1924). Baroque operas have very little action, and it is the music which defines the mood of the various scenes which tell the story of biblical or mythological characters. In addition, the audience came above all to enjoy vocal performances, and so a composer had to consider that in his production.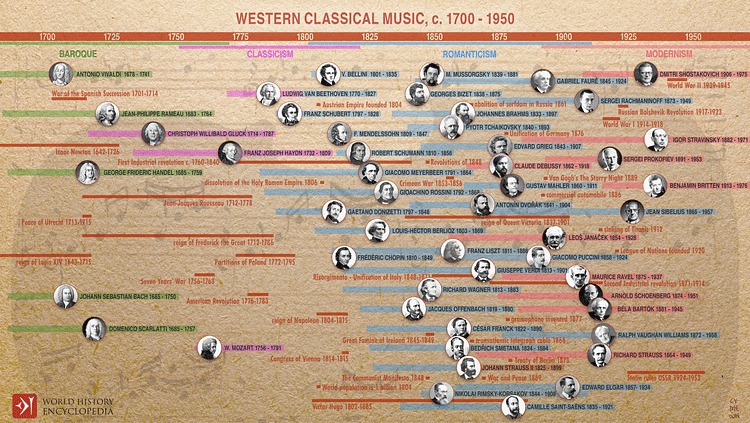 Handel composed Rinaldo, which was premiered at London's Queen's Theatre in February 1711. The opera was a success thanks to the music but also some theatrical touches such as releasing a number of sparrows during the aria Augellati (Little Birds). Highlights of the opera were published, and it was restaged in Dublin a few months later. After his year was up, Handel returned to his duties in Hannover, where he found time to compose a series of overtures and concerti grossi (orchestral works where there is an interplay between the orchestra and soloists). By the latter stages of 1712, Handel had convinced his employer to allow him to take another extended period of leave to visit England again.
Handel's opera Il pastor fido (The Faithful Shepherd) was staged at the Haymarket Theatre in London in 1713. The work was not a success, with some critics lamenting the shortness of the production. Handel responded with Teseo, an opera with five acts telling the legend of the Greek hero Theseus. Handel wrote his Te Deum and Jubilate to commemorate the conclusion of the War of the Spanish Succession (1701-1715). The composer's talents were appreciated by Anne, Queen of Great Britain (r. 1702-1714), and she awarded the musician a pension for life. When Queen Anne died in 1714, the new monarch was Handel's old master in Hannover. Instead of having to return to Germany, Handel could now remain in England indefinitely.
In England, the early death of the composer Henry Purcell (1659-1695) had left a void, and George I became an enthusiastic supporter of music in his new realm. The king commissioned Handel in 1717 to produce the celebrated suite of orchestral movements later collectively called Water Music. This music was played by an orchestra of 50 musicians as the royal party sailed the River Thames to a picnic and then back again to Whitehall. Handel's Water Music consists of 20 pieces, but it is the six which were collected into a suite by Hamilton Harry in 1922 which are best known.
The king also employed Handel to teach music to his granddaughters and doubled the pension Anne had awarded him. George I's support of music was seen in his large donation to found Handel's Royal Academy of Music in 1719. The Academy was supported by a group of 62 subscribers with the idea that Handel would be its resident composer and there would be a focus on opera productions. Handel certainly met expectations and composed 14 Italian operas, which were performed by some of Europe's finest singers. The audiences were wowed by unforgettable spectacles of works like Giulio Cesare (1724), Tamerlano (1724), and Rodelinda (1725), but eventually, the tremendous costs of the productions and above all the exorbitant salaries of the star performers put the Academy and Handel personally into serious financial difficulties. Things were not helped by rivalries, such as between the two sopranos Francesca Cuzzoni and Faustina Bordoni who actually fought on stage during one performance – one wonders how long it took the audience to realise these extra theatricals were not part of the libretto.
Handel developed what has become known as the English oratorio – a sort of toned-down opera with a religious focus.
The composer had other rich patrons besides the king. The Duke of Chandos commissioned Handel to write his 11 Chandos Anthems, the Acis and Galatea masque (a short opera), and the Esther oratorio. Royal patronage continued under George II of Great Britain (r. 1727-1760). At the king's coronation in Westminster Abbey on 11 October 1727, four new pieces by Handel were played, including the rousing anthem Zadok the Priest, which has been played at every British coronation since. 1727 was also the year in which Handel became a naturalized English citizen.
Through the 1730s, Handel wrote many new and successful operas, including Ariodante (1735), Alcina (1735), and Atalanta (1736), but there were many failures, too, and the strain was beginning to tell. In April 1737, the composer suffered a minor stroke. Handel recuperated in the spa town of Aix-la-Chapelle (Aachen) in Germany. He recovered sufficiently to compose music for the funeral of George II's wife Queen Caroline in November; the piece included the anthem The ways of Zion do mourn.
The Messiah
Handel's organ concertos in locations like London's Covent Garden were a great success, and he turned more and more to this kind of instrumental music instead of opera in the 1740s. He developed what has become known as the English oratorio – a sort of toned-down opera with a religious focus – which reached its climax with his Messiah of 1742. Here Handel incorporated into standard sacred music performance elements from opera such as the recitative aria, and he gave a much greater emphasis to the orchestra and choir at the expense of the soloists. Handel wrote The Messiah oratorio in three weeks. The music is set to text by Charles Jennens adapted from the Bible and Prayer Book Psalter. The Messiah was first performed in April 1742 in Dublin. In later performances, such as the annual Foundling Hospital performances of the 1750s, Handel expanded the number of performers involved, a trend of ever-bigger productions that continued through the 19th century. Undoubtedly the most popular segment is the rousing 'Hallelujah' chorus, which has become forever associated with the Resurrection (as in films such as The Greatest Story Ever Told) but also any other joyful occasion, religious or secular.
Other notable oratorios included the hugely successful Samson (1741), the highly acclaimed Belshazzar (1744), and Judas Maccabaeus (1746), Solomon (1748), and Jephtha (1751). The oratorio Theodora (1750) failed to light up the public's interest despite being Handel's personal favourite. Handel very often played his organ concertos as interval pieces for his oratorios.
In 1745, the composer again suffered a temporary illness, which he described as "disordered in the head" (Arnold, 805). Handel's final royal commission came in 1749 when he was asked to write music to accompany a magnificent firework display in the Green Park in London, which celebrated the Peace of Aix-la-Chapelle that had ended the War of the Austrian Succession (1740-1748). Handel's music was a success, although the firework display got out of hand and burnt down part of the pavilion.
Handel's Character
Handel was "a big man and a lusty one…who spoke English with a heavy German accent; a man with an explosive temperament and withal a sweet-tempered and even generous philanthropist…a man with a simple, uncomplicated faith and an equally simple and uncomplicated view toward life" (Schonberg, 41). Handel, a man of fashion, was not to be seen in public without an enormous wig.
The composer was not always composed, being sometimes "short-tempered and intolerant" (Steen, 48). He certainly did not put up with any uncalled-for histrionics from performers. Once a tenor was so upset with Handel's directness that he threatened to jump on the composer's harpsichord and smash it. Handel put him down with a cutting reply: "Let me know when you will do that and I will advertise it: for I am sure more people will come to see you jump than hear you sing" (Steen, 48).
Handel had various flings with singers in his youth, but he never married and managed to keep his private life private – "no composer has been so secretive about himself" (Schonberg, 43). Handel was shrewd with his money, investing his high earnings and occasionally buying fine paintings – his impressive collection of some 60-odd paintings included a couple of Rembrandts. He loved food and drink and so was famously corpulent. He was also generous and financially supported the Foundling Hospital in London, an institution he was appointed governor of in 1750.
Handel's Most Famous Works
The most popular works by George Frideric Handel include:
12 concerti grossi (1739)
Rinaldo opera (1711)
Water Music suite (1717)
Acis and Galatea masque (1718)
Chandos Anthems (1717-20)
Zadok the Priest anthem (1727)
Ariodante opera (1735)
Alcina opera (1735)
Samson oratorio (1741)
Messiah oratorio (1742)
Belshazzar oratorio (1744)
Music for the Royal Fireworks (1749)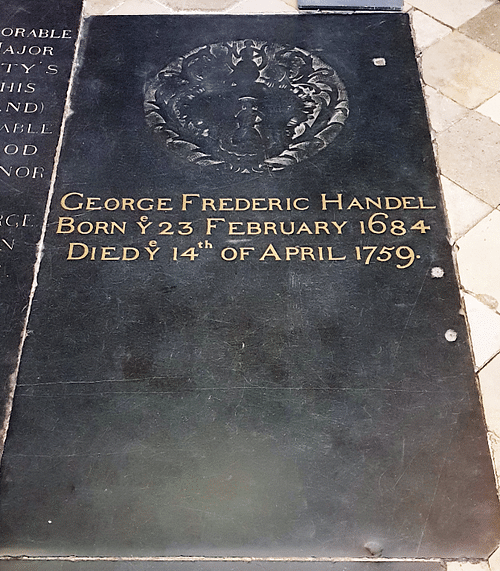 Death & Legacy
Handel began to lose his eyesight in 1751, and a cataract operation was not successful. From around the end of 1752, the composer was completely blind. He no longer composed new works, but he did edit older pieces and could still play the organ using his excellent powers of memory. The career of the great musician was coming to a close but what heights he had reached. "Few composers in history have been so eulogized in their own time, and few were more written about" (Schonberg, 43).
George Frideric Handel died in London on 14 April 1759 at the age of 74; he had suffered a series of fainting fits the week before. He left a large fortune, one-third of which he directed to be given to various charities. A memorial to the composer was sculpted and placed in Westminster Abbey where his body was interred. The epitaph carved in stone reads:
The most Excellent Musician
any age ever produced
Whose Compositions were
a Sentimental Language
rather than mere Sounds;
And surpassed the Power of Words
In Expressing the various Passions
of the Human Heart.
Handel was the first great composer to be the subject of a biography, in his case, written by Reverend John Mainwaring in 1760. Many of Handel's choral works never went out of fashion but his operas and many oratorios suffered neglect as musical tastes changed. A commemoration event in Westminster Abbey in 1784 showcased Handel's music to a new generation, as did a similar event, again in London, in 1791. Joseph Haydn (1732-1809) and Ludwig van Beethoven (1770-1827) were both great admirers of Handel's work. Wolfgang Amadeus Mozart once exclaimed: "Handel understands effect better than any of us – when he chooses, he strikes like a thunderbolt" (Wade-Matthews, 308). Fortunately for posterity, George III of Great Britain (r. 1760-1820) was an avid collector of Handel's autograph scores, and these were eventually passed on to the British Library. The Water Music Suite and The Messiah continue to be evergreen pieces, as instantly recognisable as any in the baroque repertoire. Today, Handel is widely recognised as "one of the most powerful of eighteenth-century musical personalities: versatile, cosmopolitan, unorthodox and endlessly resourceful" (Sadie, 137).