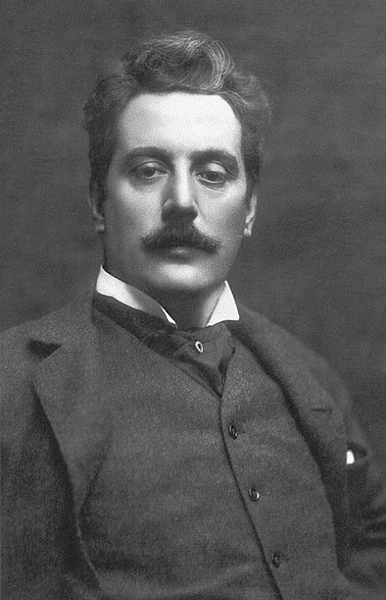 Giacomo Puccini (1858-1924) was an Italian composer best known for his operas La Bohème, Tosca, Madama Butterfly, and Turandot. Puccini drew inspiration from a wide range of literary sources, and his late Romantic music with its immortal melodies emphasised the strong characters, drama, and fast pace of his emotional operas, which remain today as popular as ever.
Early Life
Giacomo Puccini was born in Lucca in the Italian region of Tuscany on 22 December 1858. He came from a long line of musicians who had held the position of organist at Lucca's San Martino Cathedral since the previous century. Giacomo's father Michele (1813-1864), was both the cathedral's organist and choirmaster, and he was the director of the local music school, the Istituto Pacini; he died when Giacomo was just six years old. Unfortunately for tradition, Giacomo, although interested in music, would take an entirely different career path from his forefathers.
Giacomo, the fifth of eight children, was raised by his mother, Albina, who ensured he learnt to play the organ and sing. Giacomo sang in the cathedral choir from age ten. He attended the Istituto Pacini and graduated in 1880, his final exam piece being his Messa di Gloria. Thanks to financial help from a cousin and a successful application for a grant, Giacomo moved on to the Conservatory in Milan. Aiming far higher than the position of organist in Lucca, Giacomo's fate had been sealed back in 1876 when he heard a performance in Pisa of Aida by Giuseppe Verdi (1813-1901). The magic of Verdi's tragic opera set in ancient Egypt convinced Puccini that he too should earn a living writing operas.
The story of a tragic soprano heroine who dies in a singing finale would be used time & again by Puccini.
The young composer's graduation piece at the Conservatory was Capriccio Sinfonico, a promising orchestral piece, but it was Le villi (The Fairies), a one-act opera, that would open doors for Puccini. The work was staged at the Teatro dal Verme in Milan in 1883. Puccini's professional career took off in 1884 when he performed music from his opera at a private party and it happened to be heard by Giulio Ricordi, the famed publisher who had Verdi on his books. Ricordi added Puccini to his publishing stable and commissioned him to write another opera. The result was Edgar, which premiered at Milan's La Scala theatre in 1889. The La Scala audience has always been a testing one to win over, and unlike his first, Puccini's second opera fell flat. The composer himself considered the work a "mistake" (Thompson, 174).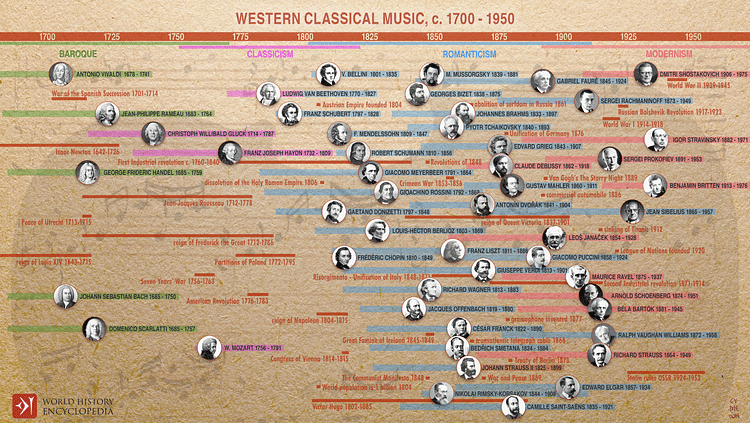 Puccini was on safer ground with his third opera, Manon Lescaut, a tried and tested libretto that had been used for Jules Massenet's opera Manon (1884), which was itself based on the 1731 novel L'histoire du chevalier des Grieux et de Manon Lescaut by Abbé Prévost. Puccini also tried a new city for his premiere: Turin on 1 February 1893. Manon Lescaut was a raging success – the composer was obliged to take 30 curtain calls – with further productions in London and Philadelphia in 1894. The composer's career was finally launched. The story of Manon Lescaut, told in four acts, has Des Grieux fall in love with Manon, and they elope to escape the clutches of the elderly Géronte. Nevertheless, Manon is attracted by the life of luxury she could lead with Géronte and chooses him over Des Grieux. Géronte is suspicious that Manon has rekindled her affair with his rival, arrests her, and so she will be deported. Des Grieux boards the ship taking away Manon, and they are reunited only for Manon to die in his arms. Audiences loved it. The story of a tragic soprano heroine who dies in a singing finale would be used time and again by Puccini.
As Puccini once instructed a soprano in rehearsals, "You have to walk on clouds of melody".
Character & Musical Style
The New Oxford Companion to Music describes the composer's working methods as follows: "Puccini was a slow worker, hard to please in the matter of subject and libretto, continually taking up projects only to abandon them" (1508). The same source gives the following insight into Puccini's character: "The intense sadness that permeates so much of his music reflects his own temperament. For beneath the successful composer with his penchant for blood sports, fast cars, and women was a lonely and sensitive man" (1509). The composer once described himself as "a mighty hunter of wild fowl, beautiful women and good libretti" (Steen, 812).
Puccini was a unique composer in that he showed little interest in adapting the music of the past or adopting the innovations of his contemporaries. As one historian notes:
Whatever he was, he was completely outside the intellectual trend of his time. Musically speaking, Puccini owed little to anybody…Somewhere, somehow, he evolved a personal, immitable style that stands out among the Italian opera of his time like the song of a nightingale in a flock of starlings.

(Schonberg, 473-4)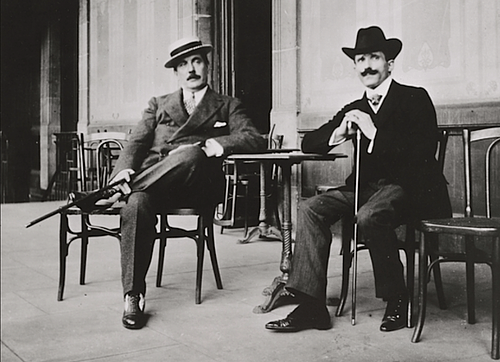 The composer had "an unerring sense of theatre and a persuasive melodic gift, allied to a taste for sentimental plots which still reduce audiences to tears" (Thompson, 153). Some critics find Puccini's melodies too sweet for their taste – Igor Stravinsky (1882-1971) once described Madama Butterfly as "treacly violin music" (Steen, 811) – and his librettos as too plain and unsophisticated to be considered true art, but these points are probably why his operas remain so popular with audiences. Puccini's operas are "straightforward, easy to follow, and peopled with characters who face problems that arouse an emphatic reaction in all audiences" (Schonberg, 475). Above all, the music carries the action. As Puccini once instructed a soprano in rehearsals, "you have to walk on clouds of melody" (Schonberg, 483).
Family Life & Scandal
The success of his operas allowed Puccini to live well for the rest of his life. In 1891, he bought a villa in the small town of Torre del Lago near his native Lucca; today it is called Villa Puccini, and it is a museum dedicated to the composer. There he lived with his mistress since 1886, Elvira Gemignani, who was already married (to a school friend of Puccini's). The couple had started their affair when Elvira became a music pupil of Puccini's. They had a son, Antonio (b. Dec 1886), and they eventually married in January 1904 after Elvira's husband died.
Tragedy struck the household in 1909 when a servant, Doria Manfredi, was repeatedly accused by Elvira (without any evidence) of having an affair with Puccini. Puccini had a long record of womanising, but in this case, he seems to have been innocent. Doria, shamed by the accusations, committed suicide by taking poison; a later medical examination revealed she was a virgin. Doria's family took Elvira to court for defamation and won. Elvira was sentenced to 5 months in prison. The scandal drove Puccini to Milan and then Paris; his marriage only barely survived.
The Great Operas
La Bohème
Puccini's next opera has become one of the absolute favourites of opera lovers worldwide. La Bohème (The Bohemian Girl) seemed terribly modern when it was premiered at the Teatro Regio in Turin on 1 February 1896. The libretto by Luigi Illica and Giuseppe Giacosa, told across four acts, is set in the artists' world of Montmartre in Paris and was based on the novel by Henri Murger, Scènes de la vie de Bohème. Four bohemians share an attic: Rodolfo (a poet), Marcello (a painter), Schaunard (a musician), and Colline (a philosopher). Rodolfo falls in love with his neighbour Mimi, but she tragically dies of consumption. When Puccini finished writing the sad finale, he noted, "I had to get up, and standing in the middle of the study, alone in the silence of the night, I wept like a child. It was like seeing my child die" (Steen, 820).
Curiously, Puccini indicated the point where Mimi dies in his original hand-written musical score by drawing a skull and crossbones in the margin. The premiere of La Bohème was conducted by Arturo Toscanini (1867-1957). The critics remained unimpressed, but the ticket sales told another story. Puccini could afford to extend his villa and buy himself a yacht, perhaps inevitably, he gave it the name Mimi I.
Tosca
Tosca premiered at the Teatro Costanzi in Rome on 14 January 1900. La Bohème had been modern, Tosca added an almost brutal realism to the mix with the three-act libretto packed with rape, murder, execution, and suicide. The libretto, again by Illica and Giacosa, was based on Victorien Sardou's play La Tosca. Set in Rome during the French Revolutionary Wars (1792-1802), Tosca is a singer and lover of Cavaradosi, a painter, whom she is convinced is conducting an affair with Marchese Attavanti. A sinister police chief, Baron Scarpia, arrests and tortures Cavaradosi to find the whereabouts of the fugitive consul Angelotti. Scarpia wants Tosca for himself and wins her favour by promising to release Cavaradosi via a fake execution. Tosca stabs and kills Scarpia, but Cavaradosi's execution turns out to be a real one, and he is killed by the firing squad. In despair, Tosca then jumps from the castle battlements to her death. The story was too shocking for many critics, but the public adored it. With the proceeds, Puccini bought himself a motor car, but, driven by a chauffeur, he crashed in it near Lucca and broke his leg, an accident which left him with a permanent limp.
Madama Butterfly
Puccini was finally back at La Scala for the premiere of Madama Butterfly in February 1904. The story is based on real-life events which were retold in the play Madame Butterfly by David Belasco (1853-1931) which had been based on the short story Madame Butterfly by John Luther Long which itself had blended the memoirs of Jennie Correll, a missionary's wife in Japan, with the 1887 short story Madame Chrysanthème by Pierre Loti. The story, then, had travelled quite a bit by the time Puccini distilled it into another tear-jerker opera, this time with just two acts. The libretto is once more by Illica and Giacosa. The opera presents a Japanese geisha, Cio-Cio-San, also known as Butterfly, who believes she has married Pinkerton, a lieutenant in the United States Navy. Pinkerton leaves but eventually returns to Japan with his American wife. Butterfly, in utter despair, says farewell to her son and then kills herself. The opera was not favourably received at its premiere, but Puccini made changes, notably extending it to three acts. Staged in Brescia at the Teatro Grande in May 1904, this time audiences loved it. Madama Butterfly has since become a staple of the opera repertory worldwide. Richer with every new opera, Puccini bought himself a new car, this time a Lancia, and a second boat, which he named Butterfly.
Puccini turned once again to a novel by David Belasco for his next opera, La fanciulla del West (The Girl of the Golden West). The opera premiered at the New York Metropolitan Opera in December 1910. The distinguished cast included Emmy Destin (1878-1930) and Enrico Caruso (1873-1921). A smash hit, Puccini's bank manager must once more have been delighted, and the composer treated himself to yacht number three, this time called Minnie after the Golden Girl of the West.
Puccini chose to premiere his next opera, La rondine (The Swallow), in Vienna, although because of the First World War (1914-18), it was moved to neutral Monte Carlo in March 1917 (Vienna had to wait until 1920). With Italy and Austria enemies in the war, the composer's decision to take a commission from Vienna harmed his popularity at home. Puccini's trio of one-act operas Il tabarro (The Cloak), Suor Angelica (Sister Angelica), and Gianni Schicchi – collectively titled Il trittico (The Triptych) – premiered in New York in December 1918.
Turandot
Puccini's twelfth and last opera was Turandot. The libretto is by Giuseppe Adami and Renato Simonov. Once again the story revolves around a luckless heroine, the slave girl Liù. The three-act libretto is based on a fairytale by the 18th-century Venetian playwright Carlo Gozzi and perhaps elements from 1,001 Nights. Turandot is a nasty princess who challenges her suitors to answer three riddles. Prince Calaf answers the riddles and then challenges Turandot to discover his real name by the next day, if she succeeds he will forfeit his life. Turandot tortures Calaf's faithful slave Liù to find out the secret identity, but Liù kills herself to protect her master (was she inspired by the maid Doria's tragic fate one wonders). For once, the opera has a happy ending – a reformed Turandot marries Calaf – but the tragedy this time came in real life when Puccini died before the work was complete. Two scenes were missing, and so the final love song duet was added by Franco Alfano based on Puccini's sketches. Turandot was premiered two years after the composer's death at La Scala on 25 April 1926. Toscanini again conducted, and just as Liù died on stage, he stopped the music, lay down his baton, and informed the audience: "At this point in the opera, the composer died" (Sadie, 294). The public loved it all, the aria Nessun dorma (None Shall Sleep) being especially popular.
Puccini's Most Famous Works
The most important works composed by Giacomo Puccini, with their first performance dates noted in brackets, include:
Manon Lescaut (1893)
La Bohème – The Bohemian Girl (1896)
Tosca (1900)
Madama Butterfly (1904)
La fanciulla del West – The Girl of the Golden West (1910)
La rondine – The Swallow (1917)
Il trittico – The Triptych (1918)
Turandot (1926)
Death & Legacy
In 1921, and with his health failing, Puccini moved from his villa to live in a new one near Viareggio, although he kept Torre del Lago as his hunting lodge. Giacomo Puccini died of a heart attack in Brussels on 29 November 1924. A heavy smoker all of his life, he was undergoing treatment for throat cancer at the time. Puccini had joined the Fascist party, and the dictator Benito Mussolini delivered the funeral oration at a service in Milan's Duomo Cathedral where Toscanini conducted the orchestra. Puccini was buried at Torre del Lago.
Puccini's Turandot turned out to be the last great opera by any composer that is universally admired by audiences. Opera was largely replaced by the cinema and other kinds of theatre as the most popular forms of entertainment. Puccini's emphasis on character and a coherent story told with music and words meant "he was the forerunner of the composers of musicals in the 20th century" (Steen, 819). Opera made a comeback later in the century and, today, few opera houses around the world will run a season without one of Puccini's operas in it. The music historian and Puccini biographer Julian Budden gives the following reasons for the enduring popularity of Puccini's work: "His supreme mastery of the operatic craft, his melodic gift, and his emotional sincerity combine to keep his operas as freshly alive today as when they were written" (Arnold, 1509).

This article is dedicated to the author's father, David Cartwright. From one opera lover to another and unforgettable memories of nights in Prague and Verona.