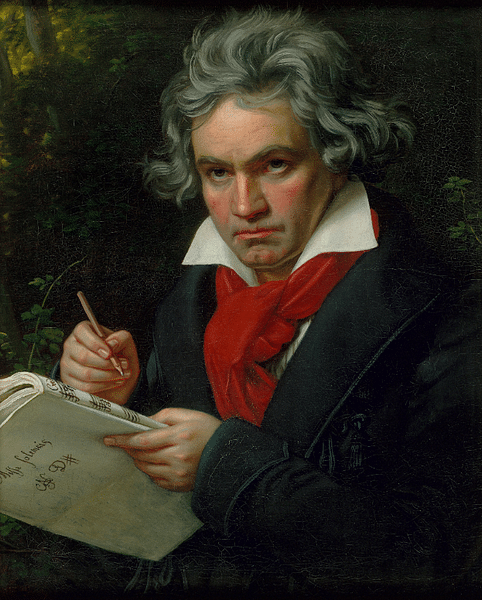 Ludwig van Beethoven (1770-1827) was a German composer of Classical and Romantic music; he is widely regarded as one of the greatest musicians to have ever lived. Most famous for his nine symphonies, piano concertos, piano sonatas, and string quartets, Beethoven was a great innovator and very probably the most influential composer in the history of music.
Early Life
Ludwig van Beethoven was born in Bonn, Germany, on 16 December 1770. His grandfather was the director of music (Kapellmeister) to the Archbishop-Elector of Cologne at Bonn and his father, Johann van Beethoven (c. 1740-1792), worked at the same court as both an instrumentalist and tenor singer. Ludwig's mother was a head cook in the palace. Ludwig had only two other surviving siblings, his younger brothers Caspar Anton Carl (b. 1774) and Nikolaus Johann (b. 1776). Ludwig's father was keen for Ludwig to develop his obvious musical skills but went rather overboard so that his eldest son spent so much time practising on the piano he did not have a lot of time left for all the other things children need to learn to become rounded adults. Johann was violent and an alcoholic, so there was not much that could be done against his wishes.
Ludwig's musical education continued at the Cologne court from 1779 under the tutorship of the organist and composer Christian Neefe (1748-1798). Ludwig impressed, and he was made the assistant court organist in 1781, and the next year, he was appointed the court orchestra's harpsichordist. Already composing his own pieces, Ludwig's work was catalogued by his teacher and a set of keyboard variations was published in 1782. Three of Ludwig's piano sonatas were published in 1783. In a smart move, Ludwig dedicated his sonatas to the Elector, and although he died that year, the next Elector saw fit to keep him on in the court orchestra.
Beethoven quickly established a reputation in Vienna, then the musical capital of
Europe
, for being a superb improviser.
In 1787, Ludwig was all set to go to Vienna where it was arranged he would take lessons from Wolfgang Amadeus Mozart (1756-1791). Although he made it to Vienna, when Ludwig's mother became ill, he was obliged to return home after only two weeks. Unfortunately, Ludwig did not manage to return to Bonn before his mother died, likely of tuberculosis. In 1789, Johann van Beethoven had descended deeper into alcoholism and grief so that Ludwig was obliged to take over responsibility for his family's affairs, which included controlling half of his father's salary. A second opportunity to learn from a master came in 1792 when Ludwig was given leave to study under Joseph Haydn (1732-1809), who was also in Vienna. The music of both Mozart and Haydn influenced Beethoven in the first stage of his career as a composer, as did the guidance of another teacher, Johann Georg Albrechtsberger (1736-1809), particularly regarding counterpoint.
Character & Family
Beethoven was "stocky, swarthy, with an ugly, red, pock-marked face – and [with] rather a boorish manner" (Wade-Matthews, 333). The music historian C. Schonberg paints an even grimmer picture of the composer:
Never a beauty, he was called Der Spagnol in his youth because of his swarthiness. He was short, about 5 feet, 4 inches, thickset and broad, with a massive head, a wildly luxuriant crop of hair, protruding teeth, a small rounded nose, and a habit of spitting wherever the notion took him. He was clumsy, and anything he touched was liable to be upset or broken…He was sullen and suspicious, touchy as a misanthropic cobra, believed that everybody was out to cheat him, had none of the social graces, was forgetful, was prone to insensate rages, engaged in some unethical dealings with his publishers. A bachelor, he lived in indescribably messy surroundings, largely because no servant could put up with his tantrums. (109)
Like his father, Beethoven found alcohol difficult to resist. His great passion besides music was nature. As Countess Therese von Brunsvik once wrote in a letter: "He loved to be alone with nature, to make her his only confidante" (Osborne). Beethoven himself once said, "I love a tree more than a man" (ibid); he once even refused to rent a house when he found it had no trees in the vicinity.
Beethoven seemed unable to live with anyone, man or woman.
Beethoven's love interests remain obscure. To name but a few, the composer may have proposed to the singer Magdalena Willmann in the 1790s, to Countess Josephine Deym in 1805, and to Therese Malfatti in 1810, but nothing came of such reckless and socially impossible declarations of love if indeed they were ever made. Beethoven fell in love with a woman he described in a July 1812 letter as Unsterbliche Geliebte ("Immortal Beloved"), although the letter was never sent (after the composer's death, it was found in a secret drawer of his cashbox). The intended recipient may have been the already-married Antonie Brentano, his friend Bettina Brentano's sister-in-law; another candidate is the pianist Dorothea von Ertmann. The common feature of Beethoven's objects of desire is that they were all utterly unattainable unless the ladies were prepared to ruin themselves, perhaps that was the subconscious and real desire of an impossibly eccentric man who seemed unable to live with anyone, man or woman.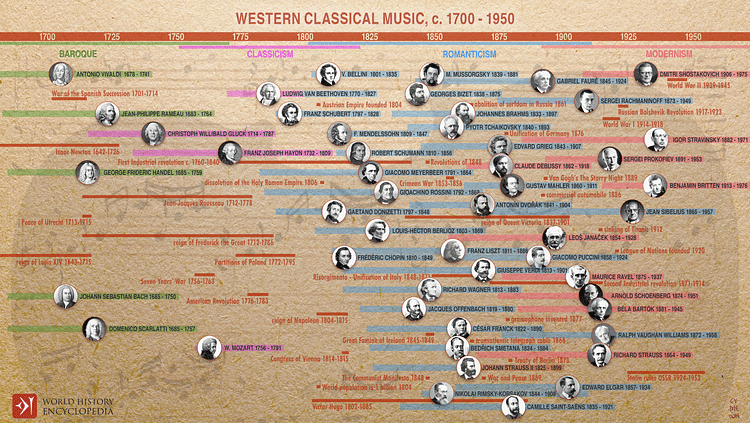 In 1815, Beethoven, after his brother Caspar's untimely death, took on the role of the legal guardian of his nephew Karl, although the pair had a troubled relationship. Beethoven sought to exclude Karl's mother from being Karl's protector – he disapproved of her low education and poor reputation – but he had to engage in a lengthy legal battle to win his case. Karl could not cope with the mood swings of his uncle, and he attempted suicide in August 1826. Managing only to graze his scalp with one of the two shots he fired, Karl survived and left his uncle for good by joining the army.
Move to Vienna
Beethoven arrived in Vienna in 1792, and he would live there for the rest of his life. His father's death in December 1792 may have convinced the composer he had insufficient reasons to ever go back to Bonn. Beethoven quickly established a reputation in what was then the musical capital of Europe for being a superb improviser, frequently performing on piano in the homes of the wealthy. One newspaper reported on Beethoven's piano style in the following terms: "He is greatly admired for the velocity of his playing, and astounds everybody by the way he can master the greatest difficulties with ease" (Wade-Matthews, 333). Beethoven's career was boosted by the patronage of Prince Lichnowsky who even gave the composer use of rooms in his palace. Various other music-loving nobles helped the composer financially throughout his career.
Beethoven's method of writing new music was "strikingly different from that of his predecessors, in that he made a vast amount of rough drafting and sketching for each work. Although many of these sketches were discarded or lost, a large number survive – probably about 10,000 pages altogether, with nearly all his works represented" (Sadie, 164-5). Beethoven may have been slovenly in his personal habits, but he was meticulous when it came to writing his music; he checked all his published works and frequently sent corrections to the publishers, exhorting them to ensure the printers put all the dots in the right places.
On 29 March 1795 in Vienna's Burgtheater, Beethoven gave his first public performance, choosing to highlight a new piano concerto he had composed. More piano works were published over the next few years as Beethoven established himself as a piano virtuoso of distinction. He published works of chamber music for piano, violin, cello, and wind instruments, and embarked on several concert tours that took in major cities like Prague, Dresden, Leipzig, Berlin, and Pressburg (modern Bratislava). From 1799 to 1801, he wrote the Pathétique piano sonata, the Moonlight piano sonata (a name coined after a critic wrote that the music reminded him of moonlight over Lake Lucerne). The Moonlight sonata was dedicated to Countess Giulietta Guicciardi. The 1801 string quartets are considered by many to be Beethoven's finest works of chamber music. It was also in this period that Beethoven turned to a new format for him, the symphony. Music would never be quite the same again.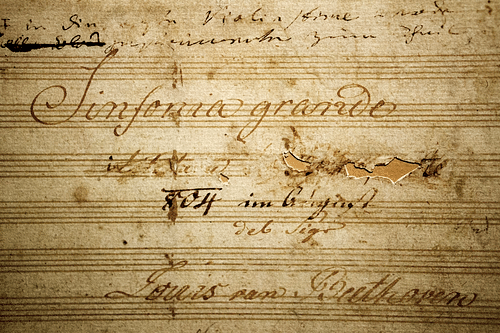 The Symphonies
Beethoven's First Symphony was completed in 1800, and the Second Symphony was completed in 1802. They displayed the composer's innovative use of musical motifs rather than the more traditional emphasis on lyrical themes, and wind instruments were given a greater role than was traditional. Another innovation, first seen in the Second Symphony, was to replace the third movement "minuet and trio" with a lively scherzo on either side of a slower mid-section. The Second Symphony, which premiered in April 1803, was an altogether grander affair than the First and is surprisingly joyous considering the composer's health problems at the time (see below), but it was ultimately outshone by the Third Symphony, Eroica, which was completed in 1803. Eroica is double the length of a normal symphony. The composer dedicated it to Napoleon Bonaparte (1769-1821), although he later withdrew the dedication when Napoleon took on the title of Emperor of the French in 1804. Regarded by Beethoven himself as his finest symphony besides the Ninth and often cited by music critics as one of the greatest of any symphony by any composer, a highlight is the dramatic Funeral March.
The Fourth Symphony was completed in 1806 and contains what music critic Richard Osborne describes as "the loveliest of the Beethoven symphonic adagios." The Fifth and Sixth Symphonies both received their premieres in December 1808. The Fifth featured the trombone, a first in Beethoven's work, and shows the composer's increasing interest in repeating motifs and blending the different movements into a single narrative whole while also minimising the breaks between the movements. The author E. M. Forster (1879-1970) described in words the music of the Fifth Symphony as "Gusts of splendour, gods and demi-gods contending with vast swords, colour and fragrance broadcast in the field of battle, magnificent victory, magnificent death" (Osborne). The Sixth Symphony is also titled the Pastoral since it contains musical interpretations of birds singing, thunderstorm, and a rural festival. There are unusual instruments to enhance these effects, for example, the alphorn.
The Seventh and Eighth Symphonies were composed in 1811 and 1812, respectively. The second movement of the Seventh Symphony was especially popular with audiences. Fellow composer Hector Berlioz (1803-1869) was enraptured by the Eighth Symphony: "one of those creations for which there is no model and no parallel, something that falls just as it is from heaven into the artist's head…and we are transfixed as we listen to it" (Kunze). Audiences preferred the Seventh Symphony, which slightly annoyed Beethoven since he felt the Eighth was better.
The Ninth Symphony, titled Choral, was completed in 1824 and premiered on 7 May that year at Vienna's Kärntnertor Theatre. Despite being almost totally deaf by then, Beethoven conducted the premiere himself. The symphony's title derives from Beethoven's innovative use of vocals in the finale. The work was inspired by the ode An die Freude ('To Joy') by Friedrich Schiller (1759-1805).
Health Problems
Beethoven was at the peak of his powers and fame when he suffered a cruel blow to his health. The composer realised around 1798 that he was losing his power of hearing. Doctors confirmed Beethoven's fears in 1800, but the cause remains unknown. The composer first lost the ability to hear higher notes, and his hearing deteriorated from there over the following years, although there were brief periods of improvement.
Beethoven expressed the trauma of this discovery in a letter which has become known as the Heiligenstadt Testament, named after the country retreat outside Vienna where the composer often spent time. The letter, written in 1802, was addressed to Beethoven's brothers (but never actually sent) and included such dark thoughts as: "For me there can be no pleasure in human society, no intelligent conversation, no mutual confidences. I must live like an outcast." He contemplated suicide but was driven on by his music: "It seemed impossible to leave the world before I had accomplished all I was destined to do" (Wade-Matthews, 334). Beethoven began to use an ear trumpet, but he could not hear at all by 1818. Fortunately, like many musicians, Beethoven could 'hear' notes pitch perfectly in his head, and so he could continue to compose.
Other Works
Beethoven wrote a successful ballet in 1801, Die Geschöpfe des Prometheus (The Creatures of Prometheus) – the main theme was reused in the composer's Third Symphony. Beethoven wrote his only opera, Fidelio (initially known as Leonore), in 1805 and then revised it in 1814. Some of the score of Fidelio was recycled by the composer from his 1790 cantata intended to mark the death of Joseph II, Holy Roman Emperor (r. 1765-1790). The composer lived in turbulent times. The decade-long French Revolution (1789-1799) rocked Europe, and Austria and France were at war. The story of Fidelio is set in Spain during the 18th century, but the plot, where an innocent man is imprisoned but rescued by his wife, was inspired by a story set during the French Revolution. Unfortunately for Beethoven, his original three-act opera had just two performances at the Theater an der Wien before it was closed down because Napoleon's army took possession of Vienna.
Beethoven returned to instrumental music with his 1806 Violin Concerto and, in the same year, his "Razumovsky" quartets, named after the Russian Count Andrey Razumovsky, ambassador in Vienna, to whom he dedicated the work. In 1809, Beethoven completed his Fifth Piano Concerto, titled Emperor since it was dedicated to his patron Archduke Rudolph of Austria.
Although financially secure from the middle of his career, Beethoven's descended into odder and odder behaviour as he grew older. By 1820, he was "considered a great composer, but as a man completely eccentric, even mad. Careless of his dress, drinking a bottle of wine at each meal…communicating with his friends by means of conversation books, he seemed almost at the end of his career" (Arnold, 195).
In 1822, Beethoven composed an overture, The Consecration of the House, to mark the grand opening of the Theater in der Josefstadt in Vienna. The same year he composed his Missa solemnis, which ended up being premiered at a concert with the Ninth Symphony. Beethoven described the Missa solemnis as his finest work.
Just as Beethoven was obliged to retract from society because of his deafness so his final work became more detached from its audience. His last piano sonatas and string quartets "are introspective works, not intended to be 'understood' or applauded in the conventional sense. They are the work of a man who had withdrawn into an inner life, which could only be expressed through the medium of pure, abstract music" (Wade-Matthews, 337). He continued to innovate; his quartets expand on the usual four movements, for example, and his piano sonatas from this period "upset traditional formal patterns, altering the standard number and order of movements; the thematic material is fragmentary; and fugal writing is given an increasing prominence" (Arnold, 195). And there was still to come the Ninth Symphony in 1824, the work which inspired almost all of the Romantic composers yet to come.
Beethoven's Most Famous Works
Nine Symphonies (1800-1824)
Six string quartets
Around 90 songs
Pathétique piano sonata (1798)
Moonlight piano sonata (1801)
Kreutzer Sonata for violin and piano (1803)
Apassionata piano sonata (1804-5)
Fidelio opera (1805 & 1814)
Violin Concerto (1806)
Razumovsky Quartets (1806)
Coriolan overture (1807)
Emperor piano concerto (1809)
Egmont overture (1809-10)
Archduke trio (1811)
Diabelli Variations on a Waltz (1823)
Missa solemnis (1823)
Death & Legacy
In later years, Beethoven suffered from liver disease, likely a consequence of his heavy drinking, and his health in general suffered from the hit-and-miss medical treatments he was subjected to by his doctors. Ludwig van Beethoven died in Vienna on 26 March 1827. The composer was given a public funeral, and the procession was said to have been watched by a crowd of 10,000 people, some said there was double that figure. For many critics and music lovers, Beethoven's music reflects his life: "What his music does convey is an immense ability to overcome misfortune and suffering and a sense of repose and calm when the struggle is over" (Arnold, 196). The celebrated music historian D. Arnold goes on to summarise the composer's influence on all who followed:
Never has a composer had such an influence on his successors…Many composers followed his example by introducing a chorus into a symphony, basing a symphony on a programme, linking movements thematically, opening a concerto without an orchestral ritornello, expanding the possibilities of key structure within a movement or a work, introducing new instruments into the symphony orchestra, and so on…he lifted music from its role as sheer entertainment and made music not the servant of religious observance, but its object.

(196).