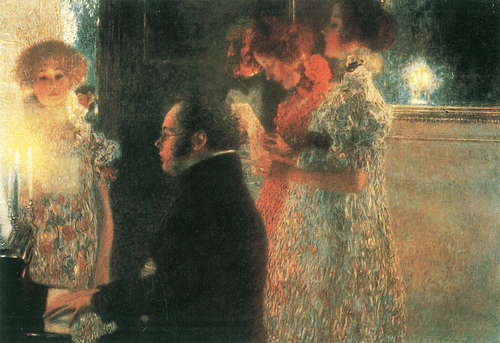 Franz Schubert (1797-1828) was an Austrian composer of Romantic music best known for his songs, symphonies, piano music, and chamber music. Schubert's career lasted only 15 years, but he was a prolific composer. Neither a conductor or virtuoso player, Schubert did not gain international fame until well after his early death at the age of 31. He is today regarded as one of the principal founders of the Romantic music movement.
Early Life
Franz Peter Schubert was born on 31 January 1797 in Vienna, Austria. His father Franz Theodor, who was originally from Moravia, was a school teacher (in charge of his own school), and he taught Franz the younger and his other children to play various musical instruments. Franz's mother, Elisabeth, was from Silesia and earned a living as a domestic servant. The family played together as a string quartet with Franz playing the viola (although he had also learnt to play the violin and piano and he sang soprano in the local choir). Franz's organ teacher, Michael Holzer, noted: "If I wanted to instruct him in anything new, he already knew it. Therefore I gave him no actual tuition but merely talked to him and watched him with silent astonishment" (Schonberg, 125).
By 1808, Franz showed enough talent to gain a scholarship to study at the Imperial College seminary, the Stadtkonvikt. There he studied under the celebrated composer Antonio Salieri (1750-1825). Still in his early teens, Franz began his first compositions: several songs (including Hagars Klage/Hagar's Lament) and a series of string quartets. Leaving school at 16, he joined Vienna's imperial teacher's training college. One year later, Franz's first job was teaching music at the same school as his father. Franz did not leave the family home until the end of 1816.
Character
The music historian C. Schonberg gives the following summary of Schubert's physical appearance and character:
He was a Kewpie doll of a man: tiny (about 5 feet, 1 1/2 inches), dumpy enough to be nicknamed "Schwammerl" (Tubby), with curly brown hair, a stubby rounded nose, a round face, and dimpled chin. His eyesight was bad and he always wore glasses. Generally he was good-natured and could easily be cajoled to the piano to play and improvise waltzes at parties. Sometimes, however, he was moody and irascible, especially during his illness.

(128)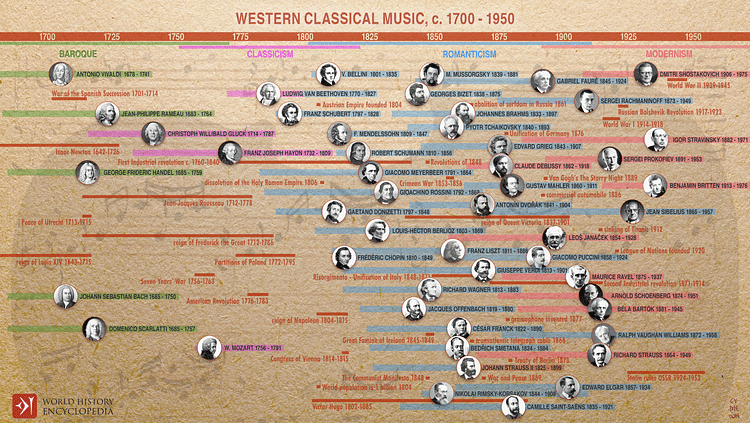 Schonberg goes on to describe Schubert's writing routine:
From about 9 in the morning (unless he was suffering from a hangover) until 2 in the afternoon, he composed. Then he was on the town. Unless invited somewhere to dinner, or to a party, he frequented the cafés…There he would stay until midnight, smoking, drinking coffee and wine, reading the papers, holding court with his circle.

(ibid)
Schubert benefitted from the increasing number of middle-class people who held private musical soirées in their homes.
Circle of Friends & Schubertiaden
In 1814, Schubert fell in love with the singer Therese Grob, but she did not return his affections. The soprano had performed in Schubert's festive Mass for the Lichtental church. In 1816, he suffered another rejection, this time in his application for a teaching post in Laibach (modern Ljubljana), and so he decided to compose full-time. Schubert moved out of the family home and took up residence in the heart of Vienna where he became good friends with Franz von Schober. Schober liked the good life and was a constant distraction to Schubert, if not always a successful one. As Schober once said, "If you go to see him during the day, he says 'Hello, how are you? – Good' and goes on working, whereupon you go away" (Wade-Matthews, 338).
In 1818, Schubert spent five months on the country estate (now in Slovakia) of the Hungarian Johann Karl, Count Esterházy of Galánta, where he taught his daughters piano. Perhaps these were Schubert's happiest days for he wrote to a friend that "I live and compose like a god" (Wade-Matthews, 340). He was well paid and did not seem to mind having to share the servant's quarters, noting in a letter home that "so far I have been spared dining with the family" (Steen, 224). He also enjoyed himself with the chambermaid.
In 1819 (and again in 1825), Schubert joined up with the baritone Johann Michael Vogl (1768-1840) to spend the summer months in Steyr in Upper Austria where he walked in the forests and admired the mountain views. Here he composed his celebrated Trout piano quintet, a work commissioned by a local mining engineer. The quintet was inspired by the composer's earlier song, also titled Die Forelle. The music historian John Reed describes The Trout in the following terms:
…the first instrumental work which can be called thoroughly Schubertian in spirit and in idiom. It was clearly inspired by the beauty of the Styrian countryside, a work full of high spirits and dancing rhythms, yet at the same time guarding at its heart a kind of enchanted stillness; so that the pulse is constantly slowed in a meditative dance. It is the first full statement of Schubert's natural mysticism.

(Arnold, 1643)
Back in Vienna, Schubert benefitted from the increasing number of middle-class people who held private musical soirées in their homes. Schubert became a popular attraction at these events. Schubert also hosted parties with his close friends, who included musicians, poets, painters, singers, and students, and who gathered to listen to his music. These gatherings came to be called Schubertiades (Schubert evenings).
Despite his popularity in these social circles within Vienna, Schubert was still not known in the wider world. Living the bohemian life of cafés and parties, Schubert seems to always have had money from his music, but he usually spent it as soon as he got it. Wider recognition did finally come in 1821 when one of his songs was premiered at Vienna's Burgtheater. Not keen on self-promotion, Schubert was content to earn his living teaching, publishing his compositions, and very occasional informal public performances. As the music historian Jeremy Siepmann notes, "Schubert would have been a publicist's nightmare. Never, perhaps, has a great composer seemed more sublimely indifferent to career or reputation." Indeed, Schubert seems to have been unconcerned with whether or not his work was ever performed. He lived to compose, as he himself once wrote to a friend: "The state should keep me. I have come into the world for no purpose but to compose" (Schonberg, 124). His music did, posthumously, achieve international fame, and he was the first great composer to achieve this without being either a conductor or a virtuoso performer.
Songs
Schubert wrote over 600 songs, and they "are of infinite variety – long and short, lyric and dramatic, simple and complex, strophic and through-composed" (Schonberg, 134). One of his favourite sources of inspiration for these songs was the poetry of Wolfgang von Goethe (1749-1832). Goethe's Faust inspired Gretchen am Spinnrade (Gretchen at the Spinning Wheel), regarded by John Reed as "the first unassailable masterpiece" (Arnold, 1641). Other Schubert songs inspired by Goethe's works include Heidenröslein (The Wild Rose), Der Erlkönig (The Elf-King) – one of the composers greatest of successes in March 1821, Nur wer die Sehnsucht kennt (Only He Who Knows Yearning), and Kennst du das Land (Do you Know the Country Where Lemon Trees Blossom?). In all, Schubert composed some 60 songs based on the works of Goethe. Alas, the poet himself was not impressed with this treatment of his work and sent back a bundle of 28 songs that Schubert's publisher had sent in order to gain permission to dedicate the music to him. Other poets amongst the 91 who inspired Schubert to write songs to their words were Johann Mayrhofer, Friedrich von Schlegel, Matthäus von Collin, and Friedrich Rückert.
The Ninth Symphony is often regarded as Schubert's best, but it was lost until Robert Schumann discovered it in 1839.
The most frequent singer of Schubert's songs was Johann Michael Vogl. Vogl, a baritone, was the star singer of the Court in Vienna, and his support of Schubert ensured the composer's work became more known outside Vienna. Many of Schubert's songs were popular when published, but the composer foolishly sold the rights to the music publisher Diabelli. In contrast to the songs, Schubert's numerous stage works were all failures with the exception perhaps of the comic Die Zwillingsbrüder (The Twin Brothers) of 1820. Schubert's operas, in particular, were too Germanic in style when everyone wanted the new Italian style championed by Rossini. Another problem was – either by necessity or otherwise – the poor librettos he had at hand.
Piano Sonatas
Schubert was influenced by the work of Ludwig van Beethoven (1770-1827) for his early piano sonatas, but he established his own unique style of rhythmic mottos, asymmetrical vocals, spaciousness, and "his use of so-called 'phrase rhythm', in which phrases of contrasting, often irregular length, cohere into super-phrases, which then cohere with one another" (Siepmann). Some of these works contain fiendishly difficult passages that require the pianist to be much more than a mere amateur player. Another distinct feature of the piano sonatas is their unusual length, as Siepmann here summarises: "Schubert was arguably the first great piano composer to turn duration into a primary expressive and dramatic tool."
The Symphonies
Schubert composed his First Symphony in 1813, and it shows the influence of both Beethoven and Wolfgang Amadeus Mozart (1756-1791). His Second and Third Symphonies were composed in 1815. The Fourth and Fifth Symphonies continued to follow the well-established Classical model and were completed in 1816. The Fourth was titled by the composer Tragic, while the Fifth shows a clear influence from Joseph Haydn (1732-1809). The Sixth Symphony took inspiration from Beethoven and Schubert's recent exposure to the lively operas of Gioachino Rossini (1792-1868); it was completed in 1818. The Seventh Symphony was abandoned in sketch form in 1821.
The Eighth Symphony was titled Unfinished since it has only two movements rather than the usual four. Composed in 1822, there is some debate as to whether Schubert did in fact intend there to be only two movements or if he abandoned it half-finished or if the final two movements were simply lost (a surviving sketch of the third movement would suggest the latter circumstance the most likely).
The Ninth Symphony, also titled The Great, was completed in 1828. The complex piece was labelled unplayable by one Viennese orchestra in rehearsals for a public performance which was never realised. Unfortunately, Schubert never heard any of his own symphonies performed in public for the first to be played in concert was the Sixth Symphony on 14 December 1828, a few weeks after the composer's premature death. The Ninth Symphony is often regarded as Schubert's best, but it was lost until Robert Schumann (1810-1856) discovered it in 1839 while rummaging through Schubert's papers, then in possession of his brother Ferdinand. Schumann immediately recognised the value of his find and conducted the premiere of the symphony in Leipzig on 29 March 1839.
Schubert's Most Famous Works
The most popular works by Franz Schubert include:
8 Symphonies
11 completed piano sonatas
Over 600 songs
Die Forelle – The Trout Piano Quintet (1819)
The Wanderer Fantasy for Piano (1822)
Die schöne Müllerin – The Fair Maid of the Mill song cycle (1823)
Octet in F (1824)
Death & the Maiden String Quartet (1824)
Winterreise – Winter Journey song cycle (1827)
String Quintet in C (1828)
Mass in E-flat (1828)
Fantasy in F minor for piano duet (1828)
Death & Legacy
Schubert was diagnosed with syphilis in 1823, and he suffered ill health from its on-off symptoms in his remaining years. He continued to compose, notably a song cycle, the Die schöne Müllerin (The Fair Maid of the Mill), which tells of unrequited love and ends in the tragedy of death by drowning. Another song cycle was Winterreise (Winter Journey), inspired by a Wilhelm Müller poem about an organ grinder plying his trade through winter streets but being ignored by everyone. There was, too, the Ninth Symphony, the highly regarded Fantasy piano duet, much more chamber music besides, and three final piano sonatas which Schubert described as "purely and simply thunderstorms breaking forth with Romantic rainbows over slumbering worlds" (Wade-Matthews, 342). The composer's final major work was a piece for soprano, piano and clarinet: Der Hirt auf dem Felsen (The Shepherd on the Rock).
Franz Schubert died of typhoid fever at the age of 31 on 19 November 1828. He was buried in the Währing cemetery of Vienna and on his tombstone is written the following: "The art of music has buried here a rich possession, but still fairer hopes."
Schubert's work in the genre of solo singing to various accompaniments was influential on later composers: "The claim that Schubert 'invented' the Lied can hardly be sustained, but there is no question that he made of it a new art form, and went on to reveal its full potential" (Arnold, 1641). Schubert, perhaps the first true Romantic composer, showed the way for other composers of Romantic music like Felix Mendelssohn (1809-1847), Robert Schumann, Frédéric Chopin (1810-1849), Johannes Brahms (1833-1897), and Antonín Dvořák (1841-1904) with his blending of nature, music, and poetry. Franz Liszt (1811-1886) once said that Schubert was "the most poetic of all composers" (Sadie, 234). A prolific writer who was just reaching a new level of maturity, one is left to wonder what he might have achieved had he lived longer.