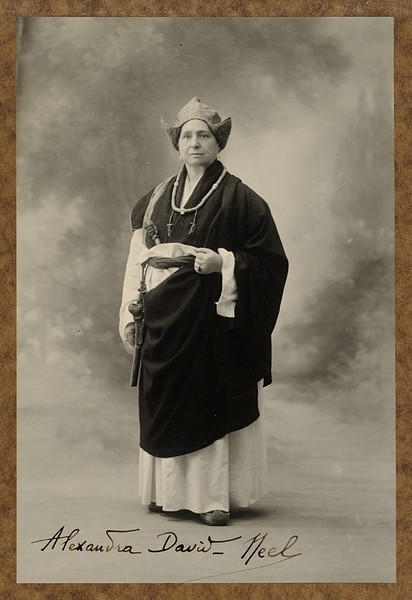 Alexandra David-Néel (l. 1868-1969) was a world traveler, writer, and Buddhist spiritualist who wrote over 30 books on her journeys which took her 18,641.136 miles (30,000 km) around the world on foot or by various conveyances. Her works influenced the writers of the Beat Generation, and she remains an iconic inspiration for many in the present day.
She was born in a suburb of Paris, France during the Victorian Era (1837-1901) noted for its adherence to "traditional values" and beliefs. "Victorian Morality" today is a byword for prudishness and the period is frequently referred to as "straitlaced" and conservative even though the latter part of the 19th century also saw remarkable innovations in thought and cultural progress providing many opportunities for personal expression.
These newfound freedoms, however, were still largely reserved for men. In the value system of Victorian Europe, the expectations for a young woman were very clear: one married as respectably as possible, had children, and maintained a home. Against this backdrop, David-Néel rejected the values imposed upon her and chose to live her life exactly as she pleased. Although not as well-known as her contemporary Gertrude Bell (l. 1868-1926), Alexandra David-Néel was equally accomplished and her influence as significant.
In the almost 101 years she lived, David-Néel would travel thousands of miles on foot, by horse, yak, donkey, sedan chair, boat, plane, and by any other means, write over 30 books, become the prima donna of an opera company, run a casino, sit at the feet of philosophers and occultists such as Sri Aurobindo (l. 1872-1950) and Madame Blavatsky (l. 1831-1891), and be the first European woman to visit the city of Lhasa in Tibet.
Early Life & Background
She was born Louise Eugénie Alexandrine Marie David in Saint-Mande (a suburb of Paris) on 24 October 1868, the only daughter of Protestant freemason Louis David (a relative of the painter Jacques Louis David, l. 1748-1825) and Alexandrine Borghmans, a Catholic from Belgium. Her parents of differing religious beliefs had little else in common, and their marriage was largely one of convenience; Alexandrine had money but no rights without a husband, and Louis was a poor schoolteacher looking for a wealthy woman to marry for financial stability.
David-Néel was instantly enthralled by the concept of Theosophy & would have a life-long association with different chapters of the group.
As a young child, David-Néel was captivated by the works of the writer Jules Verne (l. 1828-1905) and entertained herself imagining the fantastic adventures she would someday have. She began trying to turn these dreams into reality at a young age and ran away from home when she was five years old. Her motivation may have been the birth of her brother Louis Jules (who would die within six months) or her parents' decision to move from their Parisian suburb back to Belgium in 1873.
Whatever her motivation, her early flight from home would become a signature characteristic of her strong desire for freedom. She once wrote that she was homesick for a land which was not her own and could never settle for the comfortable and predictable life her parents, and later her husband, hoped to provide her with. When she was 15, and the family was on vacation in Ostend, David-Néel walked into the Netherlands and booked passage to England.
She had become interested in the occult from a young age and had written to an English woman, Elisabeth Morgan, for literature. The booklet Morgan had sent fascinated her, and she decided to go meet and talk with her. Morgan was a member of the Society of Supreme Gnosis, an offshoot of Madame Blavatsky's Theosophical Society, and was very impressed with the young girl who showed up at her door. She made David-Néel return to her worried parents, but a relationship had been forged in their brief meeting which would have a significant impact on the rest of David-Néel's life.
Theosophy, Stoicism, & Buddhism
The Theosophical Society, founded by Blavatsky, was among the many intellectual innovations of thought in the 19th century. Darwin's 1859 challenge to accepted religious truth allowed people to explore other avenues of spirituality besides Christianity without being branded "heretics". Theosophy claimed that all human beings were one family and all religions simply different expressions of a single truth. David-Néel was instantly enthralled by this concept and would have a life-long association with different chapters of the group. The opposing personalities of her parents - a liberal Protestant and conservative Catholic - had shown her that both religious views were equally valid and equally incomplete; theosophy was a natural fit for the young girl.
She followed her father everywhere through the streets of Paris, and later Brussels, and into the countryside with his hunting dogs. When she was not on these excursions, she was reading Augustine of Hippo, Kierkegaard, Plato, and other similar works. She was drawn to the writings of the stoic philosopher Epictetus and subjected herself to the stoic discipline of eating simply and living simply, sleeping on only boards for a bed. Her spiritual quest at last led her to Eastern philosophies, Buddhism, the works of Buddhist monks, and the self-restraint of the Eightfold Path.
Music & Spirituality
At the age of 15, she also began to study music and voice and was considered a great natural talent. Her obsession with travel for the sake of travel, however, got the better of her, and at 17, she went out for a hike and kept walking on up through the Alps and into the Italian lake country; her frantic mother had to retrieve her from Milan when her money ran out.
In an effort to appease her mother, David-Néel tried her hand as a clerk in a clothing shop but failed. She entered the Royal Conservatory of Brussels studying piano and music theory but left when she received an invitation from Elisabeth Morgan to come to London.
It was increasingly dangerous to be known for leftist beliefs in Brussels & so, in 1895, she accepted a position as singer at the Hanoi Opera House.
Having completed her studies in London she then moved to the Sorbonne, which would not accept her as a full-time student because she was a woman, and spent her spare time among the fin-de-siecle Parisian philosophers and occultists who valued and encouraged female empowerment. Her father had been friends with the anarchist Élisée Reclus and the writer Victor Hugo, both of whom also recognized the equality of women, and she was naturally drawn to the atmosphere she had been raised in. She frequently suffered from depression at this time (as she would throughout her life) and struggled with thoughts of suicide but took strength from the stoic beliefs of Epictetus and the teachings of Buddha.
In 1891 Elisabeth Morgan died and left David-Néel a significant inheritance. Her parents pressed her to invest the money in a small shop, but she instead left to travel for a year through Ceylon (modern-day Sri Lanka) and India. She only returned to Brussels when she ran out of money. Back home she wrote her first book, a long anarchist essay, privately published by Élisée Reclus a few years later.
It was increasingly dangerous to be known for leftist beliefs in Brussels and so, in 1895, she accepted a position as singer at the Hanoi Opera House in Indochina (Vietnam) from 1895-1897 starring as their premiere chanteuse under the name Alexandra Myrial. She continued singing opera for L'Opera-Comique in Athens and then Tunis where her voice began to falter, and she accepted a position as lounge singer at the European casino.
Marriage & Depression
In 1900, she met Philip Néel, a wealthy railroad engineer, and they became a couple. David-Néel took the position of artistic director and ran the casino in 1902, and the couple was married in 1904. Much like the marriage of her parents, Alexandra and Philip had little in common other than mutual need: she wanted money for travel, and he required a wife for respectability. That same year her father died, and David-Néel returned to Brussels; the next year Élisée Reclus would also die. David-Néel continued trying to live a life of respectability with Philip, but the strain of posing as someone she could never be was taking its toll. She gained weight and photos from c. 1910 reflect an extremely unhappy woman trying to play a part never written for her. She asked Philip for his leave to travel alone, and he agreed; they would not see each other again for the next 14 years.
The East & Yongden
She left for India in 1911 and traveled through the country staying at Buddhist monasteries. In 1912 she met the Dalai Lama, who suggested she learn Tibetan; so she did. She was continuing her studies and travel when, in 1914, she met a young man named Aphur Yongden, 15 years old, at a monastery in Sikkim. She felt an instant spiritual bond with the boy and adopted him as her son. She felt she had learned enough from conventional teachings and so, with Yongden, hiked into the Himalayas.
Between 1914-1917 the two would live in a cave 13,123.36 feet (4000 m) up a slope on the border of Tibet. They meditated and found what food they could, traveling in disguise twice toward the forbidden city of Lhasa ("the place of the gods"). It was illegal at this time to cross into Tibet, even more so to visit Lhasa, and when they were discovered after their second visit, they were expelled from Sikkim in 1917.
World War I had started in Europe and so, instead of heading west for home, the pair went east to Japan and then Korea. Leaving Korea, they arrived at the Kumbum Monastery in China where they stayed for two years translating Tibetan holy books and living the austere life of the monks. Here she had many mystical experiences including the creation of a tulpa, a phantom figure conjured through intense psychic concentration.
In spite of the mystical benefits of the monastery, David-Néel could never stay in any one place very long and left to try for Lhasa again. She and Yongden traveled to the Gobi Desert and then through China and on to Tibet. They walked through unnamed jungles, crossed deep chasms on swaying bridges of vine-rope, navigated mountain paths and flooded roads, endured the harsh Chinese and Tibetan winter, were in constant danger from human, wolf, or bear attacks, but finally reached Lhasa in 1924. The city was no more open to foreigners than it had been in 1916, and the pair were disguised as pilgrims. They toured Potala Palace and even managed to take some photographs but were eventually discovered because of the one habit David-Néel could not break: bathing. Everywhere she went she carried a portable bathtub and required a hot bath daily.
Return to the West
The pair left Lhasa before they could be apprehended and went to Gyantse, Tibet where they asked for help from David Macdonald, the British Trade Agent stationed there. David-Néel and Yongden were penniless and in rags. They had been forced to boil and eat the leather from their shoes on their journey and needed a place to stay and a loan to return home. David-Néel was already famous as a French explorer and through her work as an orientalist and from articles she had published but was better known to authorities as a possible spy for the French government. Macdonald most likely thought the best way to deal with the situation was to send the woman home and so accommodated her.
In 1925 David-Néel and Yongden arrived in France. She separated from Philip, who had clearly moved on with his life during her 14-year journey, just as she had, and began work on her first major book, My Journey to Lhasa, which was published in 1927. She bought a small house in Digne-les-Bains, Provence in 1928 which she named Samten-Dzong ("fortress of meditation") and where she would write many of her other works. In 1937, again feeling restless, she left for China along with Yongden and witnessed first-hand the Sino-Japanese War. They traveled through Japan, China, and into India. Philip Néel died in 1941, and David-Néel had to return home to settle his estate. It took her five years to reach a place where colonial authorities and friends could arrange her passage, and she finally left the East in 1946 and returned to France.
The Sage of Digne
She was now a famous author and traveler, "The Lady of Digne", and younger travelers would make a point of stopping at her home to meet her. David-Néel was notoriously bad-tempered and had little patience for poseurs who claimed to know the East from reading about it in books. There were many people worldwide, however, who were learning about Buddhism, Tibet, and all the mystical and practical aspects of the East from her books and she welcomed those who made her house a point of pilgrimage. David-Néel inspired and influenced travelers, poets, and writers the world over, most notably those of the Beat Generation such as Jack Kerouac, Allan Ginsberg, Ram Dass, and Alan Watts.
In 1955 Yongden died of uremia. He was unable to adapt to the European lifestyle and developed a habit of drinking and smoking to excess in the cafés. David-Néel was stricken at the loss of her adopted son and became more reclusive. She went through a number of housekeepers and assistants in the following years - all of whom left because of her impossibly high standards and bad temper. Among these was Jeanne Denys who published a scathing work on David-Néel in 1972 claiming her life story and travels were all a hoax because no woman could have accomplished what David-Néel claimed to have done. In 1959, a young woman named Marie-Madeleine Peyronnet took the position and became a kind of daughter to the old traveler, caring for her until her death.
In 1968, at the age of 100, David-Néel renewed her passport, planning on traveling to Germany, then driving across Russia, and leaving from there for New York. Marie-Madeleine refused, however, claiming she could not endure so long a car ride. David-Néel abandoned her plans and seemed to content herself with giving interviews and entertaining the many guests who traveled to see her. She was terribly lonely, however, and often depressed, wishing only to travel again herself. In 1969 she was elevated to the highest order of the French Foreign Legion and received congratulations from authors and world leaders, including the Dalai Lama.
Conclusion
She was interviewed by famous writers such as Lawrence Durrell, and the French government cast a medal in her honor as an intrepid explorer. She was the subject of television and radio interviews, and Digne named their school after her. All of this meant little to the woman who had spent her entire life traveling and now felt trapped. She was restless with a strong desire to see Tibet again and walk among the mountains, the wind tearing at her, having to forage for food, never knowing what a day would bring.
Her health began to decline in her last year, and she died on 8 September 1969 shortly before her 101st birthday. Marie-Madeleine Peyronnet became her executrix and tried her best to follow the instructions of the will to keep David-Néel's collection of books and artifacts together, whether as donations to libraries/museums or at the house, but many had been lost to the mice in the house that David-Néel refused to trap or kill.
Alexandra David-Néel's legacy continues, however, through her books and those of the many she inspired to live their lives truly and pursue their dreams at any cost. Her determination to live her life according to her own compass continues to inspire and over 50 years after her death institutions, consulates, and schools carry her name in tribute.