Navigation
Biography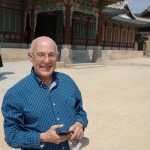 Born in Barcelona (Spain) in 1953. I studied Chemistry, got a Ph.D. in Biochemistry and worked for one year as an assistant teacher in the University of Barcelona.

Then I began working for a biotech company, manufacturer of instruments and reagents for Clinical Diagnostics. I've spent there all my professional life as the CEO and currently, half-retired, as a Member of the Board.

I complemented my chemistry studies with a Degree in Business Administration (ESADE Business School) and, recently, in Humanities (Open University of Catalonia, UOC).

I cooperate with several development projects in Latinoamerica through the net of former ESADE students.

I enjoy reading about History, specially that related with human and social development, rather the warfare. And I like translation cause it forces me to read slow and carefully, looking for the sense of the text rather than the mere meaning of words or sentences. For me is the best way of learning. Despite being slower than just reading, I'm not in a hurry.

I've got some experience in translation and correction of several onlin courses on very diverse subjects, and also many commercial, technical and legal professional documents.
Analytics
2,117,009 pageviews on this user's contributions