Pierre-Auguste Renoir (1841-1919) was a French impressionist painter. Capable of painting in many different styles, even in the same painting, Renoir was certainly prolific, creating over 6,000 paintings in a long career. He had a preference for nudes and children, but although the subjects varied over the years, he almost always presents a colourful and carefree view of the world.
Early Life
Pierre-Auguste Renoir was born in Limoges, France, on 25 February 1841. His parents were of the lower middle class. His father Léonard was a tailor and his mother, Marguerite, was a seamstress, but the family business did not do well, and they were obliged to move to Paris to seek better prospects, an objective that proved elusive. The young Pierre-Auguste showed a talent for both singing and drawing. Renoir's first real artistic efforts came when he worked as a 13-year-old apprentice in a local ceramics factory and painted designs on fine china. After work, he attended free art classes and learnt to use oil paints. His day job succumbed to the arrival of machine technology, and so he moved on to painting murals in cafés and any other commissions he could find. From 1860, he supplemented his income and increased his knowledge of art at the same time by copying works in the Louvre museum.
The art historian V. Bouruet Aubertot describes Renoir's character in the following terms: "Renoir was amiable, poised, and accommodating, a man who was equally at ease in bourgeois drawing rooms and popular gathering places" (307).
Renoir struggled to find money even to buy the paints & canvas to pursue his career.
Renoir next studied painting formally under the Swiss artist Charles Gleyre whose studio gave the rare opportunity to work with live models. It was here that Renoir met several other young students who, together, would revolutionise art. These included Alfred Sisley (1839-1899), Claude Monet (1840-1926), and Frédéric Bazille (1841-1870). Through Monet, the friends came also to know Camille Pissarro (1830-1903), Edgar Degas (1834-1917), and Paul Cézanne (1839-1906). These young artists would form the core of what became known as the impressionists.
Impressionism involved the attempt to capture in paint the temporary effects of light and colour using quick and bold brushstrokes while working outdoors (en plein air). It involved a much more colourful palette than hitherto used in fine art and took nature and everyday life as its main subject rather than mythological and religious scenes. This approach was contrary to the ultra-conservative art establishment and made it very difficult for these young artists to have their work shown in the one place that could make one's reputation and bring lucrative commissions: the Paris Salon.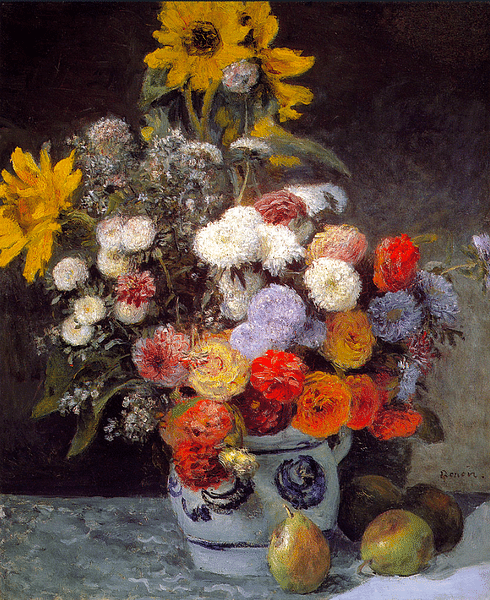 From 1862, Renoir studied in the prestigious Académie des Beaux-Arts in Paris where he excelled. He also joined Monet and others on painting trips to the Forest of Fontainebleau outside Paris. Renoir then won several commissions for portraits and still lifes from Jules Le Coeur (1832-1882).
In 1864, Renoir's La Esmeralda was accepted by the Paris Salon. Disappointed with the lack of response from critics or the public, Renoir later destroyed the painting. In 1865, Renoir shared a studio with the generous Bazille who paid most of the bills. Renoir then had a landscape and a portrait accepted by the Salon in 1865, perhaps largely because these works were much more traditional than his other paintings. Still, making actual money from his art proved elusive. Unable to make a living and with no wealthy relations, Renoir was obliged to live on handouts from friends, but still, he pressed on. In the summer of 1865, he painted with Sisley at Le Havre.
Lise Tréhot was just 17 when she first met Renoir at the end of 1865, and she became his lover and the subject of over 20 paintings. One portrait of Lise was accepted by the 1867 Salon (several more portraits of her were accepted in subsequent Salon exhibitions). For the first time, Renoir was being noticed as the portrait was much more like the work he was doing regularly with the bold brushstrokes which were a trademark of the impressionists. Still, though, he struggled to find money even to buy the paints and canvas to pursue his career.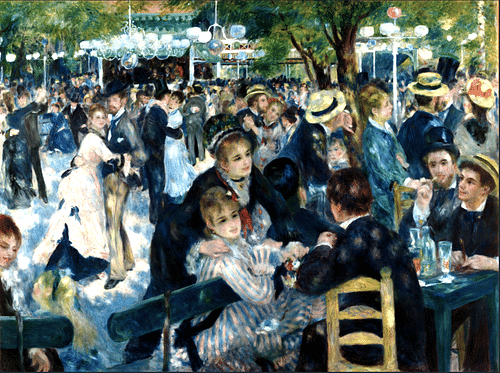 In 1869, Renoir and Monet worked together at La Grenouillère, a fashionable resort on the Seine, and began to further develop their new painting style with its emphasis on the fleeting effects of light. Then, abruptly, this art revolution stalled with the outbreak of the Franco-Prussian War in 1870. Renoir was conscripted into the army. Fortunately, he was posted away from the deadly action in a Bordeaux cavalry regiment, but he did catch dysentery. The other impressionists dispersed or were likewise conscripted; Bazille was killed during this short conflict, and his death greatly affected Renoir and the other impressionists.
Renoir was instrumental in organising an independent exhibition space solely for avant-garde artists.
Back in peacetime Paris, several new commissions allowed Renoir to rent his own studio. Then the noted dealer and friend of the impressionists Paul Durand-Ruel (1831-1922) bought two of Renoir's paintings for his gallery and a small number of collectors began to show an interest in Renoir's work. In 1872, Lise left and married an architect. Meanwhile, Renoir painted alongside Monet in Argenteuil, which was a fashionable weekend retreat for well-off Parisians. The pair would return the next summer to paint more effects of light on water.
Two rejections by the Salon in 1873 made Renoir, along with several other impressionists, realise that the way forward was to organise an independent exhibition space solely for avant-garde artists. Renoir exhibited six works in the First Impressionist Exhibition in Paris in April 1874. He sold two, but the response to the exhibition was disappointing, and many critics were ruthless in their reviews of an art style they did not want to understand. The impressionists organised an auction in 1875, but this was as unsuccessful as the previous year's exhibition, and Renoir's financial situation was as dire as ever. The same year he acquired a new regular model, Margot Legrand (c. 1856-1879) who then became his lover until her death from smallpox in 1879. In 1876, he painted one of his most famous works, Dance at Le Moulin de la Galette, which shows young and fashionable Parisians dancing in Montmartre.
A Portrait Painter
After two more impressionist exhibitions had failed to materially help the artist and only brought more criticism, Renoir decided from 1878 to paint more saleable subjects, particularly portraits. He did not abandon his impressionist style, but he now added more structure and form, which, with his bright palette, appealed more to buyers. In 1878 he had a canvas accepted by the Salon, two more in the 1879 Salon (as well as two pastel works), and his portrait commissions began to increase as a result of the exposure. One wealthy patron who regularly commissioned works from Renoir was the diplomat Paul Bérard. The two became good friends, and Renoir often stayed with Bérard at his Normandy château. The dealer Durand-Ruel also increased his investment in Renoir's work, and this allowed him to visit North Africa in 1881. In Algeria and impressed with the light and colours, Renoir painted people and places.
Back in Chatou west of Paris, Renoir painted one of his most famous works, Luncheon of the Boating Party, which shows a relaxed group in one of the artist's favourite places, the Restaurant Fournaise. At the end of 1881, Renoir was back on his travels, this time a tour of Italy to see the treasures of Renaissance art. The artist went with his new model and mistress Aline Charigot, and he continued to paint, even managing to capture the famed composer Richard Wagner (1813-1883) in Sicily in a rare portrait. His concentration on portraits is explained by the following comment of Renoir's: "The trouble with Italy is that it's too beautiful. Why bother to paint, when there's so much pleasure to be had from looking around you?" (Roe, 227).
The Renoir Style
Returning to France, Renoir worked with Cézanne in L'Estaque. With a new palette inspired by his experiences in Algeria and Italy and a greater emphasis on composition under the guidance of Cézanne, Renoir moved away from impressionism to create his own unique style. The process was not a smooth one and took the artist several years to perfect.
The mature Renoir style combined soft outlines and colours with small but now much smoother brushstrokes. The colours often have a translucent quality, just like designs on porcelain. He was also moving towards a more methodical build-up of his paintings with several sketches and preparatory studies preceding the actual painting on canvas in the studio. This preparation did not compromise his trademark sense of spontaneity. He had a preference for nudes in nature – what he often called 'bathers' – and once said "I never think I have finished a nude until I think I could pinch it" (Hodge, 72). He also produced many portraits, nature scenes with children, and still life, which he particularly liked, once stating, "I just let my brain rest when I paint flowers" (Hodge, 6).
A serious bout of pneumonia and a period of convalescence in 1882, combined with his previous absences abroad, resulted in Renoir slipping from public and critical attention. The consequence was a drop in commissions and a return to financial precarity. At least his international reputation was now being established thanks to exhibitions in London, Berlin, and Boston in 1883. More trips abroad included stays at Guernsey, Marseille, and Genoa, but, returning to Paris, the art market was depressed in general and Renoir with it. There was some personal happiness in March 1885 when Aline gave birth to a son, Pierre Renoir. Mother and child were the subject of a series of paintings by the artist. Fellow impressionist Berthe Morisot (1841-1895) made the following comments on seeing them:
He showed me a whole series done from the same model and with the same sort of rhythm. He is a draughtsman of the first order; it would be interesting to show all these preparatory studies for a painting to the public, which generally imagines that the impressionists work in a very casual way.

(Roe, 263)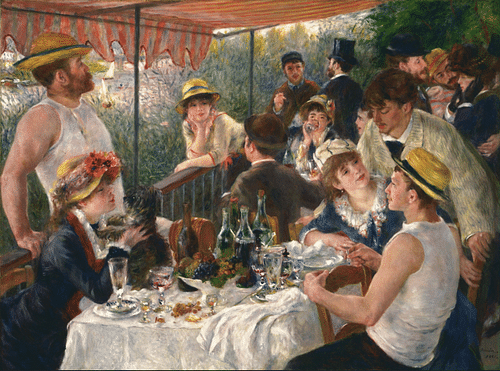 More international exhibitions, including in New York, followed in 1886 and 1887. It was in December 1888 that Renoir experienced the first symptoms of a condition that would blight the rest of his life: rheumatoid arthritis. Seeking warmer weather and inspiration, Renoir spent time with Cézanne in the south of France in 1889. The year 1890 was a good one: his art was selling again and at higher prices than ever, and he married Aline in April. The same year he was awarded the prestigious Légion d'Honneur by the French government, but he refused it. Official recognition came in a more welcome form in 1892 when the state bought his Young Girls at the Piano (1888) for public display in Paris' Musée du Luxembourg. In September 1894, Renoir's second son, Jean, was born. Aline's cousin Gabrielle Renard came to live with the family as a help, and she became a model for Renoir. In 1895, the artist rented a large house in Essoyes, which he later bought, although he kept an apartment in Paris, too. He also kept moving around France, usually in search of warmer weather and thermal treatments to ease the ever-worsening symptoms of his arthritis. Cagnes-sur-Mer on the Côte d'Azur became a favourite spot.
Death & Legacy
By 1900, Renoir's paintings were being exhibited all over Europe and in the United States with price tags more than double any of the other impressionists could command. He was again offered the Légion d'Honneur, and this time he accepted. In 1901, his third son was born, Claude (Coco). Renoir's health continued to deteriorate, and he spent longer spells at Cagnes-sur-Mer, eventually buying a house there, Les Collettes, in 1907. The property was nestled in a tranquil orchard of olive and orange trees. He painted, more slowly than before, given his arthritis and reliance on a wheelchair, and he also began sculpting. In 1912, he suffered a stroke but recovered in the following months to paint again. Young artists like Henri Matisse (1869-1954) and Pablo Picasso (1881-1973) visited Les Collettes to pay homage and learn from one of the fading stars of the impressionist movement.
The World War of 1914-1918 affected everyone; Pierre and Jean Renoir were conscripted, and both were badly wounded in the first year of the conflict. Aline, after a stressful visit to Jean in hospital, suffered a fatal heart attack. Working right until the end on cheerful paintings that revealed nothing of his physical decline, Renoir caught a cold which worsened to pneumonia. He died in Cagnes-sur-Mer on 3 December 1919.
Some critics have noted that Renoir's works are rather idealised and sentimental, but these comments have not prevented him from becoming one of the most popular painters of any period. Renoir was unrepentant of his style or the subjects of his work: "I think a picture should be a delightful thing, happy and pretty – yes, pretty! There are enough troubles in the world without spending our time making more of them" (Bouruet Aubertot, 151).