Claude Monet (1840-1926) was a French impressionist painter who transformed modern art with his emphasis on light brushstrokes, bright colours, and uncluttered nature. Famed for his landscapes and series of paintings that captured the same view in different momentary atmospheric conditions, Monet is heralded as one of the greatest and most influential artists of all time.
Early Life
Oscar-Claude Monet was born in Paris on 14 November 1840. The job of Monet's father, Claude-Adolphe, is not known except that it was a humble one and that the family often struggled financially. In 1845, the Monets moved to Le Havre on the northern coast of France where Claude-Adolphe worked in his brother-in-law's thriving wholesale grocery business. Oscar-Claude's favourite subject at school was art, and, fascinated by the boats in the busy harbour, he often sketched them. From 15, he made money by selling caricatures, some of which were displayed in a local shop window each Sunday, which became a minor local attraction. Monet's aunt, Marie-Jeanne Lecadre, was an amateur painter and she encouraged Oscar-Claude, introducing him to the artist Amand Gautier (1825-1894).
Another artistic influence was the landscape painter Eugène Boudin (1824-1898) and the pair went painting together en plein air (outdoors), as opposed to the traditional method of painting in the studio. Still only 17, Monet produced his first outdoor painting, View from Rouelles, in 1858. Monet later described the experience:
Boudin put up his easel and set to work…for me it was like the rending of a veil; I understood; I grasped what painting could be…my destiny as a painter opened up before me. If I have indeed become a painter; I owe it to Eugène Boudin…Gradually my eyes were opened and I understood nature.

(Hodge, 15)
In April 1859, Monet gathered together his savings from his caricatures sales and went to study art in Paris. He enrolled in the unconventional Académie Suisse and started to make friends with artists like Camille Pissarro (1830-1903) and Paul Cézanne (1839-1906). More caricatures helped eke out his savings.
Wearing shirts with lace frills, Monet was nicknamed 'the dandy' by his peers.
In June 1861, Monet's studies were rudely interrupted by conscription into the French army. Joining the African Light Cavalry, he was shipped off to Algeria. The bright colours of North Africa left a lasting impression on the young artist, who continued to sketch when he could. Then, after contracting typhoid in 1862, Monet was invalided back home. Six months later, Aunt Marie-Jeanne bought her nephew out of the army. Now 22, he dropped the Oscar from his name and began to paint again. It was at Le Havre that Monet met the Dutch artist Johan Barthold Jongkind (1819-1891), whose work he already admired for its broad and bold brushstrokes and which captured effects of the weather on seascapes. As Monet noted, Jongkind "became from this moment, my true master; and it is to him that I owe the final development of my painter's eye" (Hodge, 19).
The Impressionists
At the end of 1862, Monet returned to Paris – a condition of his aunt's rescue from the army was that he study in the capital under a known artist. The choice was Jeanne's cousin by marriage: Auguste Toulmouche (1829-1890). Toulmouche encouraged Monet to study in the academy of Charles Gleyre (1806-1874) for the next two years. Monet further widened his artistic acquaintances, meeting Pierre-Auguste Renoir (1841-1919), Frédéric Bazille (1841-1870), and Alfred Sisley (1839-1899). The group of artists that would become known as the impressionists was gathering. Monet, perhaps in compensation for his humble origins, took particular care over his appearance. Wearing shirts with lace frills, he was nicknamed 'the dandy' by his peers.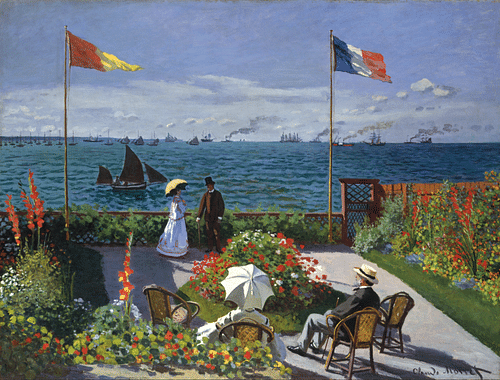 Monet was now learning his craft, doing endless drawing exercises and producing still lifes that showed he had mastered painting as well as anyone. There were hints of things to come. Forest scenes, painted in the Fontainebleau forest south of Paris, show that Monet was keenly observing nature, capturing the change of seasons and experimenting with light and colour. By 1864, he was sharing a studio in Paris with Bazille but still painting, too, on the Normandy coast. Another area the artist was keen to develop was portraiture, and Monet hired a model for that purpose, Camille-Léonie Doncieux (1847-1879). The pair became lovers. A further avenue of exploration was demonstrated by Edouard Manet (1832-1883), who was causing a stir with his paintings of contemporary Parisian life.
Renoir & Monet began to develop their new painting style with its emphasis on the fleeting effects of light.
In 1866, wider recognition came when two of Monet's works were shown in the prestigious Paris Salon. One was Woman in a Green Dress, the model being Camille, and it was well-received by the critics for mixing the traditional darker tones of portraiture with the modernity of the woman's clothing. The attention resulted in a few Monet sales. In August 1867, Monet and Camille had a son, Jean. Hiding his relationship with Camille from his father, the family was struggling to make ends meet.
In 1868, another work was exhibited in the Salon, and Monet participated in Le Havre's International Maritime Exhibition, winning a silver medal. After a brief sojourn at Étretat by the sea, Monet was back in Paris by 1869, but things were not going well artistically or family-wise. Like his father, Monet's Aunt Marie-Jeanne withdrew her financial support because he still had not married Camille. In 1869, the Salon rejected his submissions. Fortunately, Renoir stepped in and rescued Monet, inviting him to La Grenouillère, a fashionable resort on the Seine. Working together, Renoir and Monet began to develop their new painting style with its emphasis on the fleeting effects of light.
Exile
On 28 June 1870, Monet and Camille married. They moved to Trouville on the Normandy coast, where Monet painted twelve works and honed his style. Then disaster struck with the outbreak of the Franco-Prussian War. Monet and his family sought the safety of foreign shores; in September 1870 they moved to London.
Things began to pick up when Monet came in contact with Paul Durand-Ruel (1831-1922), a Parisian art dealer who was just about to open a new gallery in London. He selected one of Monet's paintings for his inaugural show. Monet visited galleries and was impressed by the works of Constable and Turner. The latter was a visionary who was painting outdoors and capturing the effects of light on nature long before the impressionists came along.
Monet was eager to return to Paris, but a civil war had broken out and so he went to Zaandam near Amsterdam in May. He painted 24 canvases, capturing the effects of light on the rippling canal waters. At this time, both Monet and Camille, each losing a parent, inherited a small allowance. Camille taught French, and the first sales from Durand-Ruel's gallery came through. At last, it looked like Monet could at least earn a living from his art, although he had already given up hope of achieving any fame.
Monet returned to Paris in the autumn of 1871 and found a much-changed city. He set up his studio and worked on finishing his Dutch paintings, managing to interest another dealer, Latouche, with a good number of them. Monet's experiences meant he was ready with his long brushes and characteristic small strokes to create some of his most iconic works.
Winning over the Critics
Monet worked in Argenteuil, northwest of Paris, where industry met pleasure-seekers on the Seine. The artist was fascinated by the meeting of nature and the architecture of heavy industry; a whole new genre of landscape painting seemed possible. To better capture such scenes he converted a small rowing boat into a floating studio, leading Edouard Manet (1832-1883) to describe Monet as "the Raphael of water" (Hodge, 43). He also revisited Normandy, searching for the same curious juxtaposition of humanity and nature. It was now that he produced his first, breathtaking masterpiece.
To break the monopoly the Salon had on showing art, the impressionist painters got together and organised their own show in April 1874, the First Impressionist Exhibition. It included five paintings and seven pastel works by Monet. Not successful in terms of sales or in winning over many critics, the exhibition did at least get people talking. One work, in particular, caused a stir. Monet's 1872 Impression, Sunrise, a view of Le Havre's industrial harbour with a fierce orange sun reflected in purple waters, provoked an equally fierce reaction from conservative art critics, who protested at the vague forms, dabbled brushstrokes, and seeming lack of execution and finish. One critic noted: "wallpaper in its early stages is much more finished than that" (Roe, 129). Another critic used the painting's title to coin the term 'impressionism', then a derogatory label for this new and perplexing kind of art.
Monet's income was boosted by an introduction to Victor Chocquet (1821-1896), a customs officer who took a keen interest in the impressionists. Chocquet bought several paintings by Monet to add to his collection. The Second Impressionist Exhibition of February 1876 was again poorly received, but there were, at least, now a few whispers amongst the critics that perhaps these avant-garde artists did have something to say. Monet again caused a stir, this time with his La Japonaise – Camille modelling a red kimono. An obvious attempt at a commercially appealing work, some of Monet's fellow artists thought it an unnecessary concession to the critics. Monet himself later criticised the painting, but it did sell for a much-needed 2,000 francs.
In 1877 Monet painted a new series of paintings on trains and railway stations, particularly Paris' Gare Saint-Lazare. The element of water was a little different, this time in the form of steam from the engines, but the appeal of mixing light effects on industrial architecture continued to fascinate. Many of these works were included in the 30 Monet offerings to the Third Impressionist Exhibition of April 1877. This exhibition gathered a few more positive reviews than previously: the art establishment was beginning to realise it could not go on ignoring the impressionists indefinitely. One supporter was the novelist Émile Zola (1840-1902) who described Monet's railway works as "superb" and, recognising the shift from traditional subjects in fine art, he noted, "That is painting today, in these beautifully broad, modern frames. Our artists must find the poetry in railway stations, just as their fathers found it in forests and rivers" (Hodge, 47).
Back in Paris in 1878, Camille gave birth to their second son, Michel, but she was chronically ill. Monet moved to the restful air of Vétheuil north of Paris. The harsh winter did not stop the artist in his outdoor painting as he captured the effects of light on snow and frost. His finances were at an all-time low, and, forced to write begging letters, he suffered the cruellest blow when Camille died on 5 September 1879; she was only 32.
Monet was grief-stricken and bankrupt, but he threw himself into his work. Declining to show in the Fifth Impressionist Exhibition, Monet decided to try more commercially viable paintings that would allow him to feed himself and his sons. He submitted his Sunset on the Seine at Lavacourt to the Salon in 1880, and it was accepted. By 1881, Monet's income was on a surer footing as he began to build up a clientele for his work. Monet had been sharing his residence with Alice Hoschedé and her children. Ernest Hoschedé had been a patron of the artist before bankruptcy struck. Ernest now lived in Paris, leaving the odd domestic arrangements of Monet and Alice with their children a target for local gossip. Undeterred, the group all moved to Poissy in December 1881.
The impressionists pressed on with their independent exhibitions, and the seventh, held in 1882, showcased 35 Monet paintings. The show was the best received so far, particularly Monet's seascapes of Poissy, which were simplified views where colour and light took precedence over detail. In March 1883, Durand-Rule organised a solo exhibition for Monet. If not a raging success, it was another step up for Monet's public profile. That year, the artist moved to Giverny on the Seine, but before he fully settled, the artist visited the south of France and Italy in search of light and new inspiration.
At places like Bordighera in Liguria, Monet was fascinated by the Mediterranean light, pastel colours, and lush foliage and flowers. At Bordighera alone, he produced 50 paintings. Here the artist paired his impressionistic style with a new brighter palette. In August 1884, he was back in Giverny and hardly ever left as he painted landscapes and garden scenes.
1886 saw another step forward thanks to a New York exhibition organised by Durand-Ruel. The Americans were much more positive towards the impressionists, and Monet made several sales. Never completely free of self-doubt, by 1889, Monet had the confidence to embark on a series of paintings that captured the same scenes in different light and weather conditions across the seasons. The fruit of this project was a series on the Creuse Valley as well as views of Antibes and Juan-les-Pins in the south and Normandy and Brittany in the north. Some fellow artists thought this approach too repetitive, but Monet persisted, and he shared an exhibition with the sculptor Auguste Rodin (1840-1917) in Paris. In 1890-91, Monet painted his series of haystacks in a field near Giverny, reducing his landscapes to their essential elements, leaving only the mood, colours, and shapes of a particular view at a particular time in particular atmospheric conditions, what he collectively called the enveloppe. The artist worked on multiple canvases at the same time to try and keep pace with the changing sun and light. An exhibition of 15 haystacks, again organised by Durand-Ruel, was a success, and almost all the paintings found a buyer.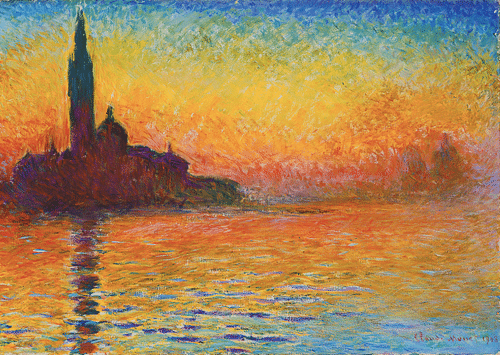 Next, Monet took on poplar trees as his new motif, then a series of 30 paintings of Rouen Cathedral from 1892 to 1894. Again, these sold well. In the meantime, following Ernest Hoschedé's death in 1891, Monet finally married Alice in July 1892. Settled at Giverny and with as secure an income as an artist could hope for, Monet was able to buy his house and begin to transform his garden into a Japanese affair, complete with an ornamental bridge, pond, and eastern flora, just as he had seen in Japanese prints. Monet still found time for a painting trip to Norway in 1895 to capture snow scenes. The next year he returned to Normandy to produce more seascapes, and then in 1897, he was back on his studio boat to complete a series on the Seine, mostly caught in the misty conditions of early morning. Meanwhile, more exhibitions in Europe and the U.S. further cemented Monet's reputation as one of the foremost modern painters.
In 1899 Monet returned to London and painted the Thames from his balcony in the brand-new Savoy Hotel. More series developed featuring Waterloo Bridge, Charing Cross Bridge, and the Houses of Parliament seen in the haze of the city's infamous fog. He returned to London to continue this work for two more spells through 1901. Although the paintings seem to have been completed very quickly, Monet worked on them again and again, either en plein air or in his studio over the next three years. When almost half of the 85 London canvases were put on sale, they achieved Monet's highest ever prices.
At Giverny, Monet's Japanese garden was ready to be painted, as he had planned all along. A new series was produced focussing on the serene bridge and calming lily pond beneath. From 1903, Monet created 150 paintings of his garden, but, ever-searching for perfection, many were never finished; those completed were exhibited in Paris, another triumph in 1909. The artist continued to search for new challenges into his late sixties. In October 1908, he visited Venice and captured once again the meeting of light, water, and architecture. It was to be the last of the artist's painting trips.
Death & Legacy
In his final years, Monet lived a quiet life, enjoying his garden at Giverny. Alice died in May 1911 of leukemia, and his son Jean of syphilis in 1914. Monet was himself becoming frail and had practically lost his sight in one eye. The First World War had broken out, but Monet remained insulated from its horrors. He continued to paint, focussing on weeping willows and water lilies on massive canvases over four metres (14 ft) long, so big he had to have a new studio built to accommodate them. These works were donated to the French state and displayed in the purpose-built Orangerie in Paris in a curved gallery designed by Monet.
Claude Monet died of pulmonary sclerosis on 5 December 1926. Monet's work had influenced his contemporaries and the post-impressionists like Vincent van Gogh (1853-1890). His vision of a canvas without borders and rapid execution would inspire later artists like Jackson Pollock (1912-1956) and Roy Lichtenstein (1923-1997). Art may have moved on from pure impressionism even while Monet was still painting, but by the mid-20th century, his place as one of the founders of a movement that had changed art forever was assured. As artist André Masson (1896-1987) noted, "the Orangerie is the Sistine Chapel of impressionism" (Bouruet Aubertot, 257).