Camille Pissarro (1830-1903) was an impressionist painter based in France who focussed on landscapes but frequently changed his style and subjects. He was an instrumental figure in the new art movement of the 19th century, organising independent exhibitions and inspiring contemporaries like Paul Cézanne (1839-1906) and a whole younger generation of artists from Vincent van Gogh (1853-1890) to Henri Matisse (1869-1954).
Early Life
Jacob Camille Pissarro was born on the island of St. Thomas, then part of the Danish Antilles (now the U.S. Virgin Islands) in the Caribbean, on 10 July 1830. His parents were Frédéric and Rachel, his father being a French Jew (of Portuguese descent) who owned a shop selling general stores. In 1841, Camille was sent to a boarding school outside Paris, where his love of drawing had to be restricted because he neglected his other subjects. His grandparents lived in Paris, and visits to them often included trips to art galleries like the Louvre. Camille returned to St. Thomas in 1847, where he worked in the family shop and sketched whenever he could for the next four years. Then a friendship with the visiting Danish artist Fritz Georg Melbye (1826-1869) inspired Pissarro to look beyond his Caribbean horizons. In October 1852, defying his father's wish that he join the family business, Pissarro and Melbye sailed off to La Guaira and then Caracas in Venezuela. The pair spent the next two years there with Pissarro learning from the older man, constantly sketching and honing his skills with watercolours. After Pissarro's brother Gustave died, he returned to St. Thomas to help his father, but only on the condition that it was a temporary solution until he saved enough money to travel to Europe.
In 1855 Pissarro sailed to Paris, where his mother and sister had already moved as the family's ties with St. Thomas began to break. He studied at the École des Beaux-Arts and then at the unconventional Académie Suisse, where he met fellow art students Paul Cézanne and Claude Monet (1840-1926). An early influence was the landscape artist Jean-Baptiste-Camille Corot (1796-1875) who he met and received encouragement from. Pissarro painted scenes in nature around Paris and in La Roche-Guyon. Another artist and influence he came across in the capital's cafés was Gustave Courbet (1819-1877).
In 1859, Pissarro was ready to make his first submission to the Paris Salon, the city's great exhibition space for fine art. The work, Landscape at Montmorency, was accepted, but unfortunately for posterity, it has been lost. Nothing much came from this honour, but at least 1860 saw Pissarro meet Julie Vellay, a cook's assistant. They did not marry until June 1871; in all, they had eight children. More submissions were accepted by the Salon in 1864 and 1865, including Banks of the Marne at Chennevières.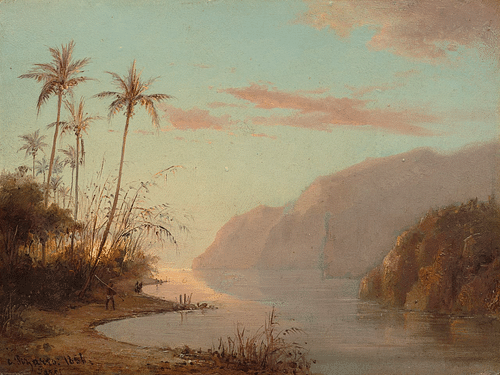 Move to Pontoise
In 1866, Pissarro, Julie, and their first two sons Lucien (b. 1863) and Jeanne (b. 1865) moved to Pontoise, a medieval village northwest of Paris. It was a picturesque choice with its orchards and gentle hills, especially when the trees blossomed in spring. Living here for three years, he often worked with fellow artists like Cézanne and Paul Gauguin (1848-1903). Two of Pissarro's landscapes of Pontoise were accepted by the 1868 and 1870 Salon exhibitions. By 1869, Pissarro had moved to Louveciennes, south of Paris. The Salon successes did not bring financial security, but at least there began to appear a few regular and loyal buyers of his work, notably the singer Jean-Baptiste Faure, and he acquired a dealer for his work, P.F. "Père" Martin. The fees paid were tiny, but with handouts sent regularly from his mother, Pissarro just about survived and could buy his paints and canvases.
Pissarro also began to experiment with painting outdoors instead of in the studio, the en plein air method favoured by most of the impressionists, although he continued to finish off canvases in the studio. The artist captured village scenes where he contrasts the effects of moving light with stationary, well-drawn architecture. He used short brushstrokes and a palette of light and subtle tones. The Pissarro style, never quite staying stationary through his career, has begun.
The Impressionists
In the 1860s, like-minded avant-garde artists got together to meet and discuss their work, although there were many arguments, too. Paris' Café Guerbois and Nouvelle Athènes were often packed with artists who are now world-famous such as Cézanne, Monet, Edouard Manet (1832-1883), Edgar Degas (1834-1917), Pierre-Auguste Renoir (1841-1919), Berthe Morisot (1841-1895) and Mary Cassatt (1844-1926). Pissarro came to Paris from his home in the suburbs to join these artists who met each Thursday. They were not all impressionists, as they later came to be known, some were more traditional artists, and others were literary men. But it was impressionism – the search to capture the temporary effects of light and colour using bold brushstrokes and painting outdoors – that defined the group to outsiders, and it was Renoir, Monet, and Pissarro above all who were credited with creating this new type of art from 1869 onwards. Indeed, Cézanne once commented that Pissarro was "the first impressionist" (Shikes, 78).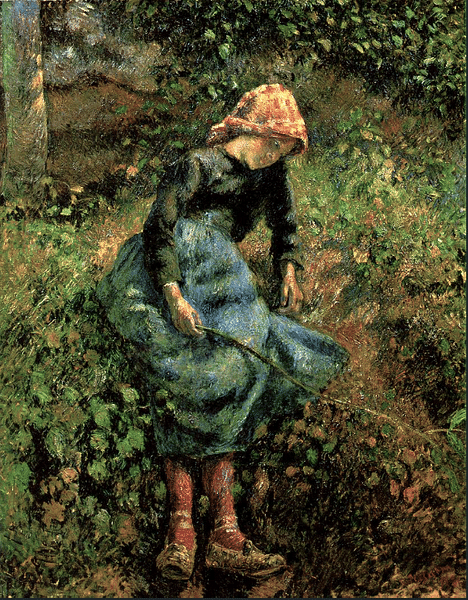 The Franco-Prussian War of 1870 interrupted everyone's careers. Some artists joined the army, but others like Monet and Pissarro left France in December for the safety of England. Pissarro moved to Lower Norwood in London, where he continued to paint, causing a stir as he worked outdoors and waded through the spring mud in his wooden shoes. He met Paul Durand-Ruel (1831-1922) in England, a dealer who was very supportive of the impressionists. Durand-Ruel's first Pissarro purchase was Crystal Palace, London.
Five landscapes by Pissarro were shown at the First Impressionist Exhibition of 1874.
On his return to his studio in Louveciennes after the war, Pissarro found the place had been ransacked and then used as a stable and a poultry slaughterhouse. More than 1,000 of his paintings had been destroyed including his pioneering impressionist works of 1869. Many of the canvases had been ripped from their frames and used as aprons by the butchers. At least by 1872, his income had become more reliable, thanks to more purchases by Durand-Ruel. That year, the family moved back to Pontoise, where the artist was joined by Cézanne, who Pissarro taught and supported in a period when few others did.
Hitherto, the Salon of Paris enjoyed a stranglehold on the fine art market, and it was difficult for less traditional artists to get their work accepted by the ultra-conservative Salon jury for display in the annual exhibitions. The impressionists decided to organise their own exhibitions. Five landscapes by Pissarro were shown in the first exhibition of independent artists in Paris in April of 1874. The exhibition, organised by Pissarro, Monet, and others, included many kinds of works and several by other impressionists. For this reason, it has become known as the First Impressionist Exhibition. The month-long exhibition was seen by up to 4,000 people. The sales were not so great, and the press had a field day criticising this new venture, which attempted to exhibit and sell art outside of the established Salon system. If anything, the harsh criticism depressed prices for impressionist paintings, and dealers became even warier of this new art. Nevertheless, the impressionist exhibition was a first strike at the art establishment.
Criticism & Lack of Sales
More independent impressionist exhibitions followed through the 1870s and beyond, and Pissarro was the only artist to exhibit his work in all eight of them. He also began the innovation of framing the canvases in less-distracting plain white frames as opposed to the heavily gilded affairs of tradition. Pissarro suffered much criticism for his work, just like the other impressionists. Critic Albert Wolff wrote in Le Figaro in April 1876: "try to make Monsieur Pissarro understand that trees are not purple, that the sky is not the colour of fresh butter, and that in no country on earth will you find the things he paints" (Bouruet Aubertot, 216).
Meanwhile, back in Pontoise, Cézanne again visited Pissarro between 1875 and 1877 when the pair experimented with applying paint using only a palette knife. The younger man was now teaching the elder, and the effect can be seen in Effect of Snow at the Hermitage, Pontoise. The artist is now using clear, bright colours and perfecting his distinctive comma-like brushstrokes. He became interested in capturing the blanching effect of the midday sun on colours in a scene, as can be seen in his The Harvest at Montfoucault of 1876.
The late 1870s was a bad time for the artist; even impressionist sympathisers like Durand-Ruel could only stock so many paintings that few wanted to buy. At one point, Pissarro even turned to decorating ceramic tiles to make a few francs. He still visited Paris regularly, endlessly chasing prospective buyers and meeting fellow artists in the usual cafés. The writer George Moore gives the following description of Pissarro at this time which explains his nickname "Moses":
No one was kinder than Pissarro…and he looked like Abraham; his beard was white and his hair was white and he was bald, though at the time he could not have been much more than fifty.

(Shikes, 142)
A New Decade & New Approach
As the 1880s arrived so sales picked up as dealers finally began to shift their impressionist stock and were able to buy new works, including by Pissarro. As the artist wrote in 1882: "I am enjoying the fruits of a moderate but regular sale. I ask only one thing; that this continue. I dread a return to the past" (Shikes, 155). The artist, encouraged by Gauguin, now turned to figure painting, often idealised peasant women at work in the fields. One such work Pissarro was most satisfied with was Young Girl with a Stick. This period sees the artist use short brushstrokes to create a thick layer of crosshatchings that give the painting a discernible texture. In search of more luminous colours, he is also using other media such as gouache, tempera, and pastels. Other new avenues of exploration included etchings and lithography, a project he conducted in collaboration with Edgar Degas and Mary Cassatt.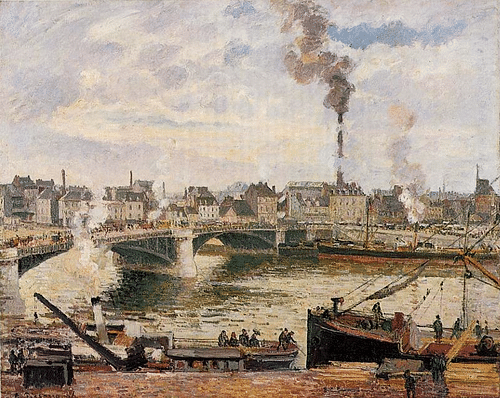 In 1883, Durand-Ruel organised a solo exhibition in Paris for Pissarro which showcased 70 of his works. There were no sales. Later in the year, Pissarro went to Rouen for two months, where he painted several views of the harbour. In 1884, he moved on to Eragny-sur-Epte, a small village that became his permanent home for the rest of his life. He painted the countryside and peasantry, often using a wheeled easel he had built, his 'rolling studio'.
In the mid-1880s, Pissarro came into contact with the artists Paul Signac (1863-1935) and Georges Seurat (1859-1891), both advocates of the neo-impressionist style that became known as pointillism (using small dots to build up an image) and the scientific use of mixing and applying colours. In 1885, Pissarro himself adopted the pointillist method and it can be seen in such works as Peasant's House, Eragny. The artist returned to his own impressionist style after finding the pointillist method too restrictive and unemotional, although he did persist with the idea that one brushstroke should be dry before adding another and so mixing the colours was avoided. The artist's son Lucien, however, would go on to become a major exponent of pointillism.
Writing in 1884, Pissarro still had self-doubts: "…after thirty years of painting, I'm stuck in a ditch. The next generation should keep this in mind. It's a lottery, not a jackpot!" (Bouruet Aubertot, 248)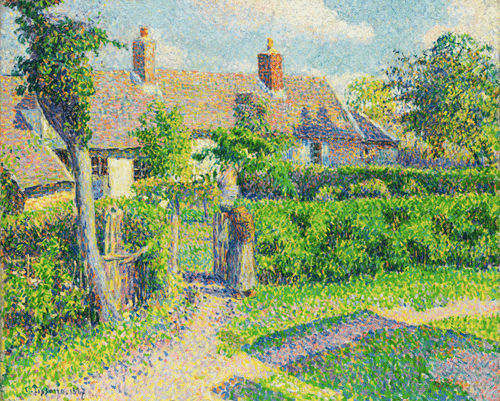 Growing Recognition
By the mid-1880s, Pissarro's international reputation was growing thanks to his work being exhibited with success by Durand-Ruel in Boston in 1883, Brussels in 1885, and New York in 1886. He had also found another useful dealer contact, Theo van Gogh (1857-1891). However, reputation and shows with very few sales did not mean Pissarro could cover his debts, and to make matters worse, he began to suffer from a persistent eye problem, an inflammation in a tear gland. The problem of his eye flared up regularly and necessitated breaks in his work and ultimately abandoning outdoor painting. Once more, Pissarro was obliged to ask for help from artist friends; this time Monet, who was enjoying great commercial success at last, helped out. Still, he worked on and in 1891 things picked up in terms of sales and the next year was even better. It seemed the dealers had finally recognised that Pissarro's work was undervalued and so a good investment. With a loan from Monet, Pissarro was able to buy his house at Eragny in 1892, and he visited England to paint a series of 12 canvases at Kew Gardens. 1893 was another good year for sales, and the artist was able to convert a barn at Eragny into his studio.
In 1894, Pissarro left France for Belgium. As it turned out, he left the day after the assassination of President Sadi Carnot by an anarchist. Pissarro was well out of it since his radical socialist views might have gained him unwanted attention from the authorities; some of his anarchist friends had been put on trial. Pissarro had followed the anarchist movement for some time, although only in terms of ideas rather than practical involvement, and he certainly did not condone violent methods. The artist was against the interference of the state and church in people's lives and was frustrated at how industrialisation had created a whole new level of poverty in society. In subtle ways, his art reflected these anarchist tendencies in their rejection of traditional methods and depictions of a 'noble' peasantry in a utopian landscape.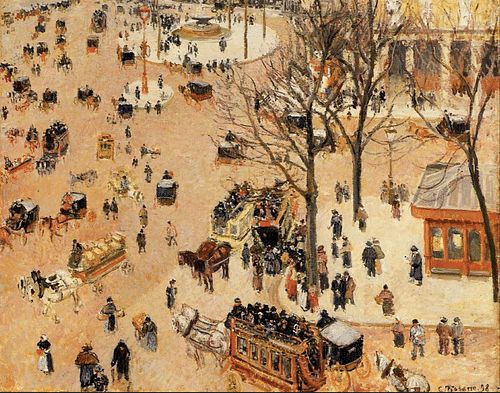 Returning to Eragny in October 1894, Pissarro settled and tried to encourage his children to pursue artistic careers. In 1896 he was back in Rouen, capturing busy street scenes and dockworkers that were commercially successful. The next year, he was painting the boulevards and bridges of Paris where he produced one of his finest works, Boulevard Montmartre at Night. He painted the Place du Théâtre Français from his balcony in the luxurious Hôtel du Louvre. Aided by the lack of a central point or horizon, these works have a curious effect on the viewer, as if we are seeing only a small portion of a wider world. Pissarro continued with highly productive painting spells in Paris between 1900 and 1903. He continued to experiment, painting the same scene – usually a view of a street – from various angles. Two places, in particular, occupied the artist: Dieppe and Le Havre in Normandy. His work was now commanding high prices, 10,000 francs for one painting in 1901, and this for an artist who had struggled to get 50 earlier in his career. In 1903, the Louvre bought two of his paintings; official recognition from the art establishment at last.
In mid-October, the artist was struck down with a bad cold, he then developed an abscess in his prostate, which caused blood poisoning. Following his homeopathy principles, Pissarro fatally delayed the necessary surgery. Camille Pissarro died on 13 November 1903; he was buried alongside his parents at the Père Lachaise cemetery in Paris.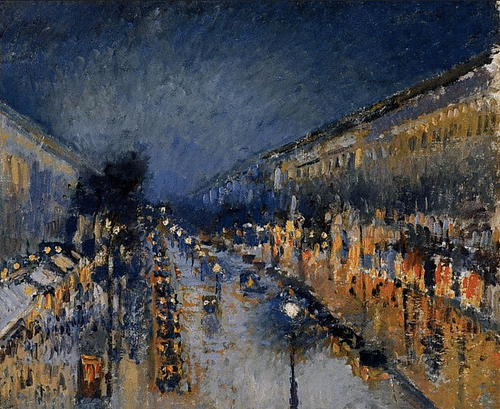 Pissarro had been a great supporter of his fellow artists, sharing his experience and knowledge. Mary Cassatt once said that "he was such a professor that he could have taught stones to draw correctly" (Bouruet Aubertot, 301). Vincent van Gogh, who met the artist many times in Paris, once noted that when Pissarro was around "discussions took on a broader scope" (ibid). Van Gogh markedly increased the brightness of his palette after discussions with the older artist. Pissarro gave the following advice to another young artist, Louis Le Bail:
Precise drawing is dry and hampers the impression of the whole, it destroys all sensations. Do not define too closely the outlines of things; it is the brushstroke of the right value and colour which should produce the drawing…Paint the essential character of things, try to convey it by any means whatsoever, without bothering about technique…paint what you observe and feel. Paint generously and unhesitatingly, for it is best not to lose the first impression. Don't be timid in front of nature; one must be bold…

(Howard, 201)
It is a mark of Pissarro's influence on other artists that, in the last year of his life, Cézanne was still describing himself as "Paul Cézanne, pupil of Pissarro" (Shikes). An even greater demonstration of Pissarro's role in the artist community was the long list of artists, dealers, and collectors who attended his funeral; they included Monet, Renoir, and Henri Matisse. They all owed a debt to a man who had done so much to further the impressionist cause and ensure that artists were now free to pursue their art, free from the restrictions of convention.