Sergei Rachmaninoff (1873-1943) was a Russian pianist and composer best known for his piano concertos and symphonies. He overcame an early ravaging by critics and several years of depression to create works which are today amongst the most popular and most-performed of any 20th-century composer. Rachmaninoff was the last of the group of composers known as the Russian Romantics.
Early Life
Sergei Vasilyevich Rachmaninoff (sometimes spelt Rachmaninov or Rakhmaninov) was born in Semyonovo on 1 April 1873. His mother was a trained pianist, and she taught Sergei well enough for him to merit paid lessons with professional teachers. The family was reasonably well off until Rachmaninoff's father got into debt and was obliged to sell the family estate. They moved to Saint Petersburg in 1882, and Rachmaninoff entered the Conservatory there. Three years later, his parent's separation led to Sergei moving again, this time to Moscow.
In 1885, Sergei entered the Moscow Conservatory and studied piano and composition under Alexander Siloti (1863-1945) and Anton Arensky (1861-1906). Another of his piano teachers was Nikolai Zverev, known for his strict regime. Sergei excelled and showed that he was already a piano virtuoso. Not only could he play any piece, no matter the difficulty, but he was also superb at sight-reading and possessed a remarkable memory that allowed him to replay pieces years after first hearing them. Added to these natural gifts was the benefit of having unusually large hands, which meant he could traverse a keyboard more easily than others.
The premiere of Rachmaninoff's First Symphony in St. Petersburg was, unfortunately, a disaster.
Rachmaninoff graduated in piano in 1891 with honours, and in 1892, he won the gold medal prize for composition (beating another noted future composer, Alexander Scriabin, 1872-1915). Sergei's entry had been his Aleko, a one-act opera which was praised by no less a figure than Pyotr Ilyich Tchaikovsky (1840-1893).
The music historian C. Schonberg gives the following summary of Rachmaninoff's character: "Rachmaninoff was dour, serious, taciturn, and open to only a very few close friends. He was stubborn and would not be pushed around, even as a student." (587)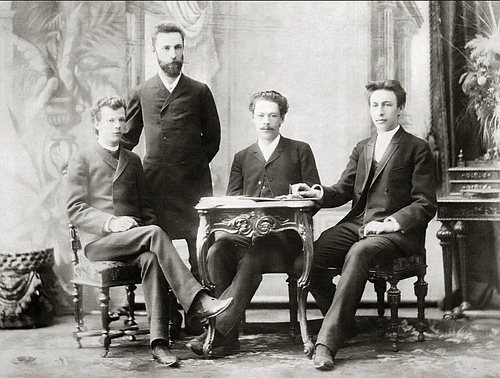 Influences & First Compositions
Rachmaninoff wrote his First Piano Concerto in 1890-1, and his first composition out of the Conservatory was the Prelude in C sharp minor for piano (1892). Rachmaninoff was influenced by earlier composers of Romantic music (around 1790-1910), such as Robert Schumann (1810-1856), Frédéric Chopin (1810-1849), Franz Liszt (1811-1886), and Richard Strauss (1864-1949). Romanticism in music is defined as follows by The New Oxford Companion to Music:
Romanticism emphasized the apparent domination of emotion over reason, of feeling and impulse over form and order…new value was set upon novelty and sensation, upon technical innovation and experiment, and upon the cross-fertilization of ideas from different disciplines, both within and without the arts.

(1580)
The influence of Romantic composers can be seen in such early Rachmaninoff compositions as the 1891 orchestral work The Rock ('Utyos'). Rachmaninoff then went on to create his own unique style where great importance is given to melody, harmony, and rhythm. Sweeping orchestration and feelings of melancholy punctuate many of Rachmaninoff's works.
The composer had to wait until 1897 for a major work to be publicly performed. The premiere of his First Symphony on 15 March of that year in St. Petersburg was, unfortunately, a disaster. The performance was undermined by the conductor Alexander Glazunov perhaps being under the influence of alcohol. The critics were not kind; César Cui infamously described the work as follows:
If there were a conservatory in Hell, if one of its talented students were instructed to write a programme symphony on the 'Seven Plagues of Egypt', and if he were to compose a symphony like Mr Rachmaninov's, then he would have fulfilled his task brilliantly and would delight the inhabitants of Hell.
(Thompson, 178).
The modern musical critic Jürgen Otten gives the following reasons for the negative reaction: "it was the harnessing together of Russian, non-Russian and novel elements that disturbed critics and public alike" (liner notes to Deutsche Grammophon's Rachmaninov Symphonies boxset, 2011). Geoffrey Norris, in The New Oxford Companion to Music, suggests that it was the performance of the orchestra rather than the music itself which was found wanting. The wider public would not get to judge for themselves until the next public performance of the First Symphony, 48 years later. Rachmaninoff took the negative reaction badly and suffered a mental breakdown; he did not compose music for three years, although he did earn a living as a conductor of opera in Moscow in this period. In his own words, Rachmaninoff "felt like a man who had suffered a stroke and had lost the use of his head and hands" (Schonberg, 588).
Rachmaninoff, always appreciated as a pianist as well as a composer, made many gramophone recordings.
Rachmaninoff was nursed back to health and helped in the restoration of his confidence by the assistance of Dr Nikolai Dahl, who used a therapy involving hypnotism. Eventually, Rachmaninoff felt well enough to begin composing again, and the result was his magnificent Second Piano Concerto. The work was dedicated to Dahl and premiered on 9 November 1901. The concerto was instantly well-received and gained Rachmaninoff international recognition. It remains one of the composer's most highly regarded pieces by critics and public alike. The original biblical epigram heading of Rachmaninoff's First Symphony back in 1897 now took on a prophetic meaning: "Vengeance is mine, I will repay, saith the Lord."
The composer focussed on opera in the early 1900s, and his reputation in this period was perhaps based more on his conducting than anything else. Rachmaninoff conducted at both the Imperial Theatre and the Moscow Philharmonic. In 1902, Rachmaninoff married his first cousin Natalya Satina, a union not usually blessed by the Russian Orthodox Church but allowed to go ahead thanks to intervention from an influential aunt. The couple spent their honeymoon in Europe, and they went on to have two daughters. Rachmaninoff next worked as the conductor at Moscow's famous Bolshoi Theatre.
In 1905, the Rachmaninoffs moved to Dresden to cure the illness of their daughter Irina. It was in Dresden that Rachmaninoff composed his Second Symphony (completed 1908), notable for its impressive clarinet solo. Other works written during his time in the German city include the First Piano Sonata and The Isle of the Dead, a symphonic poem inspired by the composer seeing the painting of that name by the Swiss artist Arnold Böcklin (1827-1901). After Dresden, the Rachmaninoffs returned to Russia and lived on the quiet estate of Natalya Satina's family at Ivanovka in the district of Uvarovsky.
Life in America
After composing his Third Piano Concerto and premiering it in New York in 1909, Rachmaninoff toured the United States. Regular tours across Europe followed. The composer divided his time between his summer home at Ivanovka and the winter performance tours. This sequence was only interrupted by the First World War (1914-18). Rachmaninoff gave concert tours in southern Russia to help raise funds for the war, but following the turmoil of the Russian Revolution in 1917, Rachmaninoff and his family escaped to a concert tour in Sweden, moved to Switzerland, and then permanently emigrated to the United States in 1918. There, the Rachmaninoffs lived as Russians in exile, employing Russian servants and continuing their traditions as best they could. In the 1930s, Rachmaninoff wrote an open letter to the New York Times in which he criticised Soviet Russia, which now seemed to be permanently in the dreadful grip of Joseph Stalin. The letter meant that, for a time, Rachmaninoff's work was officially banned in Russia.
In his new life in America, Rachmaninoff concentrated on performance, touring extensively, but there were occasional new compositions, such as the Fourth Piano Concerto (1926). This last concerto, like his first, was not well-received, and Rachmaninoff chose to make changes to it, which included shortening its length. The composer created his own publishing company in Paris not only for his own work but to also promote that of other Russian composers. The company was called Tair after the first two letters of each of his daughters' Christian names, Tatiana and Irina.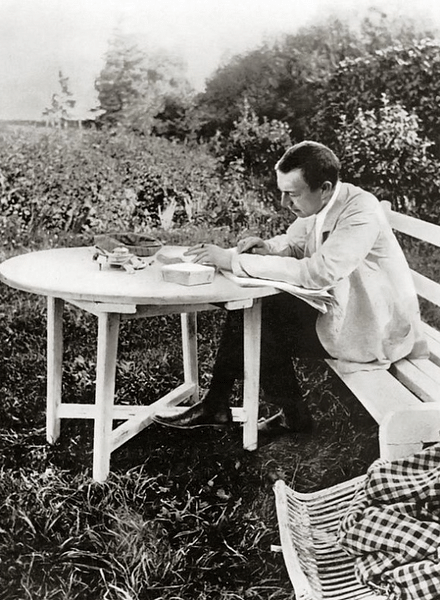 Through the 1920s, Rachmaninoff continued to concentrate on concert performances, spending the summers back in Europe in France, Dresden, or his villa on the shores of Lake Lucerne in Switzerland. As a pianist, Rachmaninoff was regarded as one of the finest (by many, the finest) in a period particularly blessed with great soloists. His stage presence was impressive with his tall figure, close-cropped hair, and tendency to lean close to the keyboard. Rachmaninoff's playing posture minimised any physical movement beyond his hands, which struck the notes with unusual precision and clarity.
Still active in the 1930s, Rachmaninoff's later works, compared to those before, have "a terser, more astringent tone…[there is an] invigoratingly pungent bite to the harmonies, a new urgency in the rhythmic thrust, and (in the orchestral works) a spareness of scoring which contrasts sharply with his earlier music" (Arnold, 1522). In 1934, he composed his much-celebrated Rhapsody on a Theme of Paganini, a piece for piano and orchestra. One of the composer's later works and a short one, it is, nevertheless, typical of his sweeping, emotional, rollercoaster style that dives into the depths of pause-laden and single-note melancholy before rising to summits of full orchestral majesty before descending once more into reflective calm. Rachmaninoff completed his Third Symphony in 1936 (and then revised it in 1938), and in 1940, he wrote his last major work, the Symphonic Dances.
Rachmaninoff, always appreciated as a pianist as well as a composer, made many gramophone recordings of his own piano playing from the 1920s onwards. These recordings show his style, described by Geoffrey Norris as "pearly-toned, clearly articulated piano playing, with its unerring verve, refined legato, and sublime intensity of expression" (Arnold, 1523)
Rachmaninoff's Noted Works
Rachmaninoff wrote music in a wide variety of forms, including sacred vocal works for performance in the Russian Orthodox Church, concertos, symphonies, preludes, and songs. Rachamaninoff's most important works are:
4 piano concertos
3 symphonies
24 preludes for piano (1892-1910)
Spring (1902)
Liturgy of St John Chrysostom (1910)
The Bells (1913)
All-night Vigil (1915)
Variations on a Theme of Corelli (1931)
Rhapsody on a Theme of Paganini (1934)
Symphonic Dances (1940)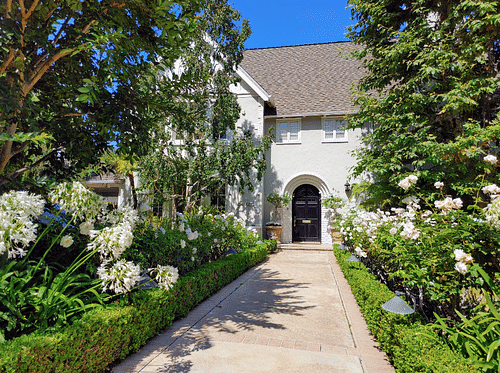 Rachmaninoff's work has not convinced all critics of its merit; the Classical Music Encyclopedia, for example, notes that his three symphonies "compensate in melodic opulence for what they occasionally lack in formal cohesion" (389). Some critics regard his work as too often bordering on the sentimental and lacking the innovation seen in the work of composers who took music to new places, such as Igor Stravinsky (1882-1971) and Sergei Prokofiev (1891-1953). Nevertheless, the Rachmaninoff symphonies and concertos remain today amongst the most publicly performed works by any 20th-century composer. As Schonburg notes, "all young pianists have in their repertory the C-minor and D-minor Concertos" (598).
Rachmaninoff's music belongs to the Romantic era, even if the composer himself outlived that period of music. Of this, the composer was fully aware as he once commented: "I feel like a ghost wandering in a world grown alien. I cannot cast out the old way of writing and I cannot acquire the new" (Thompson, 178). Rachmaninoff suffered ill health in his final years, although he continued to perform publicly, his last concert being on 17 February 1943 at Knoxville, Tennessee. He died of cancer at his home in Beverly Hills on 28 March 1943.
Rachmaninoff's dramatic flare has matched well with the demands of cinema, and he has been used frequently within film scores. The composer's Second Piano Concerto was featured prominently in the classic 1945 film Brief Encounter. Directed by David Lean, the film has regularly appeared at the top end of 'best of' lists ever since, and Rachmaninoff's music played no small part in its success. The same piece of music features in another doomed love affair, the 1950 film September Affair, starring Joseph Cotten. Excerpts from the Second Piano Concerto also feature prominently in the hit popular song All by Myself, written by Eric Carmen in 1975.