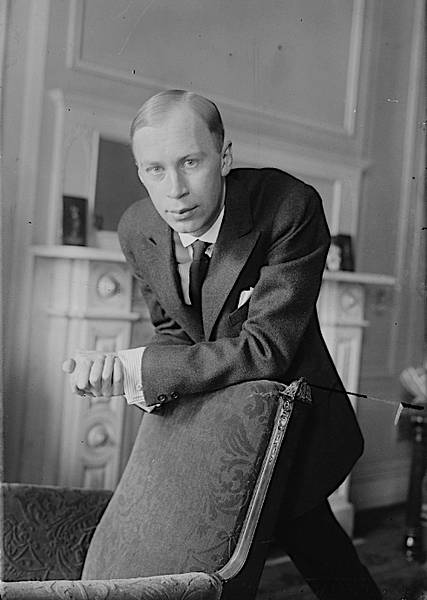 Sergei Prokofiev (1891-1953) was a Russian composer (born in Ukraine) who was at the forefront of the Modernist music movement. His symphonies, orchestral suites, and ballets display endless variety and complexity. His most famous works today, perhaps, are the Classical Symphony, the Romeo and Juliet ballet score, and the symphonic fairy tale Peter and the Wolf.
Early Life
Sergei Prokofiev was born in Sontsivka, Ukraine, on 27 April 1891, then part of the Russian Empire. He was born into a wealthy family – his father ran a large estate – and he had no siblings. Showing musical talent at an early age, Sergei was already composing his own pieces from 5 years old, and, aged nine, he had a stab at composing an opera. One of his first tutors was Reinhold Glière (1875-1956). Sergei, still only 13 years of age, was good enough to enter the St. Petersburg Conservatory in September 1904. He was privileged to study orchestration under the famed Russian composer Nikolai Rimsky-Korsakov (1844-1908).
Prokofiev soon gained a reputation as a composer who wrote "astringent, avant-garde music with a tendency to shock" (Wade-Matthews, 470). Prokofiev completely rejected the Romantic music of composers like Frédéric Chopin (1810-1849) and Franz Liszt (1811-1886). He was even hesitant to show some of his compositions to his tutors for fear he would be thrown out of the Conservatory. He made his first public piano performance on New Year's Eve 1908.
Prokofiev's father died in 1910, and so he now had to fend for himself financially. He composed a piano concerto in 1911-12, but the critics were ruthless. The second piano concerto of 1913 suffered the same fate with one critic noting that some members of the audience were left "frozen with fright, hair standing on end" (Wade-Matthews, 470). Listeners took an instant dislike to the "dissonant harmony, percussive, spiky piano writing, feverish activity, and its huge, 10-minute cadenza in the first movement" (Arnold, 1502). Still, other professionals saw merit in Prokofiev's work, particularly members of the Modernist music movement. According to The Oxford Companion to Music, these early works showed that "Prokofiev possessed a keen sense of orchestral colour, a firm grasp of structure, and a pronounced lyrical gift; there is, too, that touch of devilment which seems to underlie so much of Prokofiev's music" (1502).
Prokofiev's large ego meant he was not afraid to innovate, once stating: "I abhor imitation."
He graduated from the Conservatory in June 1914 having won the Rubinstein Prize playing his own piano piece (when he was supposed to have played a prescribed piece by another composer). A celebratory visit to London resulted in the impresario Sergei Diaghilev commissioning Prokofiev to write a ballet, Ala i Lolli (Ala and Lolli). The composer's first two ballets were not successful, and only the second, Chout (The Buffoon), was performed, and that not until 1921, first in Paris and then London.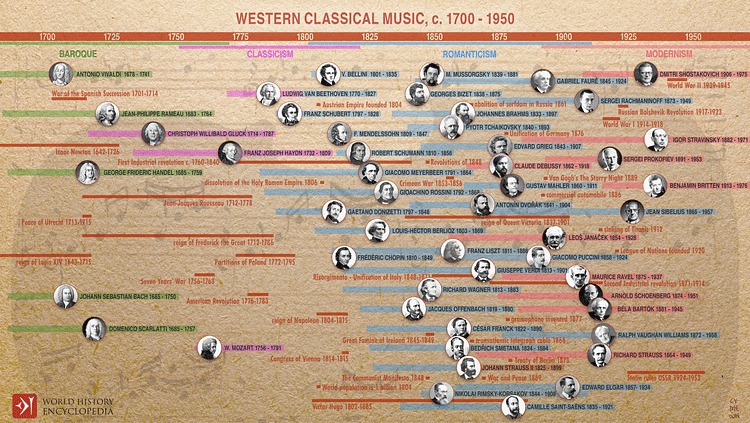 As a concert pianist, Prokofiev was a sight worth seeing. One eyewitness to Prokofiev in concert recorded the experience as follows:
Prokofiev wore dazzlingly elegant tails, a beautifully cut waistcoat, and flashing black pumps. The strangely gauche manner in which he traversed the stage was no indication of what was to follow; after sitting down and adjusting the piano stool with an abrupt jerk, Prokofiev let go with an unrelenting muscular exhibition of a completely novel kind of piano playing…it reminded me of the onrushing forwards in my one unfortunate soccer experience – nothing but unrelenting energy and athletic joy of living…There was frenetic applause, and no less than six flower horseshoes were handed to Prokofiev, who was now greeted with astonished laughter. He bowed clumsily, dropping his head almost to his knees, and recovering with a yank.

(Schonberg, 606)
By 1917, Prokofiev had turned to opera, and he composed Igrok (The Gambler), which was inspired by the novel of the same name by Fyodor Dostoevsky (1821-1881). The opera was not performed until 1929 in Brussels. Another opera, Ogennyy (The Fiery Angel), also had to wait patiently for its premiere, which eventually came in 1954. He composed his First Violin concerto in 1917 and the Classical Symphony. Following the Russian Revolution of October 1917, Prokofiev moved to the United States.
Character & Relationships
The music historian C. Schonberg gives the following summary of Prokofiev's character and physique:
He was a stubborn, intelligent, obstinate, and cocky young man of undeniable talent…everything about him attracted attention, including his looks. His head was set on a pipe-stem neck; he had pink skin that would turn red when he was in a rage (which was often), piercing blue eyes, and thick, protruding lips…always ready with a crushing repartee, with an irritating chuckle and a celebrated leer. He was a man who never could temporize, and he did not suffer fools gladly…If he took a dislike to anybody, he could be savage.

(604-5)
Another historian, M. Steen, gives a similarly negative assessment of Prokofiev's character: "abrasive, arrogant, abrupt and often tactless" (842). At least the composer's large ego meant that he was not afraid to innovate, once stating: "I abhor imitation and I abhor the familiar" (Wade-Matthews, 470)
Prokofiev's wife Lina was of Spanish origin; they married in 1922. The composer was not faithful and had an affair. From 1941, Prokofiev lived with his assistant Mira Mendelson, a member of the Communist Party. Perhaps significantly, the composer married Mira six weeks before his first wife was arrested for alleged spying.
Prokofiev's exile from Russia was self-imposed & broken by occasional visits to his homeland.
Years In Exile
Prokofiev did reasonably well in the United States where his eccentric piano-playing style energized audiences. He composed the ballet Lyubov k tryom apelsinam (The Love for Three Oranges), which was first staged by the Chicago Opera in 1921. The opera, which has a prologue and three acts with the libretto by Prokofiev, became an international success. Such was the success, the composer converted the score into an orchestral suite in 1919 (which he revised in 1924).
The composer's time in the United States was not altogether successful professionally, though. Prokofiev's harsh style of playing led to him being labelled by some as "Steel fingers, steel biceps, steel triceps" (Schonberg, 606). The composer was not at all enamoured with America's generally conservative musical tastes. He once wrote:
I wandered through the enormous park in the middle of New York and, looking up at the skyscrapers bordering it, I thought with fury of the wonderful American orchestras that cared nothing for my music; of the critics who were repeating for the hundredth time, "Beethoven is a great composer" while balking violently at new works; of the managers who arranged long tours for artists playing the same hackneyed programs fifty times over.

(Schonberg, 607)
In 1922, Prokofiev moved to Paris. He wrote three more piano concertos and three ballets, as well as concertos for strings and three symphonies. Prokofiev's exile from Russia was self-imposed and broken by occasional visits to his homeland. He also received commissions from Russians such as the film score for Poruchik Kizhe (Lieutenant Kijé) in 1934. The film was never released, but the composer used his score to create an orchestral suite with five parts. According to the contemporary musicologist Geoffrey Norris, this work showcases Prokofiev's "gifts for memorable melody, strong rhythms, and gently mocking turn of phrase, setting them in his highly individual harmonic idiom, succulent yet pungently spiced" (Arnold, 1503). The suite is still widely performed today.
In 1936, Prokofiev wrote a ballet, Romeo and Juliet for Moscow's prestigious Bolshoi Ballet, although it was not accepted at first. The opera, with a prologue and three acts, was premiered in Brno in 1938, and in the meantime, Prokofiev converted the score into an orchestral suite (which, after more tinkering by the composer, now exists in three versions).
Return to Russia
Prokofiev, who once said, "I care nothing for politics – I'm a composer first and last" (Schonberg, 610), returned permanently to Russia in 1936, which was a period just when the Soviet regime was beginning to turn its censorship towards the arts. Fellow composer Dmitri Shostakovich (1906-1975) had just been denounced by the state, and Prokofiev's return to an obviously totalitarian regime seems inexplicable except that he was either immensely naive or terribly homesick. Once back in Russia, he immediately composed Peter and the Wolf, a symphonic fairy tale (music and libretto by Prokofiev) aimed at children but which has become popular worldwide with all ages. The story tells of Peter who tricks a wolf, but there are many other animals besides, each represented by a particular musical instrument since the original aim was to help children identify the various orchestral instruments.
Prokofiev was in constant demand for his services. He provided the score for the 1938 film Alexander Nevsky. He wrote the opera Obrucheniye v Monastyre (The Duenna or Betrothal in a Monastery) in 1941, which was first performed five years later. Also in 1938, he composed the Second String Quartet. In 1943, Prokofiev completed his opera Voyna i mir (War and Peace). Unsurprisingly, given the weighty source material, the opera has five acts. It premiered in June 1946 at the Maly Theatre in St. Petersburg (then Leningrad). A fifth symphony was completed in 1944. Prokofiev seemed immune to the political situation in Russia and was even able to indulge his passion for cars and import a blue Ford, which must have been conspicuous in Moscow. However, all was not well with his relationship with the Soviet government.
Works by Prokofiev from the mid-1940s show the influence of Soviet politics, a 'realist' approach that was stipulated as obligatory by the authorities who wished to quash what they described as 'formalism', a vague term used to label anything in the arts which did not conform to the Soviet view of the world. Essentially, the arts had to promote the state. Prokofiev did tone down his music in this period: "It carried all of Prokofiev's rhythmic, melodic, and harmonic mannerisms, but sounded less modern; less age-of-steel. Emotionally it was a gentler kind of music, staying close to the principles of Socialist Realism" (Schonberg, 613).
Despite trying to fit in to the new Russia, Prokofiev was not immune to persecution. The net of oppression began to close and entangle the composer during the Second World War (1939-45) when his first wife was arrested on suspicion of spying; she was found guilty and sent to a labour camp in Siberia. Ultimately, Prokofiev himself was publicly labelled a traitor for his perceived "formalist perversions" (Wade-Matthews, 471), whatever that meant. Nevertheless still composing, Prokofiev, amongst other works, provided the film score for Ivan the Terrible in 1947, wrote two more symphonies, and provided two more ballets: Zolushka (Cinderella), which was performed in 1945, and Kamennyy tsvetok (The Tale of the Stone Flower), first performed in 1954. Another late work was written for the virtuoso cellist Mstislav Rostropovich (1927-2007), the Symphony-Concerto for cello and orchestra (1952). All of these later works bear the shadow of Soviet policy towards the arts, the major consequence of which was an almost total lack of innovation.
Prokofiev's Most Famous Works
Sergei Prokofiev's most famous works include (with first performance dates indicated in brackets):
2 violin concertos
5 piano concertos
7 symphonies
Lyubov k tryom apelsinam – The Love for Three Oranges opera (1921)
Poruchik Kizhe – Lieutenant Kijé orchestral suite (1934)
Romeo i Dzhulyetta – Romeo and Juliet ballet (1938)
Petya i volk – Peter and the Wolf symphonic fairy tale (1936)
Zolushka – Cinderella ballet (1945)
Voyna i mir – War and Peace opera (1946)
Prokofiev had a heart attack in 1941. He fell on stage while conducting in 1945 and was never quite the same again. Sergei Prokofiev died of a brain haemorrhage in Moscow on 5 March 1953. It was the same day that the Soviet leader Joseph Stalin died. The composer was buried in the Novodevichy Cemetery in Moscow.
Prokofiev remains today one of the most performed of the 20th-century composers. His enigmatic music continues to fascinate with its sheer variety, as noted here by the Classical Music Encyclopedia:
Prokofiev's music oscillates between motor rhythm and lyricism, and between irony and expressive sincerity. This gives his compositions extreme variety: works composed closely in time, even adjacent movements in the same work, are quite different characters.

(362)
As Prokofiev himself was well aware, it was his innovation that has ensured his music's longevity:
To write only according to the rules laid down by classical composers of the past means to be only a pupil and not a master. Such a composer is easily understood by his contemporaries but he has no chance of outliving his generation.

(Steen, 883)