Titian (c. 1487-1576 CE), real name Tiziano Vecelli (or Vecellio), was an Italian Renaissance painter who during his lifetime was considered the finest of the Venice school of artists. In a long career working for dukes, kings, and popes, Titian produced a large number of paintings, mostly with a religious theme, a mythological theme or portraits. The artist's work is renowned for the emotion of his figures, rich colouring, and overall mood of the compositions. Titian's masterpieces include Venus and Adonis, now in the Prado Museum of Madrid, several altarpieces for churches, and portraits of such noted figures as Philip II of Spain (r. 1556-1598 CE).
Early Life
Tiziano Vecelli, better known internationally by his anglicized name Titian, was born in Pieve di Cadora, Veneto c. 1487 CE. When he was just nine, he was sent to a mosaic workshop in Venice to begin an apprenticeship there. The young artist then progressed to become a student of Giovanni Bellini (c. 1430-1516 CE) in his Venetian workshop. A contemporary apprentice was another future star, Giorgione da Castelfranco (1475-1510 CE). Titian and Giorgione influenced each other greatly and even worked directly together, notably on the facade of the Fondaco dei Tedeschi palace c. 1504 CE. When Giorgione died in his mid-thirties, Titian finished off some of his remaining paintings. One example is the Sleeping Venus now in the Gemaldegalerie of Dresden. There are also some works which art historians continue to disagree over just who created them, Titian or Giorgione, notably the Pastoral Concert now in the Louvre, Paris. Works identified as purely Titian's in this early stage of his career include the Saint Mark Enthroned altarpiece, now in the Academia Gallery of Venice, and The Gypsy Madonna now in the Kunsthistorisches Museum, Vienna.
One of Titian's favourite techniques was the use of colore (or colorito) - using the juxtaposition of colours to define a composition.
The Established Master
Titian established himself as an artist of note in his own right with such works as the c. 1511 CE fresco cycle of the Scuola del Santo in Padua and The Baptism painting now in the Capitoline Museums of Rome. The first major public commission was the 1518 CE Assumption of the Virgin altarpiece for the main apse of the Church of the Frari in Venice. The viewer is led upwards through the painting both by the action and the movement of darkness into light. As the art historian J. T. Paoletti puts it, "Seen from as far away as the church's entrance, Titian's bold composition, eloquent gestures, and pulsating light dominate the church's elaborate interior" (458). This great success was followed up by the c. 1520 CE Entombment of Christ painting now in the Louvre.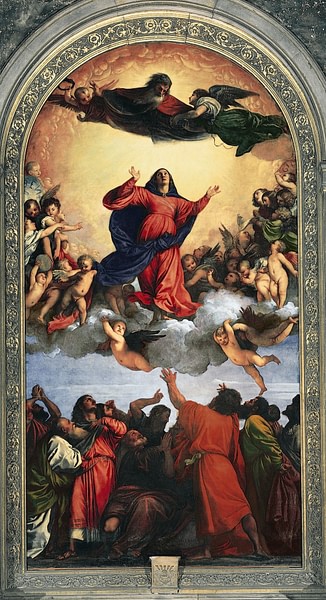 Titian was now recognised as the finest artist of the blossoming Venice School, and he was running a large and successful workshop of his own in that city. Works were also produced for Ancona, Brescia, Verona, and Treviso. Back in Venice, Titian produced another altarpiece for the Frari Church, the Pesaro Madonna, completed c. 1526 CE. This piece was innovative and influential as the artist made it into a diagonal composition framed with architectural elements that reminded of those found inside the church.
Titian's paintings have a vibrant colouring & illusion of depth.
Meanwhile, the artist's love of mythology and knowledge of art from antiquity is seen in his paintings Bacchus and Ariadne (National Gallery, London), The Andrians (Prado, Madrid), and The Worship of Venus (Prado). These paintings were commissioned between 1518 and 1523 CE by Alfonso d'Este (1476-1534 CE) for his palace in Ferrara, seat of his dukedom. The Bacchus painting is a feast of exotic imagery. It has the god of wine jumping from his chariot which is pulled by cheetahs. He is surrounded by his usual entourage of frolicking nymphs and satyrs who seem to have just been on a hunt and killed a stag. These unruly figures form an approximate isosceles triangle pointing to the left of the picture. There, Ariadne is illuminated by the clouded and setting sun behind her. She is about to be rescued after her abandonment by Theseus, and the appearance of stars in the top left corner reminds that she will be commemorated in a constellation named after her. The painting has been rather brutally cleaned in modern times, and this treatment has removed some of the subtlety of the colouring, even if the result is perhaps more to modern tastes than those of the 16th century CE.
Titian's mythological works, then, contain a depth of meaning, as here summarised by the historian K. Wren Christian:
[They] catered to a new sort of viewer who could, after extended looking, decode multiple references to antique and contemporary art and literature in order to grasp the full extent of the artist's originality in recombining these sources. It was the type of work that Titian would later call a poesia, a visual work that rivals poetry in its density of allusion and visibility of invention.

(Wyatt, 54)
The Titian Style
Titian was a technically innovative painter. One of his favourite techniques was the use of colore (or colorito), that is using the juxtaposition of colours to define a composition rather than contour lines. Colore was the very opposite of the disegno technique which emphasised the importance of defining form using lines and, thanks to artists like Titian, it became particularly associated with Venetian art. Another of Titian's hallmarks was his treatment of the effect of light on colours. The artist's paintings frequently employed a solid earth colour foundation upon which Titian added successive layers of semi-transparent lighter colours, even sometimes mixing the layers and making adjacent colours blend more subtly by using a finger not a brush. The final colour layer was then added using precise points of definition using free brushwork. It is the combination of these techniques which give Titian's paintings their vibrant colouring and illusion of depth. Finally, this technical ability was combined with the artist's preoccupation with giving his figures tangible emotions which help create a certain mood in the overall composition.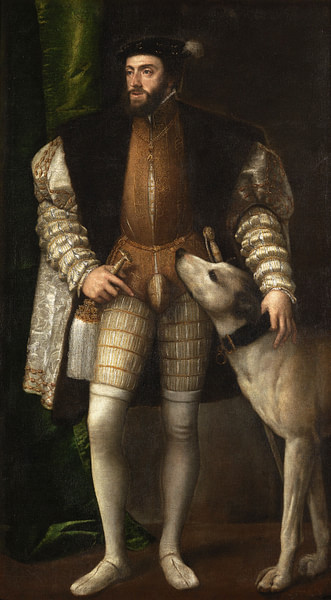 The Spanish Court
Titian's reputation was by now international and in 1533 CE he was commissioned to paint a portrait of Charles V, Holy Roman Emperor (r. 1519-1556 CE). The work, which shows the emperor standing next to his dog, must have been well received because Titian was then appointed Charles' official court painter; he would continue in that role for his son Philip II of Spain. Charles V even knighted his imported talent and awarded him membership of the prestigious Order of the Golden Spur. Soon, everyone who was anyone wanted their portrait done by the master from Venice. A celebrated example is the portrait of the Duke of Urbino, Francesco della Rovere, a work now in the Uffizi Gallery of Florence. Other noted works of the 1530s CE include the Presentation of the Virgin (Academia, Venice) and the Venus of Urbino (Uffizi).
Titian travelled to Augsburg in Bavaria and produced an equestrian portrait of Charles V in 1548 CE. The massive life-size painting is now in the Prado of Madrid and shows the emperor wearing the armour he had worn in battle and which is now in Madrid's Royal Armory. The dramatic representation of a ruler as if he were a saint like Saint George was influential on many royal portraits thereafter.
Besides a handful of portraits of Philip II, the artist painted a series of mythology-themed works for the king, often collectively called the poesie (see above). They include Diana and Calisto and Diana and Actaeon, both now jointly held by the National Galleries in London and Edinburgh. In this period, Titian was becoming ever more daring in his depiction of sensual nudes and the erotic undertones, especially of his female nudes, were becoming more explicit. Indeed, some works were deemed so likely to offend the sensibilities of visitors to Philip's court that they were kept behind curtains. Another commission, in marked contrast to this mythological reverie, was an altarpiece for the Spanish king's chapel in the Palace of the Escorial, the Martyrdom of Saint Lawrence.
Other Noted Commissions
Other illustrious clients of Titian included various Italian rulers and the popes in Rome. A celebrated portrait from this period is of Pope Paul III (r. 1534-1549 CE) and members of his family which is now in the Capodimonte Gallery in Naples. During his time in Rome Titian met fellow artist Michelangelo (1475-1564 CE) who thought Titian's work was notable for its "lively manner" (Hale, 317) but regarded him lacking in drawing skills, a confirmation of the different and competing styles adopted between Venetian (colore) and Florentine (disegno) artists of the period.
From the 1550s CE, Titian made Venice once again his artistic base. Thanks to his success, the artist was able to live in a large villa, the Casa ai Biri, and here he had his private gallery where he showed off his works to invited guests. One of his most celebrated masterpieces, the Venus and Adonis painting was created c. 1554 CE. Titian was very interested in the use of light in his work and he made several nocturnal paintings throughout his career, notable amongst which is another Martyrdom of St Lawrence, this time for the Massolo chapel in the Santa Maria dei Crociferi of Venice. Made between 1548 and 1557 CE, the scene is unusually composed, drawing in the viewer to the centre where light is provided only by two torches and a small break in the clouds above.
Around 1562 CE, Titian painted a famous self-portrait which is now in the Prado Museum, Madrid. It shows the artist in a rather austere black outfit with matching cap and clutching a brush. Another self-portrait has him wearing his gold chains of the Order of the Golden Spur. Working on until the very end of his life, Titian left a Pietà painting unfinished which was likely intended for his own tomb in the Frari Church. Titian died on 27 August 1576 CE. The Pietà was completed by fellow Venetian artist Palma Giovane (1544-1628 CE) and is today in Venice's Academia Gallery.
Legacy
Titian's promotion of and success using the colore technique was taken up by other artists and so helped distinguish Venetian art from other Renaissance centres like Florence. The light effects on colour Titian employed were likewise taken up by fellow artists in his adopted city. Younger artists influenced by Titian included his one-time apprentice Tintoretto (1518-1594 CE) and Veronese (1528-1588 CE), his successor as Italy's most famous painter of the 16th century CE. Further, Titian's delight in combining both obvious and subtle references to ancient and contemporary art and literature in his work would significantly contribute to the creation of a common intellectual language amongst the fashionably educated which endured for centuries thereafter.