Donatello (c. 1386-1466 CE), full name Donato di Niccolo di Betto Bardi, was an Italian Renaissance artist best known for his sculptures such as the striking bronze figure of David now in the Bargello museum of his native Florence. Donatello was influential in popularising the classicizing style where Renaissance artists looked to the surviving works of antiquity for inspiration. The sculptor was particularly interested in giving his art a sense of perspective. Other works by Donatello which influenced later artists include his marble Saint Mark for the Orsanmichele in Florence, the shallow bronze relief panels for both the baptistery of Sienna and the altar of Sant' Antonio Basilica in Padua, and the Gattamelata equestrian statue in Padua.
Early Life
Donatello was born around 1386 CE in Florence, the son of a wool-carder. Not a great deal of his youth is known except that he was involved in a fight with a German and hit him on the head with a club. This inglorious beginning happened in Pistoia in 1401 CE. Very little else about Donatello's private affairs for the rest of his life is known and, like many other great Renaissance artists, we must come to know the man through his works.
The young artist is known to have studied surviving examples of ancient Greek and Roman sculpture, both full figures and relief panels such as those commonly carved on Roman sarcophagi. Donatello first appears in the artistic record of the Renaissance between 1404 and 1407 CE as an apprentice or assistant to Lorenzo Ghiberti (1378-1455 CE) who famously produced the bronze doors of the Baptistery in Florence.
Donatello was soon working in his own right and was commissioned to create sculptures for the exterior of Florence's cathedral. The sculptor was given space for his workshop in one of the Duomo's chapels for that purpose. Figures carved for this project, which continued on and off for over 15 years, included Jeremiah and an unnamed prophet, both of whom were so realistically portrayed that they were considered actual portraits in later periods. Another of these figures represented St. John the Evangelist (1408 CE) while, always eager to explore new media and techniques, the sculptor made a giant terracotta statue of Joshua for the cathedral c. 1412 CE, but this, unfortunately, has now been lost.
Donatello's celebrated marble figure of Saint Mark, in contrast, was sculpted between 1408 and 1413 CE for Florence's Orsanmichele hall. The larger-than-life-size figure is given a sense of movement by having the torso twist away from the lower body (contrapposto) while the folds of St. Mark's right leg are carved in such straight perpendicular lines that they remind of a classical column. Another work of this period is a marble statue of Saint George, completed c. 1415 CE (see below). Next came four marble statues of prophets for the city's campanile and then a gilt-bronze figure of Saint Louis of Toulouse for the refectory of the San Croce church in Florence (1422-25 CE). The latter's heavy gilding was perhaps intended to create the illusion that the figure was cast from solid gold.
Donatello was by now well-established as one of the foremost sculptors in Italy and was commissioned in 1418 CE to produce a sandstone sculpture of the Florentine lion - the Marzocco - for the stairs of the papal apartments in the Santa Maria Novella monastery. Another prestigious project was the group of bronze statuettes for the facade of the cathedral in Sienna. The same city's baptistry received a bronze relief panel, The Feast of Herod, and several statuettes of angels between 1425 and 1429 CE.
Michelozzo Partnership
Donatello moved to Rome around 1430 CE and spent the next two years studying more examples of ancient sculpture. This did not mean he left artistic projects elsewhere as from 1425 to 1434 CE Donatello shared a workshop with the architect, sculptor, and goldsmith Michelozzo di Bartolomeo (1396-1472 CE) in Pisa and Florence. The two artists saved funds by sharing two boats and a mule for the transportation of marble. Not having much cash despite his talents, Donatello (at least in his tax returns) indicated that he had to share a house and maintain his aged mother, widowed sister, and crippled nephew. The artist claimed he owned nothing except materials and tools needed for sculpting. Donatello and Michelozzo frequently worked together on pieces, notably the tomb of the anti-Pope John XXIII, Baldassare Cossa. This gilded and marble memorial was created between 1421 and 1428 CE and is to be found in the baptistery of Florence. The works attributed to the two artists can be difficult to positively identify in terms of who did what but suggestions that Michelozzo was a mere accountant in the partnership is put in doubt by the surviving records of his frequent poor management of debts and the numerous related court cases brought against him.
The Influential Sculptures
In the early 1440s CE (according to some art historians), Donatello was commissioned to produce a statue of the Biblical hero David, slayer of the giant Goliath, by the Medici family in Florence. It is now considered amongst his greatest works (see below).
Donatello's figure sculptures were famous for their lively & twisting bodies which invite the viewer to explore different views of the work.
The sculptor moved to Padua around 1443 CE and there produced an impressive equestrian statue known as the Gattamelata ('honeycat'), the title by which the mercenary leader (condottiere) Erasmo da Narni (1370-1443 CE) was known. The bronze statue is 3.4 metres (11 ft.) tall and is the first known example of its type to be produced since antiquity. The piece strongly reminds of the statue of Marcus Aurelius on the Capitoline Hill of Rome. As was a common practice with artists when working on monumental metal sculptures, Donatello had a team of experts to do the initial casting from the terracotta or wooden model pieces. Completed c. 1453 CE, work was interrupted several times because of disputes over the artist's final fee, and this despite Erasmo da Narni having left in his will a sum for just such a commemorative project. The Gattamelata statue stands in the Piazza di San Antonio of Padua, the town which Erasmo served in when it was under the control of Venice.
Remaining in Padua until 1453 CE, Donatello produced a sculpted altarpiece (now dismantled) composed of various saints around the Virgin and Child. This work, which took a decade to complete, was composed of almost life-size and free-standing bronze figures all under a single architectural canopy. The idea of such a group influenced painters and became known as the 'Sacra Conversazione'. Some of the artist's best work employing precise perspective using only shallow relief was produced in his silver and gilt bronze panels for the high altar of the Basilica Sant' Antonio in Padua. The Miracle of the Mule, for example, was created between 1446 and 1453 CE and shows a crowd before an altar and three arched alcoves which give the illusion of real depth to the scene. One of a group of panels Donatello created for the altar, it measures 123 x 57 cm (48 x 22 inches) and tells the story of a mule recognising that Christ was indeed present in a consecrated host (the doctrine of Transubstantiation).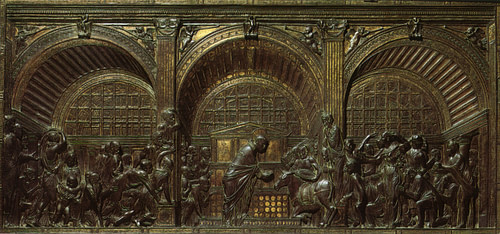 Donatello spent the remainder of his career working in either Florence or Sienna. Works produced included St. Mary Magdalene, which is a wooden figure then gessoed, painted, and gilded. Sienna cathedral received a figure of St. John the Baptist, while a gilded bronze representation of Judith and Holofernes (although this may be an earlier work) once stood in the Piazza della Signoria of Florence but is now in the Palazzo Vecchio. The sculpture, meant to be admired from any angle, captures Judith about to decapitate the Assyrian general Holofernes with a wicked-looking scimitar and so save the Jewish people. The statue's pedestal once carried an inscription which included the line 'Kingdoms fall through luxury, cities rise through virtues' which reminds that art had a political purpose as well as an aesthetic one.
Finally, one of Donatello's last and finest works, commissioned by Cosimo de Medici il Vecchio, was the group of bronze relief panels for the two matching pulpits of the San Lorenzo church in Florence. The panels appear on two matching pulpits and narrate, amongst other New Testament episodes, the Passion of Christ but were still unfinished when Donatello died in 1466 CE. The panels have figures bursting out of the overall scene by placing some behind and others in front of the architectural columns which act as the work's frames. The panels are an indicator that the great sculptor, even at the very end, was still striving to achieve new effects in his work and challenge the viewer to decide where and when a work of art really began and ended.
Reputation & Legacy
Donatello was particularly interested in both classical sculpture and linear perspective and both of these approaches influenced other Florentine artists in the 15th century CE during the opening phase of the Renaissance known as the quattrocento. Technically accomplished and innovative, Donatello's work was particularly admired in his own lifetime. His relief panels were praised for their use of perspective even if they were carved with a shallow depth, a technique known as 'flattened relief' or rilievo schiacciato. Additionally, by moving between Rome, Florence, and Padua, Donatello spread new ideas on perspective construction to fellow artists such as Andrea Mantegna (c. 1431-1506 CE). Meanwhile, Donatello's figure sculptures were famous for their lively and twisting bodies (figura serpentinata) which invite the viewer to explore different views of the work by walking around it. Another strength of the master sculptor was the expressiveness of his statues' faces. These features of Donatello's work and his passion for reinventing classical imagery would influence later Renaissance artists such as Michelangelo (1475-1564 CE) and Raphael (1483-1520 CE).
Masterpieces
Saint George
Donatello's marble statue of St. George was commissioned by the guild of armourers and swordsmiths and completed c. 1415 CE for the Orsanmichele in Florence. The figure, standing 209 cm (82 inches) tall, wears a cloak and grasps a large shield which rests at his feet. Donatello's skill has ensured George seems just about to step off the plinth with his tensed rear leg pushing back and his tightened right fist (perhaps once holding a sword) also making him seem poised for battle with the dragon. The work is now in the Bargello, Florence.

Saint George & the Dragon
St. George killing the dragon is a marble relief produced by Donatello c. 1415 CE and an excellent example of the artist's mastery of scientific perspective. Originally placed on the plinth below the statue of the saint mentioned above, the panel measures 120 x 39 cm (47 x 15 inches). Showing a mounted St. George spearing the dragon while a princess looks on, it is a classic example of Donatello's search for realising accurate perspective in stone or metal, as here summarised by the art historian K.W. Woods:
This was probably Donatello's first venture in what has come to be known as rilievo schiacciato (squashed relief), in which he relied not so much on a contrast between high and low relief to create the illusion of spatial recession but on a far more complicated use of undercutting, textures, incised lines and limited variations of depth carving in what was essentially an extremely low relief. The principal figures appear flattened rather than conventionally modelled. It gives an unprecedented impression of spatial depth, turning a relief into a sort of carved picture. This form of relief carving is probably Donatello's most celebrated technical innovation. (116)
David
The bronze David by Donatello (or could he really be Hermes/Mercury?) was created while the artist was in Rome, sometime in either the 1420s or 1440s CE (art historians can not agree). The piece was commissioned by the powerful Medici family to stand in the very centre of the courtyard of their new palazzo in via Larga in Florence. Donatello's celebrated bronze figure, which measures 158 cm (62 inches) in height, has the appearance of a Greek youth (ephebe) from classical sculpture, although its erotic overtones remind, too, of ancient figures of Eros/Cupid. In contrast, David's posture is entirely modern with the nudity made yet more stark by the presence of an extravagant garlanded hat and knee-length boots. A second contrast is the languid stance of David while he nonchalantly has one foot on the severed head of the giant. Donatello has chosen to show David's weapon as a great sword rather than the more usual sling. Originally, the statue had gilded elements such as the hair and stood on a pedestal which carried the following inscription in Latin:
The Victor is whomever defends the fatherland.

All powerful God crushes the angry enemy.

Behold, a boy overcame the great tyrant.

Conquer, O citizens.

(Welch, 211)
Both the inscription and the subject, then, reminded the people that like David who defeated Goliath, Florence was nobly fighting a more powerful enemy, in this case, Milan. The figure is now in the Bargello, Florence.
Mary Magdalene
The c. 1456 CE Mary Magdalene shows an aged figure and is indicative of Donatello's preoccupation in his later years with capturing dynamic poses but leaving the sculpture with a rough finish. Carved from wood which was then hollowed out from behind and painted in subdued colours (now mostly lost), the figure seems surprisingly modern with its perfect combination of pleading gesture and ragged clothes. The work, which stands 188 cm (74 inches) tall, now resides in the Museo dell'Opera del Duomo, Florence and it is a lasting testimony to what Donatello and other great artists of the Renaissance were now aspiring to; the sacrifice of technical perfection in order to achieve a powerful artistic effect.