Navigation
Biography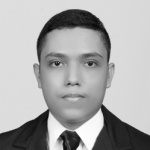 Francisco Soto studied at University of El Salvador. He now holds a Bachelor's degree in Modern Languages with a major in French and English. He recently continued his formation with a Master's Degree in Higher Education.

Francisco is fascinated by the human sciences, with a special interest in anthropology. He is also a leader in a new religious movement, contributing to the development of a dynamic society. His other interests include history, religion and linguistics. He is involved in several projects to translate texts about ancient civilizations into Spanish.

Francisco is currently a young Professor of French and English.
Analytics
39,362 people have read this user's contributionsⓘ