Review
| | |
| --- | --- |
| Rating: | |
| Title: | New English Canaan: Text & Notes |
| Author: | Morton, Thomas & Dempsey, Jack |
| Audience: | General Public |
| Difficulty: | Medium |
| Publisher: | Digital Scanning Inc. |
| Published: | 2000 |
| Pages: | 308 |
A scholarly work written for a general audience, the book is easily accessible, provides a clear introduction to the topic, a chronology, and extensive footnotes, bibliography, and commentary. The editor, a specialist in the subject, delivers a comprehensive edition of a 17th century CE classic equal in importance to the works of Bradford or Winslow. Highly recommended.
New English Canaan by Thomas Morton of "Merrymount" Text & Notes, edited by Jack Dempsey is a scholarly edition of the famous (or infamous) 1637 CE 3-Volume work New English Canaan by the lawyer, poet, and colonist Thomas Morton whose beliefs, behavior, and successful trade initiatives brought him into conflict with the citizens of both Plymouth Colony and Massachusetts Bay Colony in New England in the 17th century CE. The book is edited by Dr. Jack Dempsey of Wheaton College, Massachusetts, who is a specialist in Native American culture and Colonial America, but who presents the contents clearly for a general audience.
New English Canaan – part history, natural history, and satire - was written by Morton to provide a critical view of the colonization methods then practiced in North America by the English. The title alludes to the biblical account of the Hebrews under their general Joshua taking the land of Canaan from the indigenous population and replacing the older culture with their own. To Morton, the English colonists were doing this same thing by destroying the Native American culture, taking their lands, and justifying it all in the name of God. Dempsey presents Morton's 3-volumes as sections in this edition, the first dealing with Native Americans, the second with natural history, and the third with the behavior of the puritan/separatist colonists.
Morton enraged his puritan & separatist neighbors through his frequent use of alcohol & celebratory dances.
Morton arrived in New England to establish a colony four years after the pilgrims founded Plymouth Colony in 1620 CE and became their chief competitor in the fur trade by 1628 CE mainly by forging friendly relations with the Native Americans whom he regarded as equals. His liberal interpretation of Christianity also welcomed people of any faith, or none, which provided a seemingly popular alternative to the conservative Plymouth Colony and those like it. Morton enraged his puritan and separatist neighbors through his blend of Anglicanism, Paganism, and Native American religion, an 80-foot Maypole in the town square, frequent use of alcohol, and celebratory dances.
He is referenced by William Bradford, the second governor of Plymouth Colony, as a "heathen" who established a "school of Atheism" at Merrymount and sold guns to the natives (all which are more or less legitimate charges) but Morton claims that the conflict was over his greater success in trade. In Chapter 25, Morton gives his side of the story, referring to himself (as he does throughout the work) as "Mine Host" since he established no hierarchy at Merrymount, seeing himself as the host of the people gathered there:
The Separatists, envying the prosperity and hope of the plantation at [Merrymount] (which they perceived began to come forward and to be in a good way for gain in the beaver trade), conspired together against Mine Host especially (who was the owner of that plantation) and made up a party against him…many threatening speeches were given out, against both his person and his habitation, which they divulged should be consumed with fire. (141)
The Plymouth and Massachusetts Bay colonies succeeded in arresting Morton and sending him back to England after burning his colony and dispersing the inhabitants. Morton retaliated by suing to have the Massachusetts Bay Colony's charter revoked and his legal briefs became the rough drafts for New English Canaan. This edition provides a comprehensive history of Morton's life and conflicts with his neighbors as well as maps, images, commentary on Morton by various writers from the 17th century CE to the present, and an extensive bibliography on the subject. The book draws on the 16 known editions of Morton's original work and presents it much more clearly than the earlier 19th century CE edition by Charles Francis Adams, jr.
Buy This Book
$24.43
free shipping worldwide
$19.95
plus shipping
By purchasing books through this website, you support our non-profit organization. World History Encyclopedia receives a small commission for each book sold through our affiliate partners.
About the Reviewer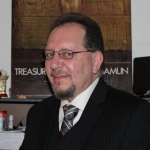 A freelance writer and former part-time Professor of Philosophy at Marist College, New York, Joshua J. Mark has lived in Greece and Germany and traveled through Egypt. He has taught history, writing, literature, and philosophy at the college level.
Cite This Work
APA Style
Mark, J. J. (2020, December 11). New English Canaan: Text & Notes. World History Encyclopedia. Retrieved from https://www.worldhistory.org/review/238/new-english-canaan-text--notes/
Chicago Style
Mark, Joshua J.. "New English Canaan: Text & Notes." World History Encyclopedia. Last modified December 11, 2020. https://www.worldhistory.org/review/238/new-english-canaan-text--notes/.