Review
| | |
| --- | --- |
| Rating: | |
| Title: | The Viking Way: Magic and Mind in Late Iron Age Scandinavia |
| Author: | Price, Neil |
| Audience: | General Public |
| Difficulty: | Medium |
| Publisher: | Oxbow Books |
| Published: | 2013 |
| Pages: | 432 |
A fascinating study of Norse spirituality and ritual magic with a focus on the pivotal role of the volva (female seer) in medieval Scandinavian culture. Author Neil Price presents a comprehensive work, fully supported by archaeological and scholarly evidence, of how Norse spirituality manifested in the people's daily lives and how religious belief empowered women. The work will appeal to scholars, students, and general readers. Instantly engaging and highly recommended.
The Viking Way: Magic and Mind in Late Iron Age Scandinavia is an essential addition to any library. Written by noted scholar Neil Price (co-author of The Viking World, author of The Archaeology of Shamanism, and Professor of Archaeology at the University of Uppsala, Sweden), this book focuses specifically on the significant role magic, sorcery, and witchcraft played in Norse culture.
The work is intended for a general audience interested in the subject but scholars and students will also find it an important resource as well as a fascinating reading. Price fully explores the powerful position female seers held in Scandinavian society during the Late Iron Age and how their role intertwined with the Viking ethos of maritime raids and the Norse conception of violence and warfare.
He characterizes the role of the female seer (known as the volva) as providing "ritual reassurance" to a community by relaying messages from the gods concerning the future. The volva, he points out, were perceived as able to accurately foretell the good and the bad events which lay ahead but was expected to "censor and tailor their insights to fit their audience's requirements" (74). A family who was about to send their sons off to war already knew the risks involved; what they required was assurance that their sons would return. A vague answer from the volva such as, "I see a positive outcome" would be enough to allay any fears and, should the sons die, the "positive outcome" could be interpreted as their glorious deaths and place of honor in the afterlife.
Price develops his insightful study through a careful examination of Norse history from a spiritual vantage point. Chapter 1 establishes the parameters and focus before moving on to a consideration of Old Norse sorcery (Chapter 2), the concept of Old Norse Seidr (divination) in Chapter 3 and then on through Chapter 8 in discussing Scandinavian society's relationship to the supernatural.
The book is conversant with other well-known works on the subject of Norse religion such as Myths and Symbols in Pagan Europe: Early Scandinavian and Celtic Religions by H. R. Ellis Davidson, Dictionary of Northern Mythology by Rudolf Simek, and Norse Mythology: A Guide to the Gods, Heroes, Rituals, and Beliefs by John Lindow. These three books note the importance of shamanic ritual in Scandinavian society. Price's work, however, deepens and develops the role of the volva in interpreting the will of the gods for a community, what these women meant to the culture, and the empowering effect religion, magic, and sorcery had on women's status in medieval Scandinavia.
The book features impressive photos, artwork, and imagery accompanying and often clarifying a point in the text which is instantly engaging. Price is a scholar with a fine command of both his prose and subject matter and the work will appeal not only to those interested in Norse history and religion but anyone interested in women's history, spirituality, sociology, and the ancient concept and practice of magic.
The Viking Way is scheduled for release by Oxbow Books on 14 June 2019 but one may pre-order now on Amazon. Ancient History Encyclopedia highly recommends this work to historians, archaeologists, scholars, and to anyone wishing to broaden their mind and deepen their appreciation of human spirituality and its various expressions.
Buy This Book
$56.54
free shipping worldwide
$49.99
plus shipping
By purchasing books through this website, you support our non-profit organization. World History Encyclopedia receives a small commission for each book sold through our affiliate partners.
About the Reviewer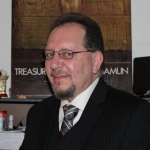 A freelance writer and former part-time Professor of Philosophy at Marist College, New York, Joshua J. Mark has lived in Greece and Germany and traveled through Egypt. He has taught history, writing, literature, and philosophy at the college level.