Illustration
Send to Google Classroom:
About the Author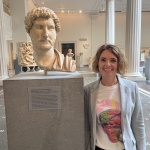 Carole maintains the popular ancient history photo-blog Following Hadrian, where she travels the world in the footsteps of emperor Hadrian.
Cite This Work
Chicago Style
Raddato, Carole. "North Corridor of the Palace of Knossos." World History Encyclopedia. Last modified May 10, 2019. https://www.worldhistory.org/image/10604/north-corridor-of-the-palace-of-knossos/.