The Grand Embassy was the name given to the long Western European tour that Tsar Peter I of Russia (aka Peter the Great, r. 1682-1725) undertook during 1697-1698. Peter was joined by hundreds of people, including noblemen, his friends, volunteers, interpreters, and cooks.
Peter travelled in disguise under the name Peter Mikhailov so that he could freely observe the Western European way of life without any fanfare. However, his true identity was often revealed to the rulers and notable people he met. During his long journey, Peter met with notable people, including William III of England (Prince of Orange, r. 1650-1702, and King of England, Scotland and Ireland, r. 1689-1702), the Archbishop of Canterbury, William Penn (l. 1644-1718), who founded the Pennsylvania colony in North America, Leopold I, Holy Roman Emperor (r. 1658-1705) and Augustus II of Poland (Elector of Saxony, r. 1694-1733, and the King of Poland, r. 1697-1706 and 1709-1733).
There is speculation about the actual reason behind this long voyage. However, it is widely accepted that Peter wanted to further his education, see how Western European countries were run, and expand on his love and passion for shipbuilding by observing some of the most powerful European navies.
Departure
In 1697, Peter specifically planned to visit the great naval powers of the time, including England, the Netherlands, and Venice, as he was determined to create a Russian navy and needed all the inspiration he could get. He gathered together a large embassy, numbering around 200, that would accompany him on the trip.
The Grand Embassy departed Moscow on 9 March 1697, in a long procession.
At the head of the embassy was General Le Fort (l. 1656-1699), the Governor-General of Novgorod. Fyodor Golovin (l. 1650-1706), the Governor-General of Siberia and a professional diplomat, and Prokofy Voznitsyn, the Governor of Bolkhov, were also recruited. The rest of the embassy consisted of noblemen, secretaries, interpreters, cooks, musicians, Peter's friends, and men chosen to study shipbuilding and other nautical skills.
In his absence, Peter appointed his uncle Lev Naryshkin, Prince Boris Golitsyn (l. 1654-1714), and Prince Peter Prozorovsky, the treasurer, to govern Russia. Each man was trusted and loyal to Peter. Prince Fyodor Romodanovsky, the Governor-General of Moscow, was tasked with overseeing all law and order. Peter ordered him to put down any rebellion immediately. He also placed around 12,000 men to guard the fortifications in Moscow.
The Grand Embassy departed Moscow on 9 March 1697, in a long procession that was quite imposing to behold. There were men on horseback, dressed in their finest clothes, with baggage wagons and sledges following behind. Large crowds lined the streets to watch the procession go past.
Riga
Peter and the Grand Embassy skipped Poland due to unrest. They went straight to the town of Riga in Livonia (modern-day Latvia), which was under Swedish control and a picturesque Protestant city with churches and cobbled streets. Peter was interested in Riga as it was a major port on the Baltic Sea. Eric Dahlberg, the Swedish Governor of Riga, was unprepared for their visit and hastily threw together a reception and welcome for his guests. However, the town was going through a famine then, and there were no grand banquets fit for a tsar.
Riga was a modern-style, strong fortress that Peter was eager to examine and study, as it was nothing like the fortresses found in Russia. However, this made the Swedes wary, as they were very aware of Sweden and Russia's hostile past, and the governor did not give permission for the Russians to observe the fortifications. One day, a Swedish soldier came across Peter taking measurements and sketching the fortifications in a notebook. He threatened to shoot Peter, and General Le Fort complained to Eric Dahlberg, who apologised on behalf of his man.
As soon as the ice had melted, Peter and the Grand Embassy left Riga. The relationship between Russia and Sweden had turned cold, and Peter's experience in Riga was one of the deciding factors for going to war with Sweden in 1700 (the Great Northern War).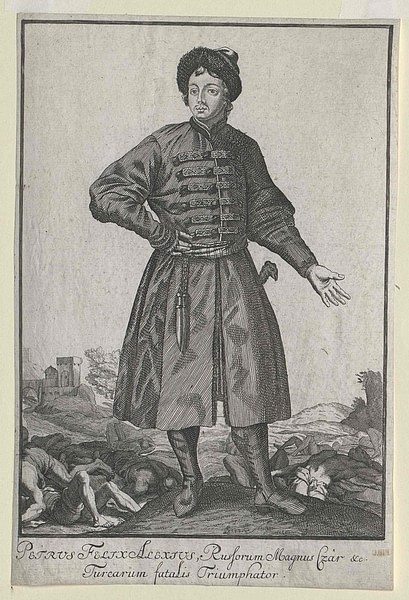 Courland & Königsberg
Upon leaving Riga, the Grand Embassy reached the Duchy of Courland, a Polish territory in Livonia. Their welcome by Duke Frederick Casimir (r. 1682-1698) was the complete opposite of the welcome they received in Riga. The Duke threw lavish banquets with music and a steady flow of alcohol.
Aware of Peter's passion for ships and the sea, the Duke had organised for a yacht to take Peter to his next destination, which was Königsberg (modern-day Kaliningrad, Russia), a German electorate. Elector Frederick III of Brandenburg (r. 1688-1701), the future King Frederick I of Prussia (r. 1701-1713) threw a grand reception for the Grand Embassy with a large procession into the city taking place. In the march were grooms, Royal Guards, nobility, pages and the members of the Grand Embassy.
The Grand Embassy spent several weeks in Königsberg, where Peter often met with Frederick and studied artillery and ballistics. While Peter was in Königsberg, he got news that Augustus II, the Elector of Saxony, had become the King of Poland, news that he was most pleased with.
Passing Through Germany
Although Peter hoped to travel to the Netherlands by ship, it was deemed unsafe for him to do so, and he resigned himself to travel by land. He travelled by wagon across Northern Germany, hiding his identity and avoiding as many people as possible. However, two ladies were determined to meet Peter – Sophia, the Electress of Hanover (r. 1692-1698), and her daughter, Sophia Charlotte of Hanover, the Electress of Brandenburg (r. 1701-1705), who invited Peter to dinner at Coppenbrügge. Although Peter was hesitant to be seen by too many people, he was convinced to attend.
Right away, Peter was in awe of these two ladies; they were both intelligent, powerful women, who were immediately fond of him and competed for his attention. Their dinner lasted for hours, with the guests indulging in lots of drinking, laughing and dancing.
The Dutch Republic
At the time, the Dutch Republic was one of the most influential and prosperous of the European states thanks to its flourishing commerce and trade industries. Peter was excited to visit and see its splendour for himself. He reached Amsterdam on 7 August 1697 but continued on to the town of Zaandam, leaving the Grand Embassy behind. Peter had heard many great things about Zaandam, including that they built the greatest ships in Holland, and he intended to spend a few months there learning from the masters how to build ships. Upon his arrival, Peter met one of his old friends, Gerrit Kist, who welcomed him into his home.
In Zaandam, Peter disguised himself as a Russian sailor & got to work, even purchasing his own tools.
Peter disguised himself as a Russian sailor and got to work, even purchasing his own tools. He visited workshops, mills and iron forgers. It was not too long before the people of Zaandam began whispering about an important person being in their midst, and great crowds began to assemble, hoping to get a glimpse of the tsar. It got so bad that Peter only spent one week in Zaandam before sailing back to Amsterdam.
Amsterdam was one of the world's wealthiest cities and home to the biggest port in Europe. Surrounded by the rivers IJ and Amstel, it was every bit a water city, with bridges and canals allowing for boats and barges to pass through with ease. Peter quickly made friends with the wealthy and cultured Nicolaas Witsen, the mayor of Amsterdam and also one of the directors of the Dutch East India Company. Sharing the same passion for ships as Peter, Witsen was sympathetic when Peter told him that the crowds were stopping him from his shipbuilding and suggested that Peter work in the shipyards and docks of the Dutch East India Company, which was closed off from the public eye. Naturally, Peter was enthusiastic about this solution and left in the middle of the night to retrieve his tools from Zaandam so he could get to work right away.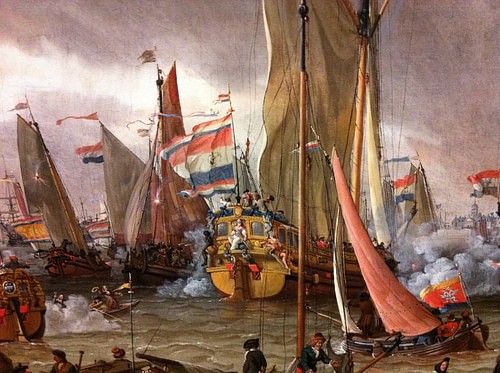 Along with his shipbuilding, Peter visited factories, museums, sawmills, workshops, gardens, paper mills, printers, windmills, and laboratories and met with renowned academics across a range of subjects, fulfilling his ongoing desire for education. Interestingly enough, only one thing did not capture Peter's interest: the artwork of Dutch masters like Rembrandt (l. 1606-1669) and Johannes Vermeer (l. c. 1632-1675). He was more interested in the obscure paintings that depicted sea and ship scenes.
Meeting the Prince of Orange
It was time for the Grand Embassy to visit the Hague, the most powerful capital city in all of Europe. But first, Peter stopped in Utrecht to meet with William, Prince of Orange and King of England, Scotland, and Ireland.
William would be one of the most interesting people Peter would meet in his lifetime. Peter held him in high esteem before they had even met in person. At the young age of 21, William was given full Dutch military and political powers and given the task of facing a powerful French army that had invaded Holland. Against all odds, he succeeded in repelling the French. 15 years later, he invaded England – the first person to successfully do so since William the Conqueror (r. 1066-1087).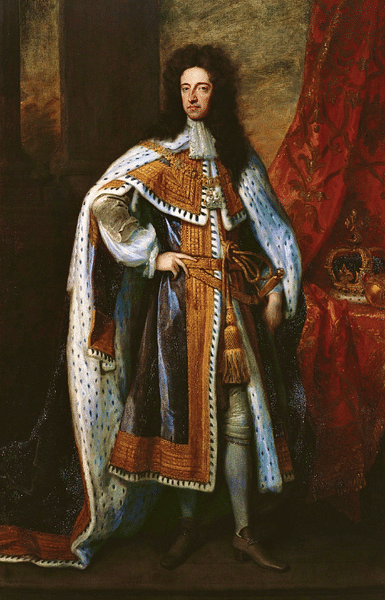 Peter and William met multiple times, but their meetings were always held in secret and informal, with no written record of what occurred between them. We know that Peter tried to get William to join him in an alliance against the Turks, but he was unsuccessful. Peter told William of his plans to visit England next. William was so pleased that he offered an English envoy to travel with the Grand Embassy.
Before leaving Holland, Peter returned to Amsterdam, where he continued his shipbuilding and studies. The ship he was working on was finally completed, and Witsen offered it to Peter as a gift from the city of Amsterdam. Peter was elated and named the ship Amsterdam. After almost five months spent in Holland, Peter finally departed for England on 7 January 1698.
Peter in England
London was the second largest capital in Europe and only second to Amsterdam in terms of wealth, although it would soon overtake it. While it was a glittering, beautiful city, it also had its dark and dangerous side. Landing in London on 11 January 1698, Peter stayed in a nice home and received visits from the nobility. King William III also paid Peter a surprise visit. On 23 January 1698, Peter paid a formal visit to William at Kensington Palace, where they had a long meeting. He also met the heir to the throne, the future Anne, Queen of Great Britain (r. 1702-1714). William III persuaded Peter to have his portrait painted by artist Sir Godfrey Kneller (l. 1646-1723), which can be found in the King's Gallery at Kensington Palace.
Along with his usual shipbuilding interests, Peter also took an interest in the Tower of London and the different religious denominations of England. He met with the Archbishop of Canterbury and Gilbert Burnet, the Bishop of Salisbury (l. 1643-1715), attended Protestant masses, and even went to a Quaker meeting. Peter also famously met with William Penn, who founded the colony of Pennsylvania in North America and preached religious tolerance. Peter also attended sessions in the Houses of Parliament.
On 3 March 1698, Peter was gifted a royal yacht by King William III. Peter was delighted and named it Royal Transport. Peter was invited to view the English fleet in its full force. In March, he travelled to Portsmouth and the Isle of Wight, where a mock battle was staged for him. Peter was amazed by what he witnessed and took notes. On 18 April 1698, Peter met with William III for the last time before he left England. According to differing reports, Peter either gave William III a large uncut ruby or a diamond as a parting gift. On 2 May 1698, Peter left England and returned to Holland, where he was reunited with the rest of his embassy.
Visiting Vienna
On 15 May 1698, the Grand Embassy left Amsterdam and travelled to Vienna, stopping by Leipzig, Dresden, and Prague. In Dresden, the electoral state of Saxony, he was given a warm reception on the orders of Augustus, the Elector of Saxony, who was also now the King of Poland and was not there to greet Peter himself.
Vienna was a beautiful city, but it did not have the riches that Amsterdam or London did. It served mainly as the headquarters of the Habsburg Dynasty. It took a month of negotiations before plans were put in place for Peter and Leopold I, Holy Roman Emperor, to meet. Their first meeting only lasted for 15 minutes and set the tone for Peter's two-week stay in Vienna. Peter also met Empress Eleonore (r. 1676-1705) and her daughters.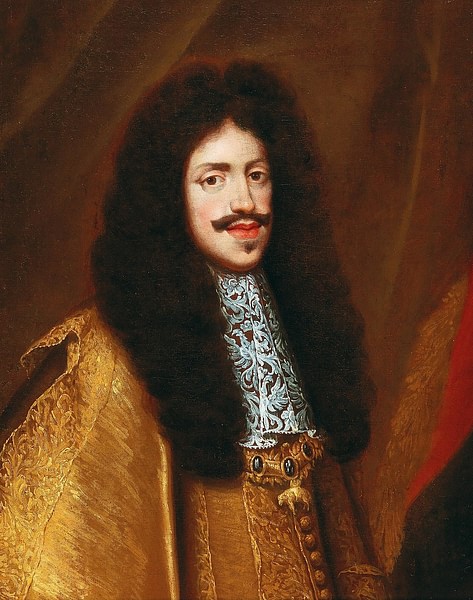 Like in England, Peter took an interest in religion and the Catholic Church. He attended Catholic masses and met with Cardinal Kollonitz (l. 1631-1707). Emperor Leopold held a masquerade ball in honour of Peter, and the Russians returned the favour by hosting a lavish ball on St. Peter's Day. However, Peter was ready to leave Vienna as it was landlocked, and at that time, Peter had little interest in cities that did not have ports or ships. There was also rising tension due to the pending peace treaty between Austria and Turkey.
Peter had still planned to visit Venice. However, he received some concerning news regarding the Streltsy (Russian infantry). Four regiments had revolted and were marching on Moscow. Peter decided to cancel his trip to Venice and return to Moscow with only one detour in mind. On 19 July 1698, Peter left Vienna and headed for Poland.
Peter & Augustus
Arriving at the town of Rawa in Galicia (modern-day Poland and Ukraine), Peter finally met with Augustus II of Poland, A man whom Russia and Peter were soon to become deeply involved with during the Great Northern War (1700-1721).
Like Peter, Augustus was tall and strong (with his nickname being Augustus the Strong). As soon as they met, they had an instant, deep connection with one another. They spent four days together, feasting, drinking and looking over the Saxon army. Augustus presented Peter with the Royal Arms of Poland, which Peter proudly wore. The idea of a joint war against Sweden was born in Rawa over the four days Peter and Augustus spent together.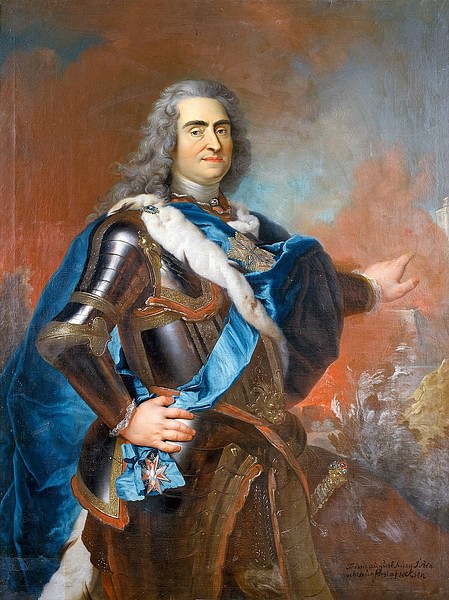 Return to Moscow
Peter and the Grand Embassy returned to Moscow on 4 September 1698. Peter had been away from Russia for over a year. During his time abroad, he witnessed things that would shape and inspire the many reforms he introduced to his country and people. It was also one of the catalysts for the most significant and longest war of his reign.