Ancient and medieval Celtic cultures produced many forms of jewellery, and one distinctive category is their brooches, fibulae, and pins. Without zips and buttons, brooches were used to close items of clothing, to create a pleasing or fashionable arrangement of folds, were worn as amulets, or simply displayed as a pleasing decoration by both men and women. Some ancient designs, notably the circular penannular brooch, continued to be popular in early medieval Europe, and two of the finest examples of these are the Tara Brooch and the Hunterston Brooch which, rediscovered in the 19th century CE, caused a new wave of popularity in Celtic jewellery design.
Function
That ancient Celts wore jewellery is amply attested by both ancient writers and archaeological finds in tombs and pits of votive offerings. As today, jewellery had many functions for the ancient Celts. For men, women, and children, it had a practical function to hold clothing together - there were no zips or buttons - and to create the desired arrangement of folds. As the Roman writer Cassius Dio (c. 164 - c. 229/235 CE) famously noted of Boudicca, queen of the Iceni in Britain (d. 61 CE):
She was huge of frame, terrifying of aspect, and with a harsh voice. A great mass of bright red hair fell to her knees: she wore a great twisted golden torc, and a tunic of many colours, over which was a thick mantle, fastened by a brooch.

(in Chadwick, 54)
Neither was the wearer limited to one brooch. A grave in Baden-Württemberg in Germany, which dates to 400-300 BCE, revealed the deceased was wearing an item of clothing pinned together using three pairs of brooches of various designs.
Jewellery could be plain or highly decorative and, made from precious materials, was a very visible way to display the wearer's wealth and rank in a society with not many other visible forms of social status. The presence of jewellery in children's graves suggests these pieces had a function as amulets which protected the wearer. This idea applied to adults, too. For example, brooches depicting the Celtic water-nymph goddess Coventina in Roman Britain were given to pregnant women to protect them during childbirth. Brooches with half-human heads and fish bodies may also have been regarded as amulets and have been found in burials across Europe.
Designs of brooches varied greatly over time & these trends very often help archaeologists date accompanying finds in excavations.
Finally, of course, jewellery was worn simply because the wearer liked the look of a certain piece and, we might imagine, perhaps because it carried memories and associations of the person who gave it or previously owned it.
Materials
The backing or main body of Celtic brooches and pins was made using cast or wrought bronze, iron, or brass which was then engraved, punched, traced, or inlaid with bright materials such as amber, coral, semi-precious stones like garnet, enamel, jet, sapropel, and glass paste. Gold and silver were also used, although more rarely, and with silver being, perhaps surprisingly, the least commonly used of those two precious metals.
Designs
Celtic pins or fibulae were made like modern safety pins with a thin arm bent behind a more decorative part to close them. Brooches, meanwhile, could be more complex and take almost any form. Common Celtic designs of brooches included forms which resembled snakes, horses, birds of prey, bows, bells, boats, drums, masks, and animal heads (real or imagined). Like the animal totems on Celtic shields and swords, it may have been believed that wearing a representation of certain animals like a boar, ram, or bull gave the wearer some sort of protection or instilled in them that animal's particular characteristics such as courage and tenacity. The Celtic brooches made to resemble animal heads are often called 'mask' fibulae. Brooches with two heads, one at either end, are often called 'dragonesque' brooches, and these mixed the Celtic S-shape design with the Roman tendency to depict strange animals. Brooches in the form of human heads are not uncommon, often with the hair and beard depicted using vegetal motifs and with the eyes and cheeks protruding. Sometimes there is a cross-over with an animal such as a horse having a human face or with an animal head at one end of the brooch and a human head at the other. Other popular motifs included spirals and intricate knots. Designs of brooches and pins varied greatly over time and these trends very often help archaeologists date accompanying finds in excavations.
The Braganza Brooch
An outstanding example of a Celtic fibula is the gold Braganza Brooch which was discovered in Spain and dates to the period 250 to 200 BCE. Stylistic considerations point to a Greek manufacturer. It has a Celtic warrior complete with a shield, helmet, scabbard, and sword (although the blade has broken off). The warrior is facing a leaping hunting dog. The eyes of both the warrior and the dog were once inlaid with glass, as was the curved part behind the warrior which ends in a dog head on either side. The pin and spring or hinge of the fibula have been lost. The fibula measures 14 centimetres in length and is now in the British Museum, London.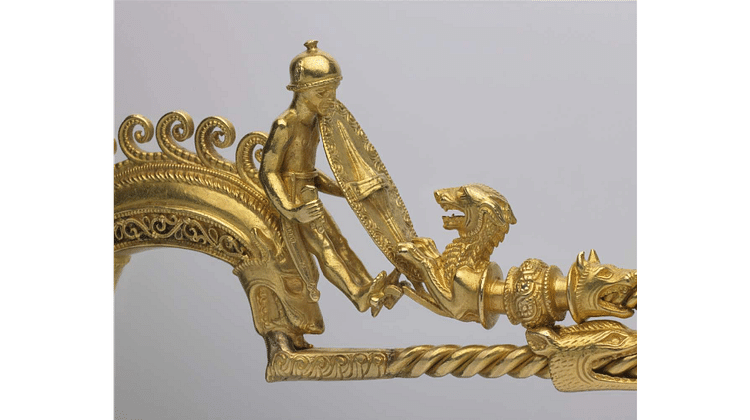 Penannular Brooches
The penannular brooch was a very common form of ancient Celtic jewellery, prevalent in Britain before the Roman period. Typically made using bronze, iron, or a copper alloy, they are composed of a ring and centrally placed pin which crosses the diameter of the ring. By turning the pin until it meets a break in the ring the brooch can be opened and closed and the pin inserted into cloth. The design likely developed from earlier straight pins with an ornate ring as its head.
Brooches very often show the connections between various European cultures with their design inspiration, technical know-how, & changing ownership.
The penannular type of brooch continued to be made across Europe throughout the medieval period, including by the Vikings. The design was popular with Christians, and a version developed which has no break in the ring, hence their common name 'pseudo-penannular' brooches. This latter type is perhaps best seen in the 7th-century CE Hunterston Brooch from Scotland and the 8th-century CE Tara Brooch from Ireland. Another design development was the flattening of the terminals in true penannular brooches which gave a wider surface area for an artist to show off their skills in metalwork and inlay. This evolution may have reflected the fashion for Roman soldiers to wear awards of valour which looked like miniaturised ancient Celtic torcs. Other notable examples of penannular brooches are the Londesborough Brooch, the Breadalbane Brooch, and the Killamerry Brooch, which display the continued popularity of the design in medieval Britain and Ireland.
The Hunterston Brooch
The Hunterston Brooch was discovered by accident by men quarrying stone at Hunterston in Ayrshire, Scotland c. 1830 CE. It may have been made c. 700 CE at a royal site like Dunadd in Argyll but it is also possible that it came with a hoard taken from Ireland by Viking raiders. The skill of the metalwork reminds of German craftworkers, and it is possible the brooch was made by an Anglo-Saxon for a Celtic client. Whoever made it, the brooch was later owned by a 'Viking' who scratched their name in runes on the back sometime in the 10th century CE. One of these engravings translates as 'Maelbrigte owns this brooch' (although the name is a Gaelic Christian name). Like many pieces of exceptionally fine ancient and medieval art, the Hunterston Brooch is, then, an example of an object which connects various European cultures with its design inspiration, technical know-how, and changing ownership.
The Hunterston Brooch measures 12 centimetres (4.75 in) in diameter, and the pin is 14 centimetres (5.5 in) long (although now broken). The brooch is made of cast silver with gold and silver additions. There are also amber studs and designs of animals, including snakes. The animal designs are covered in granulations while other panels have an interlace motif reminiscent of illuminated manuscripts. The reverse side is much plainer but still has some areas of vivid decoration. The brooch is today on display in the National Museum of Scotland, Edinburgh.
The Tara Brooch
The Tara Brooch was not actually found at the Neolithic site of Tara in Ireland but on a beach near Bettystown in County Meath c. 1850 CE. The brooch is now on display in the National Museum of Ireland in Dublin. The brooch is quite small and only measures 8.9 centimetres (3.5 in) in diameter, although the pin is longer than in more ancient Celtic brooches. It is made of gilded silver with glass, amber, and enamel inlays as well as areas of filigree, raised 'chippings', and twisted gold wire. The brooch perfectly displays not only fine craftwork but also the typical late-Celtic characteristic of a horror vacui in art, that is a tendency to leave no area of a piece of art free from decoration. The Christian influence on Celtic art is evident in the stylised birds on either side of the cross at the widest part of the ring, a symbol of eternal life when they are in the act of drinking.
Even the reverse side of the Tara Brooch, which cannot be seen when worn, is highly decorated. Engraved areas show birds, reptiles, and spiral patterns. The brooch has a chain made of twisted silver wires, which is attached to the main body via two metal animal heads surrounding two glass human heads.
The penannular brooch design, after such discoveries as the Tara and Hunterston brooches, sparked tremendous public interest, became highly fashionable in Europe in the second half of the 19th century CE. Prestigious jewellers made new versions copying Celtic designs but using such precious materials as platinum and diamonds and so they attracted notable customers like Queen Victoria.