Nikephoros II Phokas was Byzantine emperor from 963 to 969 CE. Known as "White Death of the Saracens," Nikephoros was a fearsome commander who conquered Crete, Cilicia, and much of Syria. While he is known as a great military commander, he was a poor politician, and his reign was cut short by his murder.
Military Career
Nikephoros came from a leading military family, the Phokas. His grandfather, father, and uncle were all high-ranking military officers, and Nikephoros was similarly raised to be a soldier and general. Nikephoros was appointed to strategos, or governor-general, of the Anatolikon Theme, a major Byzantine province, by Constantine VII. Nikephoros then took over control of the Byzantine armies from his father Bardas in 955 CE.
After Nikephoros took command, he resumed his father's war with Sayf al-Dawla (r. 945-967 CE), the Muslim ruler of much of Syria and the most serious enemy of the Byzantine Empire at this time. The Abbasid Caliphate was limited to Baghdad itself and much of the Middle East was ruled by strongmen. Sayf al-Dawla's Hamdanid Dynasty ruled large swaths of Syria and Iraq, and he led numerous campaigns against the Byzantine Empire during the 950s CE. Nikephoros' father Bardas had fought against Sayf on multiple occasions but had failed to crush Sayf's forces. Nikephoros' strategy involved a multi-pronged offensive and raids on Sayf's territories, as well as those of his allies in Cilicia. The strategy utilized two land offensives under Nikephoros' nephew, John Tzimiskes, and his brother, Leo Phokas, as well as the naval commander Basil Hexamilites. Sayf suffered a series of defeats which undermined his authority, and the Byzantine army captured the major cities of Hadath and Samosata.
However, despite Cilicia and Syria laying open to Byzantine attack, Constantine VII (r. 913-959 CE), and his successor, Romanos II (r. 959-963 CE), directed Nikephoros to command the reconquest of Crete in 960 CE. Crete had been a major thorn in the side of Byzantium; its conquest by Arabs from Spain in the 820s CE had opened the door to devastating raids throughout the Aegean, and the Byzantines had failed on five previous occasions to retake the island. Nikephoros besieged the Cretan capital of Chandax (modern Heraklion), and superior numbers and scare tactics (Nikephoros catapulted slain Arabs' heads into the city) allowed Nikephoros to conquer Crete in 961 CE after breaching the walls of Chandax. The defeated Cretan emir, 'Abd al-'Aziz b. Shu'ayb al-Qurtubi, and his son were captured, and Nikephoros celebrated a Roman triumph back in Constantinople.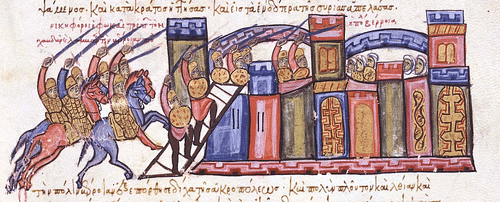 Nikephoros then turned back to the east and attacked Cilicia and then Syria. He sacked Anazarbos and then Hierapolis (modern Manbij) in 962 CE. At the end of the year, he looted Aleppo, Sayf al-Dawla's capital. Sayf faced internal rebellion for the next five years while Nikephoros received news that Romanos II had died. When Nikephoros celebrated his triumph in Constantinople for his victory at Aleppo, Joseph Bringas, Romanos' chief administrator, forced Nikephoros to swear loyalty to Romanos' two young sons, Basil and Constantine, the scions of the Macedonian Dynasty.
Rise to Power
Nikephoros was sent back to Cappadocia to lead the army against Syria once again, but his troops proclaimed him emperor. His forces marched on Constantinople, where Bringas became increasingly unpopular. Crowds of Constantinopolitans gathered to protest and voice their support for Nikephoros, and in response, Bringas ordered the city's bakers to stop baking bread. This only fanned the flames of Bringas' unpopularity and led to riots, which were strengthened when Basil Lekapenos, the former chief administrator of Constantine VII, paid 3,000 men to join the protestors. Bringas fled, and Nikephoros entered the city to popular acclamation by the people. The Patriarch of Constantinople then crowned Nikephoros co-emperor with the young future Basil II (r. 976-1025 CE) and Constantine VIII (r. 1025-1028 CE).
The implicit agreement was that Nikephoros would protect Basil & Constantine & rule in their stead, not found a new dynasty.
However, the implicit agreement was that Nikephoros would protect Basil and Constantine and rule in their stead, not found a new dynasty. Nikephoros made his elderly father Bardas caesar, more an honorific than its former meaning as the heir apparent to the Byzantine Empire. He also appointed his nephew, John Tzimiskes, to be domestikos, or commander, of the East and appointed his brother, Leo, to logothetes, or administrator of the state finances. Meanwhile, Bringas was exiled to Paphlagonia while Basil Lekapenos was rewarded for his support and was appointed parakoimomenos, the administrator of the palace, which was the position he had held under Constantine VII.
Later in 963 CE, Nikephoros married Theophano, the widow of Romanos II, to further legitimize his reign but also to better protect the young princes, Basil and Constantine. However, the Patriarch of Constantinople, Polyeuktos, protested, pointing out that Nikephoros had stood as the godfather of Basil or Constantine, which in the eyes of the church made him the same as a biological parent. The marriage was eventually validated, but not without pitting Nikephoros against Polyeuktos.
Personal Traits
Nikephoros was a highly devout man and brought Christian relics from his conquests back to Constantinople. Nikephoros believed in a highly ascetic form of Christianity, however, and criticized the Church for becoming wealthy. According to one source, Nikephoros even demanded that soldiers killed in battle with the Muslims should be proclaimed martyrs (Skylitzes 274-75). Nikephoros had ascetic traits including vegetarianism and he wore a hair shirt under his armor and robes, and he slept on a bearskin he had received from his uncle, who was a saint.
In comparison, Theophano was known as a great beauty and interested in the finer things in life. They were not an ideal match, and it is unclear whether it was a marriage in name only. Nikephoros only had one son from a previous marriage, but he had tragically died in a hunting accident.
Nikephoros was dark and stocky, with thick hair. Perhaps one of the most famous images of any Byzantine emperor was provided by the German ambassador Liduprand of Cremona. Liudprand described Nikephoros as follows:
[Nikephoros was] a quite monstrous man, dwarfish, with a fat head, and mole-like by virtue of the smallness of his eyes, deformed by a short beard that is wide and thick and graying, disgraced by a finger-like neck, quite like Hyopas because of the abundance and thickness of his hair, in color quite like the Ethiopian whom you would not like to run into in the middle of the night. (Liudprand 240)
CAmpaigns
After securing the throne, it did not take long for Nikephoros to resume his wars against the Muslims. In 964 CE, Nikephoros sent a fleet to seize back Sicily from the Fatimids. However, the Byzantine forces were ambushed and were defeated for good in 965 CE, with the Fatimids taking the last Byzantine strongholds on the island. In 967 CE, Nikephoros sued for peace with the Fatimids and abandoned Sicily to Muslim rule.
Meanwhile the forces of the Emir of Tarsus, in Cilicia, had raided Byzantine lands while Nikephoros was making a bid for the throne in Constantinople and securing his rule. Nikephoros now returned with a vengeance. John Tzimiskes burned the outskirts of the major Cilician cities in 964 CE and a few months later Nikephoros arrived in person, along with Theophano, Basil, and Constantine. Nikephoros took Anazarbos and Adana in 964 CE.
Cyprus had been split between Byzantine and Arab rule for over two centuries, with the revenues from the island split equally between the two powers. Nikephoros re-established complete Byzantine control when a fleet under Nikephoros Chalkoutzes expelled the Arabs in 965 CE. Following the conquest of Cyprus, Nikephoros conquered Cilicia and celebrated another triumph in Constantinople. With the reconquest of Crete, Cyprus, and Cilicia, Byzantine naval power extended across a large swath of the Mediterranean Sea once again.
In 966 CE, Nikephoros marched his army east into Syria but achieved no real benefits. When Sayf al-Dawla died in 967 CE, however, Syria erupted into civil wars and became highly fragmented. The Byzantine frontier was pushed further to the east in 967 or 968 CE when the Armenian princes of Taron ceded the small Armenian state to Nikephoros in exchange for lands and titles inside the Byzantine Empire. Nikephoros returned to Syria in 968 CE, marching as far south as Tripoli in modern Lebanon and acquired the important port city of Laodikeia. He then built a fortress to block off Antioch, one of the former greatest cities of the Byzantine Empire, before returning to Constantinople. Antioch fell to Byzantine forces in 969 CE.
Domestic Affairs
Nikephoros' sustained success against the Arabs (also known as Saracens) led his subjects to dub him the terrifying "White Death of the Saracens." But while Nikephoros was a military hero, as emperor he alienated several powerful segments in Byzantine society, undermining his rule and legacy. He promoted the interests of soldiers, arranged the state finances to focus on funding the army, and tactlessly dealt with criticism. Nikephoros increased taxes to fund his wars, although the taxes probably fell the most heavily on his own class, the Anatolian military elite. He introduced the tetarteron, a temporary devalued gold coin, to increase the state's coffers.
In 964 CE, Nikephoros forbade endowments for new monasteries and gifts to existing ones. He did this because church lands were not taxable, and Nikephoros wanted to increase the state's tax income. Yet this action highlighted the rising disconnect between people and ruler. By 967 CE, popular discontent in Constantinople was running high. An Easter brawl broke out between Armenian soldiers and the Constantinopolitan citizens, and in the aftermath, several citizens were killed. Members of the populace began to pelt Nikephoros with stones.
Foreign & Religious policy
Meanwhile, Nikephoros was unraveling Byzantium's foreign relations. Bulgaria had followed Orthodox Christianity for a century, and Tsar Petar (r. 927-969 CE) was married to Romanos I's (r. 920-944 CE) granddaughter and was thus related by marriage to the Byzantine royal family. But there was some sort of falling out between Nikephoros and Petar, and Nikephoros paid the Rus leader, Sviatoslav (r. 945-972 CE), to raid Bulgaria. Sviatoslav raided deep into Bulgaria in 968 CE and Petar died the next year, leaving a weak Tsar Boris II (r. 969-971 CE), a collapsing Bulgarian state, and a ferocious Rus horde on Byzantium's doorsteps.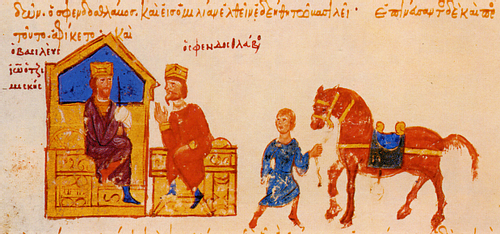 Nikephoros also had a contentious relationship with Holy Roman Emperor Otto I of Germany (r. King of Germany 936-973 CE, Holy Roman Emperor 962-973 CE). Otto invaded Byzantine southern Italy in 968 CE, desiring the entire peninsula. Otto also allied himself with the Lombard dukes of Southern Italy, traditional enemies of the Byzantines. The encounters between Nikephoros and Otto's ambassador, Liudprand of Cremona, in Constantinople, who seemed to despise each other, speak to the dismal relations between the Holy Roman and Byzantine Empires. Otto's troops continued to make deep raids into Byzantine southern Italy, but without achieving any real change in the status quo.
Nikephoros also engaged with the Jacobite Syrian Church, a monophysite church that disagreed with the Patriarchate of Constantinople and Orthodoxy. He initially promised to allow them to practice their religion unhindered, as long as their leader, Yuhannan VII, relocated to Cappadocia. In 969, however, Nikephoros brought Yuhannan to Constantinople, made him debate doctrinal matters, and exiled him and other Syrian Church leaders when they refused to accept Orthodoxy.
Death & Legacy
On December 10-11, 969 CE, John Tzimiskes, whom Nikephoros had placed under house arrest sometime after 965 CE, was hoisted into the palace by his co-conspirators, potentially with the support of Empress Theophano. John Tzimiskes and his co-conspirators broke into Nikephoros' sleeping chambers and murdered the sleeping Nikephoros.
Nikephoros' deep unpopularity made him only mourned among the military. One of Nikephoros' soldiers praised the deceased emperor as "the general of invincible Rome, a king by nature, a bringer-of-victories in fact" (Geometres, 283). Indeed, Nikephoros was one of the Byzantine Empire's greatest generals, and although he was not politically astute, his great martial skill brought the Byzantine Empire to a new height of strength.