Video
Send to Google Classroom:
Telesilla was a Greek lyric poet who lived in Argos in the fifth century BCE. Along with the famous poet Sappho, Telesilla was named as one of the Nine Female Lyric Poets of Greece, and is known for both her lyric poetry (even though only two lines survive) and for her courage as the defender of Argos against Sparta.

According to Plutarch, when Telesilla learnt that the Argive army was killed by Cleomenes I, King of Sparta, she got the women, youth, and elders of Argos to rise up in defence. According to one account, the women, directed by Telesilla, resolved to hold their city, manning the walls and hurling whatever they could at the Spartans, and drove Cleomenes back with fewer men than he started with! According to Pausanias, Cleomenes had three options; 1- to attack the city and be defeated by women, which would be the greatest disgrace, 2- to attack and defeat the women, which would be a dishonourable victory or 3- to leave and save his honour. Frustrated, Cleomenes chose the third option and withdrew his forces. Regardless of which story is true, Telesilla is remembered as both a talented artist and defender of Argos.

— ATTRIBUTIONS —
You can find all attribution and credits for images, animations, graphics and music here - https://worldhistory.typehut.com/women-in-history-the-female-greek-lyric-poet-telesilla-of-argos-images-and-attributions-4573

The music used in this recording is the intellectual copyright of Michael Levy, a prolific composer for the recreated lyres of antiquity, and used with the creator's permission. Michael Levy's music is available to stream at all the major digital music platforms. Find out more on:
https://www.ancientlyre.com
https://open.spotify.com/artist/7Dx2vFEg8DmOJ5YCRm4A5v?si=emacIH9CRieFNGXRUyJ9
https://www.youtube.com/channel/UCJ1X6F7lGMEadnNETSzTv8A

— THUMBNAIL IMAGE —
https://commons.wikimedia.org/wiki/File:Robert_Fagan_-_The_Muses,_Urania,_Erato_and_Calliope.jpg
Robert Fagan
Art UK
Public Domain
About the Author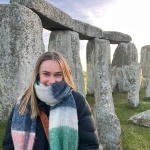 Kelly is a graduate from Monash University who has recently completed her BA (Honours) in Ancient History and Archaeology, focussing on iconography and status in Pylos burials. She has a passion for mythology and the Aegean Bronze Age.