Navigation
Biography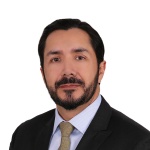 Veteran of the Colombian Navy with more than 20 years of service, I have had the possibility of working in operational, administrative and educational environments in different types of military units throughout the Colombian geography. I have professional studies in administration, internal control, maritime geostrategy among others.

I am currently finishing my master's degree in military history, focusing my research on the technological development of Colombian Navy river ships during the development of the Colombian internal armed conflict and the realization of a historical memory project with veterans of the Military Forces, especially those who have been victims of insurgent groups.

I consider the study of history as one of my greatest passions, since I have had the opportunity to read, my first love came with the stories of ancient civilizations and the great developments generated by them, seeing in them a reflection of what what we are now and how we can be in the future as humanity. I consider most important, being able to provide the disclosure of it to the entire educational or enthusiastic population, work that I am currently doing with my research projects, being my goal to be able to contribute in a positive social change.
Analytics
38,871 pageviews on this user's contributions