Navigation
Biography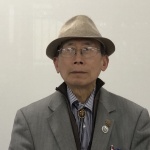 I am a native Chinese speaker with a well-educated Chinese cultural background. I graduated from both the University of Missouri-Rolla and Central Missouri State University. As a former Board member of the United Nation Association- USA(UNA-USA) St Louis Chapter, and a current Board member and former Associate Editor of the English magazine Chinese-American Forum, with my World War II history essays.

For the past ten years I have been an active member of the St Louis Interfaith Dialogue Conference where I have shared Chinese philosophy and religious beliefs with individuals of other faiths. Additionally, I am a frequent community lecturer at colleges, universities, city officials and churches where I speak about the continuous ancient five thousand year old continuous Chinese civilization and promote the concept of "peace under heaven."

Currently, I am a California public servant working as the chief translator for the California Employment Department where I convert English documents into traditional Chinese. I have a keen interest in the relationships of Chinese American and Native American history, reading and writing on these two topics each year. And, I am a frequent contributor to local Chinese media and as a radio show speaker in San Francisco Chinese where I have the honor of sharing and learning with others on these topics.
Analytics
16,373 pageviews on this user's contributions