Navigation
Biography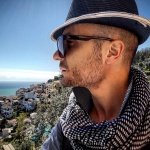 Interpreter and translator at 'Le Vigne di Raito', Vietri sul Mare (Amalfi Coast), Italy. Reception co-manager, email and public relations; international wine tours manager; client assistance.

Founder, artistic and executive co-director of the culture festival 'La Congrega Letteraria', in Vietri sul Mare; member of the committee of the festival's poetry contest 'Poesis-Vietri sul Mare'.
Appointed 'political advisor' of the Mayor (May 2017 - May 2019) in matters of Tourism, culture and English-language public relations.
Analytics
103,253 pageviews on this user's contributions