Navigation
Biography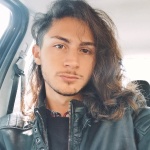 Born and raised in Naples, Italy, with a passion for traveling abroad as much as he can.
Aldo has been certified Cambridge C1 (CAE) aged 16 while at Scientific High School; he is now a university student in building engineering and architecture. Self-taught in Modern Greek.
As a European the variety of cultures and traditions of different people has always been a great source of fascination to him; he believes literary works, music, art, tell the story of people, the best we can do is to collect this heritage, feed our roots to build our future.
Analytics
1,690 pageviews on this user's contributions