Review
| | |
| --- | --- |
| Title: | The Ancient Near East: A Very Short Introduction (Very Short Introductions) |
| Author: | Podany, Amanda H. |
| Publisher: | Oxford University Press |
| Published: | 2013 |
| Pages: | 168 |
The Ancient Near East: A Very Short Introduction by Professor Amanda H. Podany is a concise, but very comprehensive, work on the history of Mesopotamia. Part of the Very Short Introduction series from Oxford University Press, the book is comprised of ten chapters which detail the history of the region from Archaeology and Environment (Chapter 1) through The Neo-Babylonian Empire (Chapter 10) spanning roughly 5,000 years from the rise of the cities and establishment of trade (c. 3600 BCE) past the fall of those cities and the end of Mesopotamian history (c. 6th century BCE). The book also includes a section on suggestions for further reading, listed by subject matter, which is quite comprehensive and makes locating a specific book on a topic of interest very easy.
Dr. Podany's prose is tightly constructed and enjoyable and the book moves quickly with a solid progression. Her presentation of the role of the gods in the lives of the people is given in-depth treatment with specific examples, as seen in this passage:
Each state was sovereign, and none of the great kings of the international period could claim to be more powerful than the others. If a king broke the terms of a treaty, no international body was standing by to step in with sanctions or reprimands. But everyone agreed that the gods saw everything and could be counted on to enforce the oaths that had been sworn in their names. Suppiluliuma's life story had demonstrated the power of the gods (in the opinion of his son and presumably the Hittite people more generally) to mete out punishment when a treaty was broken, specifically an earlier one between Hatti and Egypt…Suppiluliuma had gone against the terms of his treaty with Egypt when he invaded Egyptian lands, so the gods were maintaining their side of the arrangement by bringing plague and death to the Hittites (93-95).
Throughout Mesopotamian history, humans were considered co-workers with their gods to maintain order and hold back the forces of chaos and Professor Podany does an excellent job of presenting this understanding throughout the work though, by no means, is religion the sole focus of the book. This work is a fine introduction to the whole of Mesopotamian history and would serve well in college classes as a main text or as a supplement to a longer work with a more specific focus. The book is a pleasure to read and is highly recommended.
Buy This Book
$7.45
free shipping worldwide
$11.95
plus shipping
By purchasing books through this website, you support our non-profit organization. World History Encyclopedia receives a small commission for each book sold through our affiliate partners.
About the Reviewer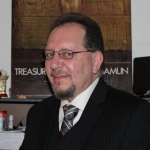 A freelance writer and former part-time Professor of Philosophy at Marist College, New York, Joshua J. Mark has lived in Greece and Germany and traveled through Egypt. He has taught history, writing, literature, and philosophy at the college level.