Join World History Encyclopedia as they sit down with John Spurling to talk about his new book of Greek mythology retellings Arcadian Days, published by Pegasus Books.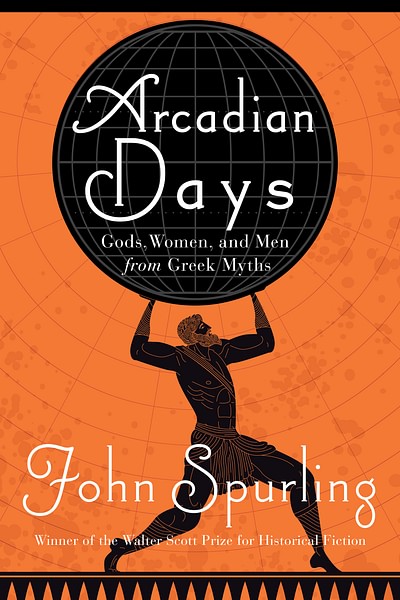 Kelly: Thank you so much for joining me to talk about your book Arcadian Days. Let us start off with why you decided to write a book of mythology retellings.
John: In 2006, my wife and I went on holiday to Greece for the first time since we were students in the early 1960s. We stayed in a friend's house in a hill village in the province of Arcadia, on the western side of the Peloponnese, and were so dazzled by the place that we bought a house in the same village and had it redesigned and rebuilt by a local architect. Looking out from the terrace of our new house over the Gulf of Argos I thought that if we had been there some 3,000 years earlier, we would have seen Agamemnon's fleet leaving for the Trojan War. That reminded me that my knowledge of Greek myths was extremely moth-eaten, and discovering that most of our many visitors knew even less about them, I began to look them up.
The stories may look as if they turn on the actions of men, but those actions, of life &
death
, almost always involve
women
.
Most of the retellings seemed to be in fusty language or aimed only at children, so I turned to my old Penguin edition in two volumes of what seemed to be the most serious and comprehensive, Robert Graves's The Greek Myths. Serious it is, but I was so infuriated by its complicated format and impersonal style that I decided to retell some of the myths myself in a way that would make them more alive to a modern reader. To try them out, I sometimes read one or two of my versions to our visitors as we sat out with glasses of Greek wine on that new terrace in Arcadia. Their enthusiastic response encouraged me to make a whole book of them and when that was well received to write another.
Kelly: Why did you choose these specific myths to retell in your book? How did you go about deciding which stories/figures to include?
John: For my first book, Arcadian Nights, I chose four mythical figures particularly associated with the Peloponnese: Pelops himself and his descendants, the ill-fated House of Atreus; Herakles; Perseus; and Theseus. I added the god Apollo because he had an ancient shrine on the hill above our village and the local football team was named after him. For the second book, Arcadian Days, I chose five of the best-known myths from Greece as a whole, in each of which a woman plays a crucial part.
Kelly: Was there any particular reason you chose myths featuring women playing key roles?
John: I did not have to choose myths in which women play key roles. They are there, prominently, in most Greek myths. Think of Agamemnon's wife Clytemnestra and his daughter Electra. Herakles wrestles with Death to save Alcestis, kills his first wife by mistake and, again by mistake, is killed by his second wife. Think of Perseus and his mother and his wife Andromeda, of Theseus and Ariadne and her sister Phaedra. Then consider the crucial part played by the goddesses: Athena, Diana, Hera, Demeter, and her daughter Persephone. All these come into the stories in my earlier book, Arcadian Nights. It was simply that, in this second book of myths, I wanted to emphasise the women's role. The stories may look as if they turn on the actions of men, but those actions, of life and death, almost always involve women. I call the last story 'Odysseus and Penelope', but it also includes two minor goddesses, Circe and Calypso, the major goddess Athena, and the young princess Nausikaa.
Book Promotion
Kelly: What kinds of source materials did you consult? How did you reconcile different versions of the myths? Additionally, when you were crafting your retelling, how did you work with keeping to the source material and balancing that with adding your own flair and making it an engaging and accessible read?
John: My primary sources were the ancient Greeks themselves: Homer, Hesiod, Pindar, Aeschylus, Sophocles, and Euripides. My main secondary sources were the infuriating Graves, but more usefully Sir William Smith's Smaller Classical Dictionary, the 1906 edition which had sat unread on my bookshelf for many years and which had belonged to my great-uncle Robert Gibson when he was a classical scholar at Winchester College. He was killed in the disastrous Battle of the Somme in 1916. I also reread my grandfather J. C. Stobart's cultural history The Glory That Was Greece, first published in 1911. His clear, friendly style probably had some influence on my own approach. I found that if I, the storyteller, put my own head above the parapet from time to time, the stories flowed more naturally and allowed me to be more relaxed and even humorous, especially in those of Herakles and Perseus in Arcadian Nights, and in Arcadian Days, those of Prometheus, Pandora, and the young Jason, before he met the devastating Medea.
Kelly: I definitely found your retelling to be easy to read; you have written these tales in a very accessible style! I have noticed a few links between the myths you have included, such as between Deucalian and Phyrra and Jason. Was there a particular figure/myth you wanted to write about and then took it from there? Or did you start with a theme and choose the myths around that?
John: It was always the main figures I started from, perhaps because as a playwright I felt most at home with animating characters.
Kelly: I feel like when it comes to Greek myths, they are all so intertwined. How did you decide which figures you would segway into and which you would not (i. e. Atalanta and Seven Against Thebes in the chapter on Oedipus)?
John: Atalanta, the patron surely of all female athletes, had to be mentioned in the Oedipus story because she had already appeared as the only female member of the story of Jason and the Argonauts and her own story of being cheated into marriage by the goddess of love had not been told there. The Seven Against Thebes is an intrinsic part of the two-generational tragedy of Oedipus and his children, who were also his brothers and sisters. I tried always to stick to the basic story and only digress if it seemed sufficiently relevant. I cut out several digressions from Arcadian Days, including some comparisons between Greek myths and stories from the Bible's Old Testament.
Kelly: I was struck by the notion of the hanging of the men and burying of the women as a practice in Colchis, I have never read that before! Were there times while you were working on this book that you came across a part of a myth or a story about a figure you had never read before?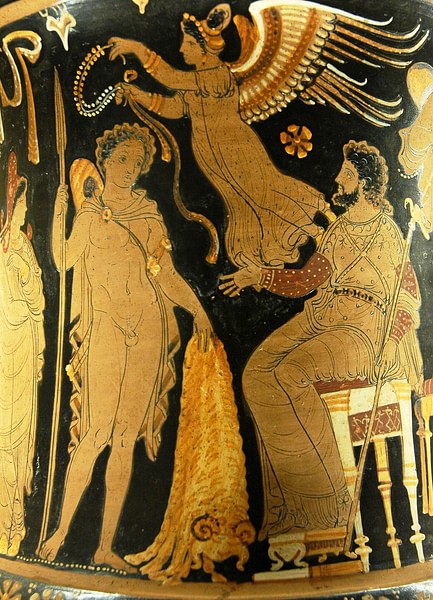 John: I cannot remember where I found that curious detail – the same system of putting dead bodies in trees (or towers) for the vultures to devour as, I think, the Parsees practise in India. It explains why the Greeks felt that Phrixos, who flew to distant Colchis on the ram with the fabled golden fleece, had not been properly buried. But once I have incorporated something in a story I tend to forget where I got it from or that it may have surprised me when I first came across it. I was delving more thoroughly into these myths than I had ever done before, so it is hard now to recall what was familiar and what was not. I certainly had not remembered about Jason and his missing sandal or that Odysseus narrowly escaped being sucked down by the whirlpool Charybdis a second time.
Kelly: Are there any figures that you would like to write about in the future that have not yet made it into your books?
John: No more ancient Greek figures, I think. I am working now on a 15th-century Englishman.
Arcadian Nights was first published in the UK by Duckworth in 2015 and in the US by Overlook in 2016. Arcadian Days was first published in the UK by Duckworth in 2022 and in the US by Pegasus in 2023.