In his search to secure the continuation of the Tudor line, Henry VIII of England (r. 1509-1547 CE) married an incredible six times. Some marriages were the result of passion while others were arranged for political reasons. One divorce caused a split in the Church in England from Rome, two wives were imprisoned and executed in the Tower of London, and only two partners outlived Henry. For all the fuss and effort, though, only Henry's third wife, Jane Seymour, gave birth to a reasonably healthy boy. Here are the stories of the six women who became Henry's queens.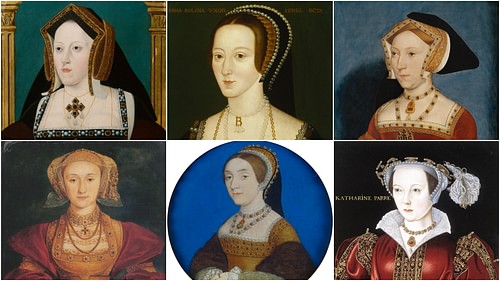 Henry VIII
Henry VIII, second of the Tudor kings after his father Henry VII of England (r. 1485-1509 CE), inherited a relatively stable and wealthy kingdom. Without significant challenges to his rule or major foreign wars to distract him, the king had more time than most of his predecessors to concern himself with his private life. As no queen had reigned in her own right in England for 500 years, one of Henry's principal duties was to produce a male heir. This obligation proved much more difficult than anyone could have imagined, and the search, along with the king's insatiable passion for younger women, would result in no fewer than six queens reigning over England in a period of four decades.
Charismatic & charming, domineering & wilful, Henry VIII was a difficult man to resist.
Henry was, of course, quite a catch but not only for his title and wealth as, contrary to his later and now more famous portraits, in his youth the king cut an athletic figure. At 1.9 metres (6 ft 3 in) tall with red hair and beard, he was an imposing man who loved riding, archery, tennis, and participating in medieval tournaments. The king was also intelligent, and he wrote poetry, music, and texts on theology. Charismatic and charming, domineering and wilful, Henry VIII was a difficult man to resist.
The six wives of Henry VIII and their children were:
Catherine of Aragon (m. June 1509 CE) - Mary (b. Feb. 1516 CE)
Anne Boleyn (m. Jan. 1533 CE) - Elizabeth (b. Sep. 1533 CE)
Jane Seymour (m. May 1536 CE) - Edward (b. Oct. 1537 CE)
Anne of Cleves (m. Jan. 1540 CE)
Catherine Howard (m. July 1540 CE)
Catherine Parr (m. July 1543 CE)
Catherine of Aragon
Catherine of Aragon (1485-1536 CE) was the youngest daughter of King Ferdinand II of Aragon (r. 1479-1516 CE) and Queen Isabella of Castile (l. 1451-1504 CE). Catherine had married prince Arthur (b. 1486 CE), the eldest son of Henry VII in 1501 CE but Arthur died the next year of illness. Not one to waste his diplomatic efforts or lose a dowry, Henry VII arranged for Catherine to marry his other son and now heir, Henry. Thus, Henry married Catherine on 11 June 1509 CE and two weeks later he was crowned Henry VIII in Westminster Abbey.
Catherine was regarded as a beauty in her youth, and she was also well-educated. The marriage was a happy one initially and produced six children, but all except one of these died in infancy. The sole survivor was Mary, born on 18 February 1516 CE and the future Queen Mary I of England (r. 1553-1558 CE). Meanwhile, Henry had an illegitimate son, Henry Fitzroy, Duke of Richmond (b. 1519 CE), with a mistress, one Elizabeth Blount, but that was not much use to a king in need of a recognised heir. It did not help that the pregnancies had taken their physical toll on Catherine and the six-year age difference between king and queen was beginning to show. When the queen reached 40, Henry decided his best chance of a son lay elsewhere. From around 1526 CE, Henry's eye had been caught by a young lady at court, one Anne Boleyn. The problem was to have his marriage annulled since the Catholic Church did not allow divorce. The issue became known as the king's 'great matter'.
Catherine was forbidden from using the title 'Queen of England', she had to instead use 'Princess Dowager'.
Henry wrote a letter to Pope Clement VII (r. 1523-1534 CE) in 1527 CE suggesting that the lack of a male heir was God's punishment for marrying the wife of his late brother, a point supported by the book of Leviticus in the Old Testament (20:21). The king argued his marriage should never have been permitted in the first place. The Pope would not agree, despite the best persuasions of Henry's Lord Chancellor Cardinal Archbishop of York, Thomas Wolsey (l. c. 1473 - 1530 CE). There was the point that Arthur and Catherine had never likely consummated their marriage but more significantly, the Pope was very keen to keep good favour with the most powerful ruler in Europe at the time, Emperor of the Holy Roman Empire, Charles V of Spain (r. 1519-1556 CE), who was the nephew of Catherine. Henry dismissed Wolsey and replaced him with Sir Thomas More (1478-1535 CE) in 1529 CE but he would not agree to the divorce on principle. Henry's third choice for Lord Chancellor was Thomas Cromwell (l. c. 1485-1540 CE) and so from 1532 CE, the king took a much more radical approach. He would split the Church in England from Rome, declare himself its head and so sanction his own divorce.
A new Archbishop of Canterbury, Thomas Cranmer, duly annulled Henry's marriage on 23 May 1333 CE. The Act of Succession (30 April 1534 CE) declared her daughter Mary illegitimate and Catherine was forbidden from using the title 'Queen of England', she had to instead use 'Princess Dowager'. The Act of Supremacy of 28 November 1534 CE declared the king head of the Church and so the English Reformation began. Catherine, meanwhile, had been separated from her daughter and confined to her residence at Buckden in Cambridgeshire from 1533 CE and Kimbolton after 1534 CE. Catherine, wasting away from not eating and wracked with cancer, died aged 50 on 9 January 1536 CE. The former queen was buried in Peterborough Cathedral.
Anne Boleyn
Anne Boleyn (c. 1501-1536 CE) was a lady-in-waiting at court, the younger sister of Mary Boleyn, a former lover of King Henry. She was the daughter of Sir Thomas Boleyn (future Earl of Wiltshire) and Elizabeth Howard, the daughter of Thomas Howard, Duke of Norfolk. Anne also had a royal connection as her aunt was the youngest daughter of Edward IV of England (r. 1461-1470 & 1471-1483 CE). Anne was well-educated and had grown up in the royal courts of the Netherlands and France; in 1522 CE she joined Henry's court.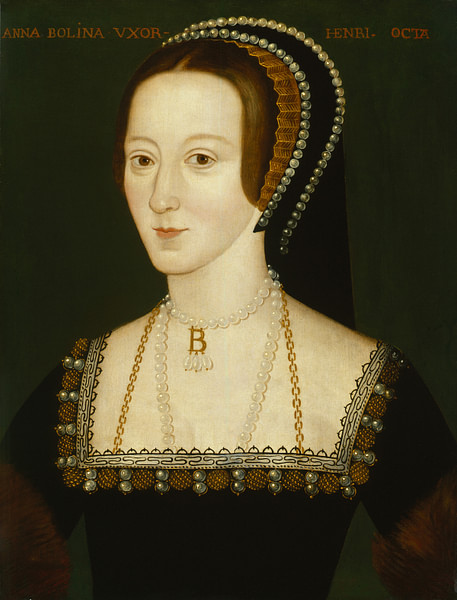 In 1533 CE Anne became Henry's second wife, and she is often known as 'Anne of a thousand days' for her brief reign as queen of the king's heart. Anne was dark-haired, slim, and beautiful. Her wit and boldness easily won Henry's affections but she refused his courting gifts of jewels and refused to sleep with the king until they were married. Anne did, however, accept the title Marquess of Pembroke with its matching estates and income. We have seen already that Henry's ambition to annul his first marriage was being thwarted by the Church but he at least felt confident enough in the eventual outcome to have Anne accompany him on a trip to France as his official consort in October 1532 CE.
Sometime in December 1532 CE, Anne, perhaps seeing a baby as the best way to rid herself of her rival Catherine, did sleep with the king and became pregnant. It now became imperative Henry married Anne in order to make his children with her legitimate heirs. Consequently, the pair married in secret on 25 January 1533 CE, several months before the official annulment of the first marriage. Anne, by now heavily pregnant, was crowned Queen of England on 1 June 1533. The couple's daughter Elizabeth was born on 7 September 1533 CE, future Elizabeth I of England (r. 1558-1603 CE).
Anne Boleyn, accused of adultery, was arrested & confined to the Tower of London on 2 May 1536 CE.
Anne used her position to support pro-reformers in the Church. Unfortunately for Henry's quest for a male heir, Anne could not oblige as two infants were lost in miscarriages (1534 and 1535 CE) and one boy was stillborn in 1536 CE. The royal relationship deteriorated with the headstrong Anne openly insulting the king at court and whispers abroad that the English king had married no higher than a common prostitute. The fate of Anne was about to follow a similar road to her predecessor with Henry's roving eye now on the lookout for wife number three, a realistic option following the death of Catherine of Aragon in 1536 CE. The king's affections had been caught by another lady-in-waiting, one Jane Seymour, and he openly showered her with letters and gifts - all of which Jane rejected as, like Anne, she was holding out for nothing less than marriage.
Anne was accused of adultery, arrested, and confined to the Tower of London on 2 May 1536 CE. The case against her was trumped up by Cromwell who was helped in his search for spurious evidence by the strong pro-Catherine faction still at court. Just for good measure, Cromwell added a whole load of other charges which included incest with her own brother, Lord Rochford, affairs with at least four lovers, attempted murder by poison of her husband, and even witchcraft. A confession was extracted under torture from Anne's favourite musician, one Mark Smeaton, but Anne herself denied all of the charges, as did all the other 'lovers'. Nevertheless, Anne was found guilty by the court. Anne's marriage to Henry was annulled on 17 May, Princess Elizabeth, like her half-sister Mary, was declared illegitimate, and the queen was sentenced to execution at the Tower of London. Anne offered to retire to a nunnery if Henry would show mercy, but he did not. On 19 May 1536 CE, before the blade fell, the former queen was said to have proclaimed:
The king has been good to me. He promoted me from a simple maid to a marchioness. Then he raised me to be a queen. Now he will raise me to be a martyr.

(quoted in Philips, 103)
Jane Seymour
On the same day as Anne's execution, heartless Henry announced his engagement to Jane Seymour (c. 1509-1537 CE), a lady-in-waiting to both of Henry's previous queens. A few weeks later Henry married Jane on 30 May 1536 CE in Whitehall Palace. Jane was well-liked at court although she seems to have been a 'plain Jane', hardly able to read or write, with a large nose and chin to match, she was the very opposite of Anne Boleyn. Perhaps, this was her attraction to a king who now wanted a submissive wife after two turbulent marriages.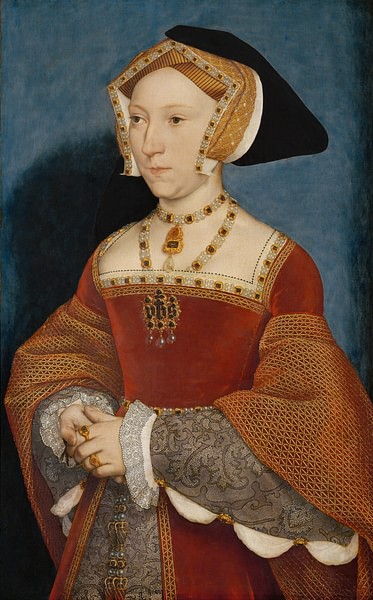 Jane did finally give the king a son, Edward, born on 12 October 1537 CE, the future Edward VI of England (r. 1547-1553 CE). The long-awaited arrival of a male heir sparked off joyous gun salutes, bell-ringing and banquets across England. Tragically, Jane died shortly after (24 October 1537 CE), most likely from post-natal fever, and Henry genuinely mourned her passing and shut himself up in Windsor Castle where he refused all audiences. Of all his wives it is significant that this was the one Henry wished to be buried alongside in Saint George's Chapel, Windsor Castle. Jane's brother, Edward Seymour (c. 1500-1552 CE), would rise at court to eventually become Lord Protector, effectively regent, for his nephew Edward VI.
Anne of Cleves
For his fourth wife, Henry returned to ties with a diplomatic advantage and arranged to marry Anne of Cleves (1519-1557 CE), the eldest daughter of John, Duke of the German Duchy of that name. The match was orchestrated by Thomas Cromwell as England needed Protestant allies against the Catholic superpowers of Europe: France and Spain. The betrothed met shortly after Anne arrived in England on 26 December 1539 CE but she was to prove a disappointing late Christmas present for the king.
Anne immediately displeased the king - in her looks, personal hygiene, loud voice, and brash manners. Henry and Cromwell had been misled by an overly flattering portrait of her before they had met Anne in person. The painting was, like many other portraits of the period, by the German Hans Holbein the Younger but he was an artist rather more interested in capturing magnificent jewels and costumes than accurate faces. The king declared to Cromwell, 'My lord, if it were not to satisfy the world and my realm, I would not do that I must do this day for none earthly thing' (Philips, 103).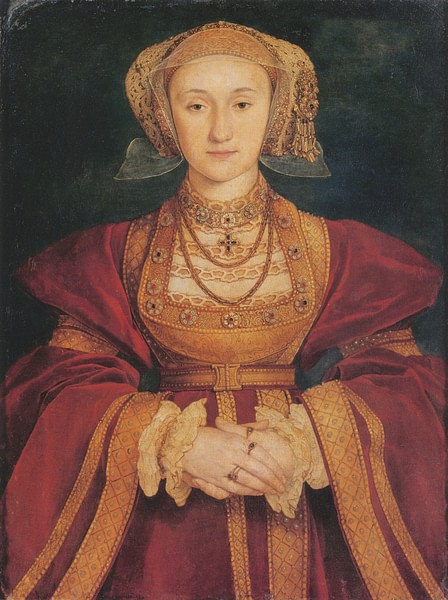 Henry, not exactly the dashing figure of his youth anymore, married Anne anyway on 6 January 1540 CE at Greenwich Palace but, said to have rudely called her the 'Flanders mare', he soon changed his mind. Anne's planned coronation in February was cancelled and the pair divorced by mutual consent on 9 July 1540 CE. The marriage was, according to rumour, never consummated. Anne was relieved to escape with her life but Henry gave her two manors, one castle and a very generous allowance of 4,000 pounds a year, certainly enough to live the high life until her death on 16 July 1557 CE. Thomas Cromwell did not do so well from the debacle and, already with powerful enemies at court, he was blamed by the king for the unsuitable arrangement. Cromwell was arrested, charged with heresy and treason, and executed without trial, on 28 July 1540 CE. Anne also got the best post-life deal of Henry's wives as well as post-marital one, for she was buried in Westminster Abbey.
Catherine Howard
Wife number five was Catherine Howard (c. 1523-1542 CE), then only a teenager and yet another pretty and nubile lady-in-waiting at court that had caught the king's eye. Catherine was a cousin of Anne Boleyn and had once been maid-of-honour to her predecessor as queen. She was the daughter of Lord Edmund Howard, a somewhat impoverished member of that distinguished family but was also the niece of the powerful Thomas, Duke of Norfolk who pushed her forward to catch the king's eye and so further discredit his great rival at court Thomas Cromwell.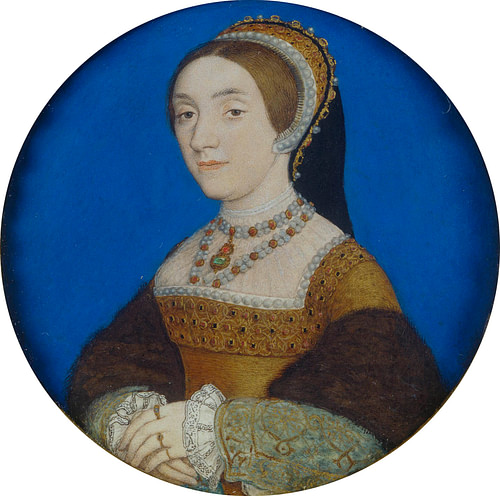 Henry and Catherine married on 28 July 1540 CE (the very same day as Cromwell's execution) and the king seemed besotted with his conquest, referring to Catherine as his 'rose without a thorn' (Ralph Lewis, 110). The king gifted his wife diamonds, rubies, pearls, and furs as they openly cavorted in court. Ultimately, though, the queen suffered the same fate as Anne Boleyn when she, too, was accused of having an extramarital affair with a member of the court, one Thomas Culpeper, and an incriminating love letter was produced at her hearing before Parliament on 16 January 1542 CE. Never mind that Henry had himself started to have an affair with Catherine while he was still married to Anne of Cleves.
Confessions were duly extracted under torture, and Culpeper and another lover, Francis Dereham were executed as traitors and their heads displayed on London Bridge. The investigation had revealed that Catherine had gained an undesirable reputation before the marriage after several pre-marital affairs were brought to light, including with Dereham who had foolishly boasted of his conquest to members of the king's court when Henry visited Pontefract Castle in August 1541 CE. Enemies of the Howards and pro-Reformists were delighted to find out about these skeletons in the royal closet, and when Catherine herself unwisely appointed Dereham as her private secretary, her fate was sealed. As a result of this embarrassing episode, Parliament even passed a bill that declared any future queen must be chaste before her marriage to an English king. This allowed Henry to go back on his promise to Catherine that he would show her mercy. Catherine Howard was executed by beheading in the Tower of London on 13 February 1542 CE. Catherine's remains, like those of Anne Boleyn before her, were buried in Saint Peter's Chapel in the Tower.
Catherine Parr
The sixth and final wife was Catherine Parr (c. 1512-1548 CE), daughter of Sir Thomas Parr. The wedding took place on 12 July 1543 CE at Hampton Court. Catherine was attractive but already a two-time widow. She had planned to marry Thomas Seymour (Jane Seymour's brother) but Henry had blocked it so he might have her for himself. Then in her thirties, she was a more mature lady than her immediate predecessors, and perhaps because of this, the marriage was a success and the family home a happy one. Catherine was well-educated, and she personally undertook the education of her three adopted children. Although the queen massaged Henry's ego and bowed to his will, she did take a keen interest in religious affairs. The queen held daily scripture readings in her chambers, encouraged Protestant scholars to teach ideas of reform to her children, and wrote a treatise, A Lamentation or Complaynt of a Sinner in 1548 CE. Catherine outlived Henry but died from complications of childbirth on 7 September 1548 CE following her fourth marriage the year before to Thomas Seymour. Catherine was buried at Sudeley Castle in Gloucestershire.
Henry VIII's health declined rapidly in his later years. The king suffered a badly ulcerated leg and was so overweight he had to be pushed around on a wheeled contraption. The king died on 28 January 1547 CE at Whitehall Palace in London; he was 55 years old. Henry was buried in Saint George's Chapel at Windsor Castle, next to his late third and favourite wife, Jane Seymour.