Video
Send to Google Classroom:
Nancy Marie Brown, author of The Real Valkrie: The Hidden History of Viking Warrior Women joins us to talk all about female Vikings, warrior women and women in the Viking Age. Nancy uses two very different kinds of sources in The Real Valkyrie: medieval texts and modern archaeology. The Real Valkyrie is a book that attempts to recreate the life and times of one warrior in the Viking Age, and that warrior just happens to be a woman.

The question that Nancy answers in The Real Valkyrie is; what does the Viking world look like if we abandon these concepts of men's work versus women's work, and we just look at what would it be like if roles were assigned based on different qualities, like ambition, ability, family ties and wealth? Combining the archaeological evidence of Burial Bj581 and other strong females from Viking history including Queen Gunnhild, Mother of Kings, the Red Girl and Queen Åsa of Vestfold, Nancy takes you on a journey through what the life of the woman (named Hervor) may have looked like.

— PURCHASE THE BOOK —
https://us.macmillan.com/books/9781250200846

— FIND NANCY ONLINE —
Website https://www.nasw.org/users/nmb/
Blog https://nancymariebrown.blogspot.com/
Facebook https://www.facebook.com/nancy.marie.brown

— ATTRIBUTIONS —
Music Used - "Epic Performance"

— THUMBNAIL IMAGE —
https://commons.wikimedia.org/wiki/File:Peter_Nicolai_Arbo_-_Valkyrjen_-_Nasjonalmuseet_-_NG.M.00259.jpg
Peter-Nicolai Arbo
Public Domain US / faithful reproductions of two-dimensional public domain works of art are public domain
About the Author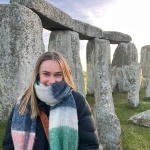 Kelly is a graduate from Monash University who has recently completed her BA (Honours) in Ancient History and Archaeology, focussing on iconography and status in Pylos burials. She has a passion for mythology and the Aegean Bronze Age.