Video
Send to Google Classroom:
The warrior queen Zenobia of the Palmyrene Empire ruled her kingdom for three years until the Roman Emperor Aurelian stopped her in her tracks. The Palmyrene Empire was an empire that broke away from the Roman Empire during the instability of the Crisis of the Third Century. It was a short-lived empire, it only survived for three years, and is named after its capital city, Palmyra. Palmyra is a city in modern-day Syria which is known as an Oasis, and the position of the city made it an important trading hub, and a prominent stop on the Silk Road where taxes were collected and people stopped to rest.

Julia Aurelia Zenobia (who was known as Septimia Zenobia after her marriage to Lucius Septimus Odaenathus, known as Odaenathus), was born in 240 CE in Palmyra, Syria. Odaenathus was made a governor of the whole eastern part of the Roman Empire, and eventually, he had enough power and prestige to effectively rule over his realm almost independent of Rome with Zenobia as his queen. Until, of course, both he and his son were assassinated by his nephew which put Zenobia's son, Vaballathus, who was only ten years old, on the throne.

— ATTRIBUTIONS —
You can find all attribution and credits for images, animations, graphics and music here - https://worldhistory.typehut.com/the-warrior-queen-zenobia-of-the-palmyrene-empire-images-and-attributions-5695

The music used in this recording is the intellectual copyright of Michael Levy, a prolific composer for the recreated lyres of antiquity, and used with the creator's permission. Michael Levy's music is available to stream at all the major digital music platforms. Find out more on:
https://www.ancientlyre.com
https://open.spotify.com/artist/7Dx2vFEg8DmOJ5YCRm4A5v?si=emacIH9CRieFNGXRUyJ9
https://www.youtube.com/channel/UCJ1X6F7lGMEadnNETSzTv8A

— THUMBNAIL IMAGE —
https://commons.wikimedia.org/wiki/File:Herbert_Schmalz-Zenobia.jpg
Herbert Gustave Schmalz
Public domain
About the Author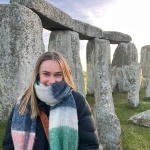 Kelly is a graduate from Monash University who has recently completed her BA (Honours) in Ancient History and Archaeology, focussing on iconography and status in Pylos burials. She has a passion for mythology and the Aegean Bronze Age.