Video
Send to Google Classroom:
Geoffrey Chaucer was an English Poet, writer and philosopher who lived between 1343-1400. He is best known as the author of the Canterbury Tales, but this video is going to explore his lesser-known poems, often referred to as his 'Minor Works.' These works include The Book of the Duchess, The House of Fame, Anelida and Arcite, The Parliament of Fowls, Troilus and Criseyde, and The Legend of Good Women (which doesn't survive in its entirety).

Geoffrey Chaucer didn't make his living as a writer (since publishing, as we know it, wasn't even a thing yet), but he was held in high esteem as a poet by his noble patrons. He knew many languages including English, French, Latin and Italian. He translated a number of different works and established Middle English as a respectable language to compose literature in during the medieval period rather than the traditional French and Latin. We have much to thank Geoffrey Chaucer for, including the English words amble, bribe, femininity, plumage, and twitter, the rhyming stanza called the rhyme royal, and his most popular work, The Canterbury Tales.

During Chaucer's lifetime, his works were popular! They were written out and copied by scribes, as close as they could come to publishing literary works at that time, and after his death in 1400 CE, his popularity and audience continued to grow. When he died, he was buried in Westminster Abbey, and was the first to be laid to rest in the famous Poet's Corner of the abbey where many great writers and poets have been buried and memorialized since.

— ATTRIBUTIONS —
You can find all attribution and credits for images, animations, graphics and music here - https://worldhistory.typehut.com/introduction-to-geoffrey-chaucer-his-life-and-his-minor-works-images-and-attributions-5481

— MUSIC —
41-There-Were-Three-Young-Ladies-FULL-SM440
Greg Joy (SOCAN)
https://download.audiohero.com/#!details?id=23208251

— THUMBNAIL IMAGE —
https://commons.wikimedia.org/wiki/File:Brown-The_Seeds_and_Fruits_of_English_Poetry.jpg
Ford Maddox Brown
Public domain
About the Author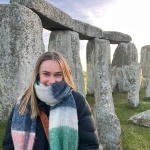 Kelly is a graduate from Monash University who has recently completed her BA (Honours) in Ancient History and Archaeology, focussing on iconography and status in Pylos burials. She has a passion for mythology and the Aegean Bronze Age.