Video
Send to Google Classroom:
Sold by her mother. Enslaved in Pompeii's brothel. Determined to survive. Her name is Amara. Welcome to the Wolf Den...

Amara was once a beloved daughter, until her father's death plunged her family into penury. Now she is a slave in Pompeii's infamous brothel, owned by a man she despises. Sharp, clever and resourceful, Amara is forced to hide her talents. For now, her only value lies in the desire she can stir in others.

But Amara's spirit is far from broken. By day, she walks the streets with the other women, finding comfort in the laughter and dreams they share. For the streets of Pompeii are alive with opportunity. Out here, even the lowest slave can secure a reversal in fortune. Amara has learnt that everything in this city has its price. But how much is her freedom going to cost her?

Set in Pompeii's Lupanar, The Wolf Den reimagines the lives of women who have long been overlooked.

— ATTRIBUTIONS —

The Temple of Venus by Michael Levy
The music used in this recording is the intellectual copyright of Michael Levy, a prolific composer for the recreated lyres of antiquity, and used with the creator's permission. Michael Levy's music is available to stream at all the major digital music platforms. Find out more on:
https://www.ancientlyre.com
https://open.spotify.com/artist/7Dx2vFEg8DmOJ5YCRm4A5v?si=emacIH9CRieFNGXRUyJ9
https://www.youtube.com/channel/UCJ1X6F7lGMEadnNETSzTv8A

— THUMBNAIL IMAGE —
The Wolf Den Book Cover
Elodie Harper
Copyright
About the Author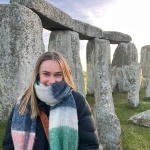 Kelly is a graduate from Monash University who has recently completed her BA (Honours) in Ancient History and Archaeology, focussing on iconography and status in Pylos burials. She has a passion for mythology and the Aegean Bronze Age.