Review
| | |
| --- | --- |
| Rating: | |
| Title: | Cleopatra's Daughter: From Roman Prisoner to African Queen |
| Author: | Draycott, Jane |
| Audience: | General Public |
| Difficulty: | Medium |
| Publisher: | Liveright |
| Published: | 2023 |
| Pages: | 336 |
Cleopatra VII is one of the most famous women in history, but her remarkable daughter Cleopatra Selene II is more obscure. Historian and archaeologist Dr. Jane Draycott sets out to rectify this with a thorough but accessible biography. This book charts the trajectory of Selene's life from her childhood in Egypt to her captivity in Rome and eventual marriage to the African prince Juba II. Rich endnotes and illustrations make it helpful to both serious students and armchair historians.
Divided into twelve chapters, the book is a journey through Cleopatra Selene II's life and times. While Selene's life and reign have been studied by other authors, Cleopatra's Daughter: From Roman Prisoner to African Queen is the first full biography of her. Being the only work of its kind makes it an easy recommendation, but it is of a quality to stand out anyway.
The first half of the book deals with Selene's early years and family history. The ill-fated union of Mark Antony and Cleopatra VII resulted in the birth of Selene and her short-lived brothers Alexander Helios and Ptolemy Philadelphus. Her youth in Egypt is set against the backdrop of her parents' war with Augustus. Antony and Cleopatra's defeat and the events that brought Selene to Rome as the last living member of the Ptolemaic dynasty are also summarized.
Draycott vividly recreates the environment in which Selene grew up.
Draycott vividly recreates the environment in which Selene grew up, one surrounded by the war's aftermath. With how Draycott tells the history, it is impossible not to feel sympathy for her. Living in Rome in the 1st century BCE, there would have been no escape from Augustan propaganda which portrayed her mother as an oversexed schemer and her father as a traitor. Celebrations of her family's demise and the subjugation of Egypt were held for years afterwards, many of which she would have been obligated to attend. At the same time, the book explores how Augustus' family raised Selene as an equal among them, a situation that taught her to navigate Roman society.
Selene came into her own after marrying fellow hostage-adoptee Juba II and relocating to Mauretania, a kingdom on Rome's African frontier. The second half of the book begins with her reign there, bolstered by a broad analysis of literary and archaeological material. The character profile that emerges from these chapters is one of an uncommonly capable ruler with a deep awareness of her family's legacy.
The final section deals with Selene's son Ptolemy of Mauretania and the events after her death. It demonstrates how Selene resurrected the Ptolemaic dynasty, suggesting a distant connection to the Palmyrene empress Zenobia. The book closes with a consideration of Selene's multifaceted identity as a woman of mixed heritage. She is at once Greek and Egyptian, Roman and African, having deftly curated her outward identity to honour her mother, adoptive family, and husband.
The breadth of research on display is impressive, bringing to life Cleopatra Selene II's world with textual and archaeological evidence. The book's only sin is the common tendency of biographies to humanize their subject. Little of Selene's personality has filtered down to us through the historical record, so the author must guess at the queen's inner emotional life. This is as close as we can come to seeing events through Selene's eyes. To her credit, Draycott is careful to distinguish between fact and supposition.
Draycott is Lecturer in Classics at the University of Glasgow. She has published three books on ancient history, with a focus on Greece and Rome. The events covered by Cleopatra's Daughter are complex but are presented in a manner that is accessible to non-experts. Full endnotes, bibliography, and image credits make it a useful resource for students and researchers. What is also noteworthy is the analysis of artworks related to Selene, including less well-known pieces. High-quality photos help readers to visualize likenesses and iconography. Lastly, the maps and family tree are handy visual references for geographic and genealogical information.
Buy This Book
$26.79
By purchasing books through this website, you support our non-profit organization. World History Encyclopedia receives a small commission for each book sold through our affiliate partners.
About the Reviewer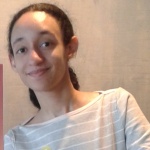 Arienne King is a student and freelance writer with a passion for history, archaeology, and digital media. She runs the blog Muses & Mayhem and is the Media Editor for Ancient History Encyclopedia.