Review
| | |
| --- | --- |
| Rating: | |
| Title: | The House with the Golden Door (Volume 2) (Wolf Den Trilogy) |
| Author: | Harper, Elodie |
| Audience: | General Public |
| Difficulty: | Easy |
| Publisher: | Union Square & Co. |
| Published: | 2022 |
| Pages: | 472 |
The House with the Golden Door by Elodie Harper is the second in a trilogy, which began with The Wolf Den. It is set in ancient Pompeii and follows the life of Amara, a recently freed woman who was a prostitute at the brothel, or Lupanar of Pompeii. With explicit detail directly influenced by the surviving art and architecture of Pompeii, Harper explores the social complexities and class structure in Pompeii and the greater ancient Roman world.
Elodie Harper has once again produced a captivating historical fiction novel that takes you right into the streets and the homes of ancient Pompeii. Set in 75 CE, Pompeii is still a thriving Roman town, looked on by Venus Pompeiana, the patron deity of the city. When reading this book, it feels like you are walking right alongside Amara, you can feel the heat beat down on you as she sits in her garden, you can feel the cobblestones as she walks the streets and you can almost see the detailed wall paintings described throughout the book. This is particularly interesting because in 79 CE Mount Vesuvius erupted and the entire city of Pompeii (and the neighbouring city of Herculaneum) was covered in ash, preserving the daily life of ancient Romans in Pompeii.
First Writer: Lovers, like bees, live a honeyed life.

Second Writer: I wish.

Pompeii Graffiti exchange (189)
Harper includes vivid detail of surviving wall art, architectural features and even whole buildings (like the Wolf Den which survives along with the erotic wall paintings). Harper continues to include snippets of graffiti from the walls of Pompeii and introduces us to different homes and interiors. Harper has the distinct ability to use what survives of the ancient city, and the lives of those who once inhabited it, and bring it back to life, or give it a new life.
The series follows Amara, a Greek woman who was sold into slavery and ended up as a prostitute in the brothel at Pompeii, known as the Lupanar or 'Wolf Den.' At the end of the previous instalment, poor Dido was killed, and Amara was freed by Pliny, and given a new home to live in by her patron, Rufus. Although she was heartbroken with the death of her friend, having to leave her fellow women behind at the brothel and having to end her budding romance with a fellow slave Menander, she was feeling optimistic about her newfound freedom. However, just because this book is not set primarily in the brothel, this does not mean it is a light and happy read. Amara has to be more courageous than ever before in the face of heartache and betrayal.
The House with the Golden Door is an incredibly nuanced exploration of social life & class structure in Pompeii & the wider ancient Roman world.
The House with the Golden Door is an incredibly nuanced exploration of social life and class structure both in Pompeii and the wider ancient Roman world. We see these social complexities all through the eyes of Amara, who is grappling with her own shifting status, now as a freedwoman, with slaves of her own, however still at the complete mercy of Rufus, and to another extent Felix. Harper delves into these social complexities by exploring the rules to be upheld and the social expectations to be maintained by a freedwoman who wants to reclaim agency over her own life but is still restricted. I think what struck me early on was how believable it all felt. We as readers experience the conflicting aspects of Amara's life, the intricacies of social relationships she has to uphold, and the deterioration of some of her friendships. To expect her relationships to stay static while she changes as a character in both status and mind would feel false. However, Amara's liminal role as a freedwoman, dependant on a man whose love is dwindling and who knows intimately the life of a slave, traverses a new world of love, deceit and friendship that sees her continually grow in courage and strength.
I love the way Harper sets up her chapters. She prefaces each chapter with a quote, either from an ancient poet or writer, or graffiti found at Pompeii. These are not just random quotes, but they are imbued with the theme of the following chapter and really set either the physical or emotional scene for Amara. These kinds of details absolutely blow me away, and it is one of the main reasons why I adore this book (and its predecessor).
This book review was originally posted on Kell-Read.
Buy This Book
$33.41
free shipping worldwide
$13.99
plus shipping
By purchasing books through this website, you support our non-profit organization. World History Encyclopedia receives a small commission for each book sold through our affiliate partners.
About the Reviewer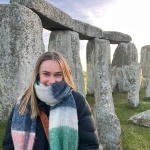 Kelly is a graduate from Monash University who has completed her BA (Honours) in Ancient History and Archaeology, focussing on iconography and status in Pylos burials. She has a passion for mythology and the Aegean Bronze Age.