American Revolution Fundraiser
We are raising funds to create the American Revolution section of our free encyclopedia. Become a part of our educational mission and help us share this pivotal chapter in American democracy and world history with readers worldwide!
Illustration
About the Author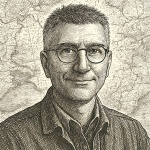 Simeon is a freelance visual designer with a deep interest in the human side of history. He believes that every image should be an interaction, a commentary, and a narrative, and every map should lead on an exciting journey of exploration and discovery.