Translation Fundraiser
Our vision: Free history education for everyone in the world, in every language. That's a lofty goal indeed, but that won't stop us from working towards it. To get there we need to translate... a lot! Please donate today and help us make a truly global impact. Thank you very much!
Illustration
Send to Google Classroom:
About the Author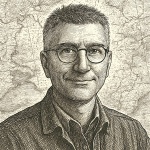 Simeon is a freelance visual designer with a deep interest in the human side of history. He believes that every image should be an interaction, a commentary, and a narrative, and every map should lead on an exciting journey of exploration and discovery.
Cite This Work
Chicago Style
Netchev, Simeon. "The Spanish Main & the West Indies c.1720." World History Encyclopedia. Last modified November 02, 2021. https://www.worldhistory.org/image/14784/the-spanish-main--the-west-indies-c1720/.