Join World History Encyclopedia as they chat with Dr. Rita Roussos. Dr. Roussos is a native Athenian who has taught archaeology and art history at the American University of Athens and is a trained archaeologist who has worked on sites like Isthmia, Kato, and Mantinea.
If you did not already know, World History has teamed up with Adante Travels and designed a tour in Greece exclusively for our readers, which combines the must-see sites with places that lie off the beaten track, and Rita will be the travel guide for the tour.
Kelly: Thank you so much for joining me today, Rita. It is a pleasure talking to you. Do you want to tell us a bit about why you became an archaeologist?
Rita: At the age of about eight, my parents started taking us to museums. We left Athens and moved to the UK, so we went to the British Museum and the Natural Science Museum. That was my first introduction to antiquities that I can remember. Then about the age of twelve, I became very much interested in Mary Renault's books such as The King Must Die and that series. Then in the last semester of high school, I was introduced to Homer's Odyssey, and that is where my first strong feeling came in. I entered archeology from ancient literature, I started with the classics, and I studied ancient Greek and Latin first. Then I went into archaeology from there, which I think is very important because you really do need to know your literature. I am a classical archaeologist, I am not a historian, so I really need the literature. The sources are important. They are not the most important thing, but they are very important. So basically, I became an archaeologist because I fell in love with ancient Greek literature.
Kelly: Amazing. I love that. It must be wonderful to be able to read it in ancient Greek as well. I mean, that is something that lots of classicists work towards.
Rita: Yes, you feel quite satisfied when you can do that. It is really difficult, you feel like you have accomplished something.
Kelly: You are a classical archaeologist. Do you want to tell us a little bit about the kinds of things that you have worked on or if you have any favourite sites and why?
Isthmia is very close to
Corinth
, & it is an important site because it is one of the places where you have Panhellenic games.
Rita: I work mainly in the Peloponnese, so Isthmia is one of my favourite sites because it is my first site and it has many different levels of history going back to the Mycenaean civilization. So, when I got there, a lot had already been excavated. I worked on the Byzantine section of it, which was interesting, but it was also quite important to see all the other levels that had been excavated. So Isthmia is very close to Corinth, and it is an important site because it is one of the places where you have Panhellenic games. Together with Olympia, we will visit two of the sites for the Panhellenic Games.
Isthmia was important because of that, and it was definitely my favourite. My area is classical archaeology, but I focus on the role of women in antiquity. So, women in ancient Greece and the role of women in the Roman world is where my focus is. Most of my research is in that area and 4th-century sculpture.
Kelly: Fascinating. What two great specialties to work on. I definitely think that women in the ancient world is definitely something that people are focusing on a lot more. Would you agree?
Rita: When I started, it was the role of women, and over time the focus has become more specialised. Lately, I have noticed there is a lot of work done on clothing, textiles, weaving, plush furnishings, pillows, and textiles in general. The role of women, but more what they produced also has become more popular than when I was studying.
Kelly: Did you have any challenges when it came to finding that kind of evidence at the sites that you have worked on or did some of them really give you quite a lot to work with?
Rita: No, nothing. You find cooking utensils and cooking paraphernalia, pots and things, and I have found some loom weights. They are all interesting, but they are not grave goods, where you have maybe a little bit more luxury like clothespins or jewelry. We did not have that kind of excitement. There are always interesting things that you can find, but broken pots are not as fascinating as an amphora. A painted pot is always more interesting than coarse ware, something that is not as refined.
What we will see on this tour is actually rather interesting because we get to visit Thebes. It is a city that has a fantastic museum. The museum is small, but you do see a lot of everyday objects dating from the prehistoric period all the way to the Byzantine period. That is one of my favourite museums.
Kelly: It is pretty exciting that you are going to take this to us specifically for our readers and for our viewers. That is pretty phenomenal. Do you want to tell us a bit about the tour and the sites that you are going to be visiting?
Rita: We are going to start with Athens. Athens has the Acropolis, the Parthenon, which is quite spectacular, and it is always more impressive when you see it. Even though I have visited so many times, every time I go, I find it incredibly extraordinary because the Parthenon really is quite impressive. The other thing that I think is important about Athens is that we will walk around the Agora, the ancient marketplace. We will walk around the ancient theatre where Sophocles and Euripides and Aristophanes had their plays performed. To walk through this and climb up to the Acropolis is something that is quite impressive. Of course, the Acropolis Museum is also very interesting.
The tour begins at a very high note, and from then on, I think it just gets better because we go to Thebes, which I just mentioned, with one of the best museums in the country as far as I am concerned. Thebes is an ancient city that has such an incredible amount of history and myth, even Packard from Hewlett Packard, the man who works in computers, wanted to buy Thebes and excavate it. They did not sell it to him because all of the ancient city which is so famous, is underneath the modern city. There are pockets of excavations, but he wanted to tear down the modern city and get to the antiquities.
The setting of the sanctuary to
Apollo
is so dramatic that you almost have to stop & look out beyond the ancient, beyond the antiquities, to nature.
Then we go to Delphi, and Delphi is an extraordinary site. Besides the Oracle of Apollo that is so important and famous, the setting of the sanctuary to Apollo is so dramatic that you almost have to stop and look out beyond the ancient, beyond the antiquities, to nature. It is perched up on the side of a hill in the middle of nowhere. Even today, it is just the little village that caters to the tourists, just as it would have in antiquity, a little town that caters to the pilgrims that would go to the Oracle. It is a very interesting and very dramatic setting. Delphi is the naval of the Earth, right? It is the omphalos. Zeus sends out these two eagles to show where the center of the world is, and they meet at Delphi. It is as romantic as it sounds. The setting of Delphi really is quite incredible.
Then we move on from Delphi, we cross over a bridge and we get to Olympia. Olympia is the place for the Olympic Games, which started in 776 BCE, but Olympia is surrounded by two rivers, so it can get very swampy. Olympia is a very vast site with a lovely museum and incredible sculptures. It is really something to actually go out into the stadium where they would run in antiquity and put your toes on the starting line that is still there. The original starting line is in situ, so you can take off your tennis shoes and put your toes in the starting line if you like, or not, and just run down the stadium. Many actually like to do that. It is quite an experience.
Then we go on to Epidaurus where we see the famous theatre that has these incredible acoustics. Although we are not allowed to have people perform in the middle of the orchestra, many of the guests like to stand in the middle and recite poetry or sing. The guards usually blow their whistle because they do not like tourists to do that. On the one hand, Epidaurus was a health spa, so it was a sanctuary. A combination of religion and health spa, hospital, theatre, all of these elements came together for the improvement of health. Greek architecture is quite impressive, and there's a lot of preservation and partial reconstruction that has been going on. So this is a really good opportunity and a really good time to go visit Epidaurus.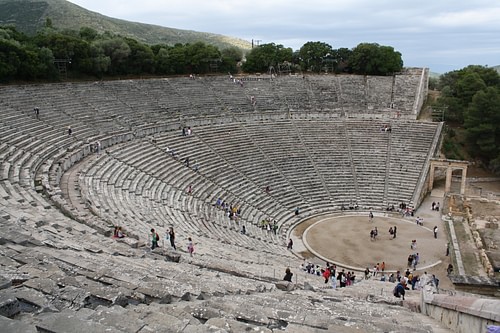 After Epidaurus, we move on to Mycenae and Tiryns, which are the two prehistoric palaces that we will visit. It should be noted that whenever you hear of a Mycenaean citadel, that means walking up. We have to walk up to the citadel, so we have to be ready for some sturdy walking shoes' days. But they are both incredible in terms of the massive stone constructions and the use of these Cyclopean walls.
Then we finish off with Corinth, which is a site that is difficult but because there is so much there that it kind of all blends together. Corinth is another one of these towns that the excavators wanted to buy up the land around the ancient site and dig more thoroughly. However, that means taking people's homes away. So you can only buy land to such an extent, you cannot keep buying it forever and displacing people.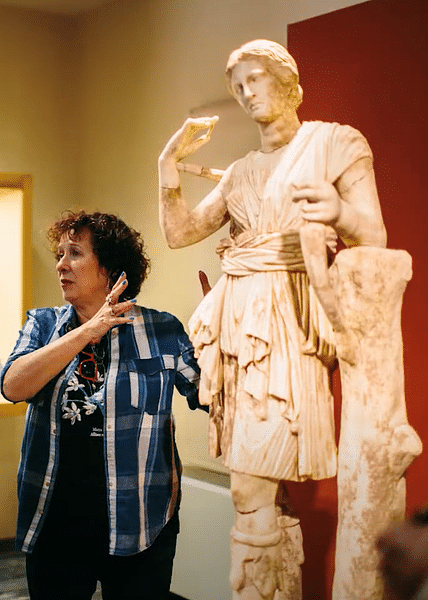 After Corinth, of course, we will go to the National Museum in Athens, which is a treasure trove. One of the most interesting things that we get to see in the museum is where what is called the first computer, is housed. The Antikythera mechanism was found with something like 42 gears, and it was used to navigate. It is quite impressive because modern engineers have tried to recreate what this might have looked like. So, we will see the object as it was found in a shipwreck, and next to it are the proposals for what it might have looked like.
There is a lot to see, and I think there is something for all tastes, whether you are a prehistorian or a classical archaeologist, or a Roman. Basically, the majority of what we will see in Corinth is Roman, but there is a Frankish section. There was a Frankish mission set up in Corinth, and it has been recently excavated. We will also have our speaker in Corinth, who was the excavator of the Frankish mission there. There are lots and lots of time periods that we will cross.
And the food is good! I did not mention this, but we will be staying in the town of Nafplio from where we will be traveling to Epidaurus, Mycenae, and Tiryns. Nafplio is a very quaint little town with Venetian and Turkish fortifications. It is a very artsy town by the sea, so it is a great place to go for walks. The hotels we will be staying at are also in nice areas and quaint hotels usually. I guess people could be overloaded with information because there is so much to see in a short period of time. But when you get to your hotel at night and you have your glass of wine or whatever, you can start to absorb it all, and we are always available to answer questions and clarify.
Kelly: It sounds so brilliant! It is just going to be a jampacked tour of these phenomenal sites, and there will be so much to learn, so much to see. But then there will also be a nice relaxing hotel to go to at the end of the day.
Rita: Exactly. In the area of Nafplio, the area that we will be in is called the Argolid, and there is some local wine that is quite interesting. It is red and it is called the Blood of Herakles because Tiryns is where the king gave him his labours, so he is quite active in that area. He kills the Nemean Lion just down the road from Tiryns. So, the Blood of Herakles is now the name given to this local red wine that is quite nice. The guests can also sample the food and the wine. I think that people who come on this tour will find that there is so much information, it might feel a bit overwhelming at times, but there are periods that they can relax and just soak it in and not feel like it is over their heads.
Kelly: Thank you so much for joining me, Rita. It has been brilliant.
Rita: You are very welcome. Thank you for inviting me!