Ancient History Encyclopedia's CEO Jan van der Crabben writes about the organization's 10-year history.
Ancient History Encyclopedia just turned ten! On 25 August 2009, we officially launched the Ancient History Encyclopedia website by submitting ancientopedia.com (its first domain) to search engines. We have come a long way and it has been an amazing journey for everyone involved. Congratulations to the team and thank you to all our members, donors, supporters, and readers!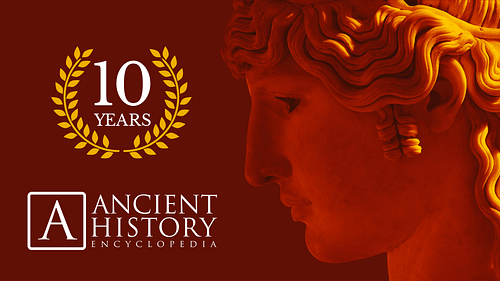 How Did We Get Here?
Whenever we speak at conferences, people want to know how we got where we are now. How did a home-brew website grow to become one of the world's biggest and most-read history websites, completely bootstrapped without any investment?
We are not business gurus and we do not have a recipe for success that would work for everyone. Still, we have some idea of what we did right along the way, which we will talk about in this article. I believe it is a combination of luck, technical know-how, great content, and a dedicated and passionate team that made it all happen.
We always focused on quality, & our standards rose with time.
Luck is always important. We launched at the right time when rising in search rankings was a lot easier and there were fewer high-quality websites. Had we launched five years later, our growth would have been slower.
Technical know-how allowed us to build a website that was optimized for search engines from the start, built for historical data. We had a good idea of how to build a website, integrate it with other services, and optimize it for search. We were also always able to quickly adapt to changing needs.
Great content is the key to any publication. We always focused on quality, and our standards rose with time. Even if we could have earned more money with sponsored articles or spammy ads, we never compromised, for example.
Great teams are what make or break companies. I have found that you should not hire people for their qualifications but for their personal attitude and whether they are a cultural fit. We have got a great team that is passionate about what we do. We all work remotely from home; without an office where people have to show up, you have to love what you do!
How It All Started
AHE was born from a few things coming together. I was working on a historical computer game and noticed that the internet was missing a resource that was reliable, free, and not overly academic. At the same time, I was thinking a lot about history being more like a web than a traditional timeline and how we could represent this online.
Programming on a small laptop on a commuter train, I programmed a dynamic timeline in which timeline entries from one timeline could automatically be included on another timeline (e.g. the Battle of Issus would automatically appear on the timelines for the lives of Alexander and Darius). I then added links to keywords in the timeline to pages that define these words. And then I thought "why not add some more detailed articles to find out more"? Of course, we needed images, too! After a few weeks of programming, a very basic Ancient History Encyclopedia was born.
Design Decisions
Good design was very important to Ancient History Encyclopedia from the very start. I worked with Simon Seitz, a graphic designer friend, to come up with the very first version of the site. Unfortunately only an early mock-up still exists:
We went through several iterations on our website's design since then. Here's what it looked like in our 2011 redesign (which I still quite like!):
In 2013, the Greek-German designer Alexandros Chovas created our current logo, which was integrated into another redesign:
The current website's design was built in 2014 with the help of the Argentinian design studio VOX. We have iterated and improved on it consistently, but the basic design has not changed since.
The Team Assembles
We started with a team of one, myself. I wrote a few articles to start with; just a few hundred words each. That was never going to work! I took $1000 of my own money and decided to invest it in paying $10 for the first 100 contributions to get the site off the ground. We had a few authors who said yes, one of whom really stood out: Joshua Mark, a history professor from New York.
Joshua really liked the idea of the website and wrote about 70% of the first articles. After the first 100 articles were live and he was paid, Joshua decided to stay on and keep writing for free, as he liked the project so much. Without him, it would probably never have gotten off the ground!
I came across James Wiener on Linkedin's Ancient History group, where he was very active. He also liked AHE's vision and joined the team, initially writing about history news. He then launched our social media accounts and grew them immensely, along with interviews of historians and archaeologists which he published on our site.
In 2012, we registered AHE as a non-profit company in the UK with Joshua, James, and me as the directors. This proved to be somewhat of a nightmare as we were all over the world (Joshua and James in the US, and I was in Germany at the time). We managed and AHE was now official!
Mark Cartwright joined us soon after. He was an avid traveller who uploaded photos of ancient sites all around the Mediterranean. At some point, Mark tried his hand at writing for us, with great success. He became one of our most prolific writers (along with Joshua), and he became the fourth director of Ancient History Encyclopedia.
A huge thanks to our current team who are running the show from literally all over the world, without any physical office. We've got people in Canada, the United States, Italy, the Netherlands, Australia, New Zealand, Germany, and Norway.
I also wish to make note of our Board of Advisors, which is made up of a group of experts in their field who kindly advise us pro bono on matters of law, public relations, grant-seeking and much more. You have helped us so much!
Many other people joined (and left) our team over the years. James resigned from his director position in early 2019. Special thanks to some past team members goes out to:
Karen Barrett-Wilt, our first editor. She was instrumental in setting up our current editorial process and quality guidelines.
Kathryn Peyton managed our social media accounts for several years, growing our vast audience.
Jason Moser helped us program the website. You can still see his ancient measurements converter on the site, and you can login using Facebook thanks to him.
James Lloyd was our first audio & video editor. He created our first videos and he also started our audio articles.
Milad Alshomary developed our first mobile app and our first search engine.
Jade Koekoe edited our sister publication Ancient History et cetera for several years.
Many other people have volunteered for us, far too many to list. We've got hundreds of contributors who have written articles, shared their images, and improved our timeline. Huge thanks for your altruism, y'all!
Why Non-Profit?
I get asked this question all the time: "Why are you a non-profit company, you could get investment, make big money and get rich?" The answer is quite simple: we are doing this not because we want money but because we believe it is a good thing to do and we love doing it. This is our legacy to the world, helping millions of people learn about history. All we want is to pay our team a reasonable salary so that we can do even more.
Also, our organization was built on this model from the start. We have volunteers writing for us and helping our team. Would you volunteer for a for-profit company? Probably not. We also use images from museums, which often require that the use is non-commercial.
Growth
When we launched, Ancient History Encyclopedia received only a few visits per day. This slowly but surely grew. Being a home-brew website, we were able to always focus on Search Engine Optimization (SEO) and follow best practices and Google's recommendations. Our editorial team was focused on quality from day one, too. We never tried any dirty tricks like buying links, either.
Our first big break came in August 2013 when Google's Hummingbird update was launched, which promoted high-quality content in search results. Our traffic jumped from around 100,000 to 500,000 visitors per month. The editorial focus on quality had paid off, four years after we launched!
Another Google update in late 2015 brought us another big jump in traffic, nearly doubling our monthly visitors. Our growth was steady until 2018 when we lost about 15% of our traffic due to a Google update for the first time.
We went from making a profit to making a slight loss, and the whole team worked really hard to get back on track. By the end of 2018, we had managed to recover, and things are looking very positive again. Our traffic is higher than ever and we are no longer losing money.
Employment
Most of the work in our company's history has been done on a volunteer basis. However, volunteers cannot dedicate as much time as an employee can. So, to further our mission more quickly, we decided to hire the core team.
March 2016: Mark Cartwright became our first employee as Publishing Director, essentially running the editorial show.
June 2016: James Blake Wiener became a part-time contractor as Communications Director and grant writer.
October 2016: Joshua Mark became a part-time contractor as Researcher & Writer.
March 2018: Jan van der Crabben became a full-time employee as CEO and Marion Wadowski became a part-time employee as Head of Education.
March 2019: Ibolya Horvath became a part-time contractor as Editor.
We are looking to keep expanding our team of employees in line with our financial situation.
Awards
In 2016 we received an email notifying us that we have been nominated for the .eu Web Award in the Laurels category, which is for educational and cultural institutions. James and I traveled to the awards ceremony in Brussels. We were completely flabbergasted and immensely proud to receive the award!
Technology
Our website is entirely custom-built. We do not use Wordpress or any other CMS to run it. For those with a technical interest, our website is written in PHP, MySQL and JavaScript. As it is now over 10 years old, some of the architecture is somewhat old-school, but it works and it is extremely fast.
We first published the website on Hostgator, which was cheap but very slow. In 2012 we switched to the British hosting company Tsohost. They were a small boutique outfit and their CEO at the time loved our site. Add to that the fact that we were a non-profit company, and they decided to sponsor us with free hosting. In early 2019 the free hosting was no longer sufficient for our needs, and we switched to a private server with LiquidWeb in the United States.
Looking Ahead
Ancient History Encyclopedia is just the beginning. We have already started covering medieval history, as you may have noticed. The goal is to cover all of world history at some point and to become World History Encyclopedia. Slowly but surely we are going to get there, and with a growing team of employees and volunteers, we will get there more quickly.
We have also identified that a sizeable portion of our users is in education. We have just launched our educational section on the site, and we are now offering institutional subscriptions to our users. We believe that if everyone knew a little bit more history, the world would be a friendlier place. What better place to start than in education?
I personally am very much looking forward to the next ten years and I cannot wait to see what the future holds. Will you join us along the way?