The "Ancient Japan" initiative at Ancient History Encyclopedia arose as there is a dearth of open access and digitally curated information concerning early Japanese history available online and in English. East and Southeast Asia are arguably the most exciting regions in the world today due to their respective nations' economic growth and rich cultural heritage. While China and India have received increasing attention in company boardrooms and classrooms around the world, Japan remains a prominent economic and cultural power with a history that is at once beguiling and unique. Japan remains a key global player by virtue of its technological expertise, acumen in engineering, and financial resources. As Ancient History Encyclopedia is cognizant of the role it can play in facilitating intercultural exchange, it was our belief that we could further interest in Japan and Japanese history and culture, especially within our "home demographic" in the United Kingdom, by creating and publishing content on Japanese history and culture.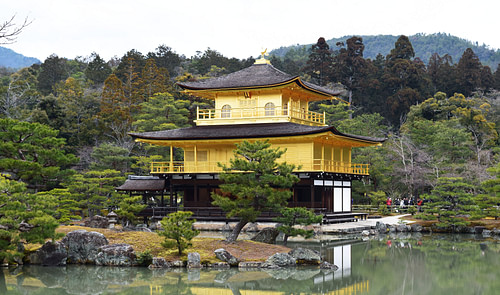 When applying for a travel grant from the Great Britain Sasakawa Foundation on Ancient History Encyclopedia's behalf years later, I was optimistic that something tangible and good would come from my efforts. However, I was unsure of our chances of success despite having received a grant a from the British-Korean Society to cover Korean history and culture earlier in the year. Much to my satisfaction, Ancient History Encyclopedia was awarded a grant that would enable me to travel to Japan for two weeks in order to take pictures of ancient artifacts, temples, palaces, and shrines for our editorial team's "Ancient Japan Project." I would spend a week visiting museums and sites in and around Tokyo and the Kanto region, continuing the following week onwards to Kyoto and several sites in and around the Kansai region.
Tokyo & Kanto region
Unlike my trip to Armenia, which followed my trip to Japan, my nerves were relatively calm as I embarked on my flight to Tokyo from Zürich, as I pre-purchased a Japan Rail Pass and booked my tour excursions well in advance. I knew that Japan becomes crowded with tourists in March due to the arrival of the cherry blossoms and annual hanami parties, but having lived in Manhattan for so many years, I knew I could handle it. After a long flight over Siberia, passengers were afforded glorious views of Mt. Fuji before our plane landed at Tokyo's Narita Airport. I took this as an auspicious omen, and that the trip and the project would be an immense success.
My first couple of days in Tokyo were busy. After an initial day of getting acclimated to my surroundings in Shinjuku - my rented portable wifi hotspot was a lifesaver in helping me navigate around Japan - I set about visiting several important sites and landmarks in Tokyo: Tokyo National Museum, Nezu Museum, the Meiji Shrine, Yasukuni Shrine, and Sensoji Temple. In the evenings, I had time to visit Tokyo's other wards, like Shibuya and Akihabara, where I would have dinner. Contrary to what others may say, Tokyo has a good amount of English signage. While Tokyo is a massive, ultra-modern metropolis, I was impressed with how efficient public transportation is in Japan and how well I had traversed the city via its many subway and rail lines. It is quite easy to get to the sites one wishes to see, but it is always a good idea to know the right exit number as you depart the subway! This invariably saves you time as stations can be far larger than what you'd expect elsewhere in Asia or Europe.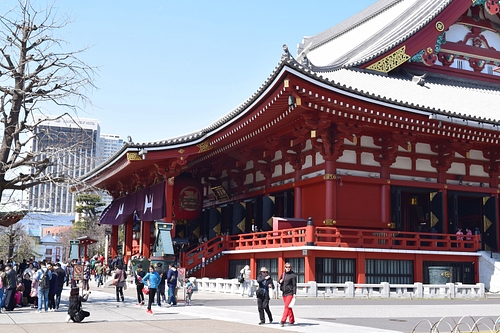 The Tokyo National Museum is one of the world's greatest museums, and it should not be missed on any visit to Tokyo. It is also one of the largest museums in the world - it holds over 110,000 objects - and its galleries of artifacts are anything but disappointing. Set in a gorgeous park called "Ueno," which is located in eastern Tokyo, and I spent several hours exploring the museum's various galleries, which include both Japanese and Asian masterpieces. Of special note are the museum's collection of prehistoric and early Japanese artifacts located in the Heiseikan Gallery. Here, I photographed many of the pictures that were needed by Ancient History Encyclopedia's Editorial Team and which now appear in our articles and definitions.
Another personal favorite from my stay in Tokyo was Sensoji Shrine. (It is not to be missed either on any trip to Tokyo.) Located in the eastern Asakusa ward, Sensoji Temple was originally built in 645 CE, making it the oldest temple in Tokyo. Popular but beautiful, Sensoji Temple is one of the most widely visited spiritual sites in the world with over 30 million visitors annually.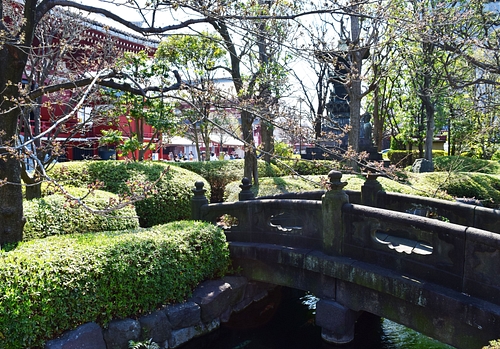 While staying in Tokyo, I was able to take a day trip to Kamakura, which was the capital of Japan when it was ruled by the Kamakura Shogunate from 1189-1336 CE. Situated to the southeast of Japan near the Pacific Ocean with dozens of exquisite, medieval Buddhist Zen temples and Shinto shrines, Kamakura is a gem. Its claim to fame is undoubtedly its bronze statue of Amitabha Buddha located at the Kotoku-in Temple. While this iconic masterpiece is larger than one would expect - it is 13.35 meters (43.8 ft) tall - it is also hollow! I was able to walk inside for a few extra yen and explore its interior.
While in Kamakura, I also managed to visit the tiny island of Enoshima. Enoshima is believed by the Japanese to have been raised from the bottom of the sea in the 6th century CE by Benzaiten, the goddess of entertainment, music, and knowledge. Enoshima is entirely dedicated to her and filled with shrines, altars, and splendid views of the Pacific Ocean. The atmosphere there was festive as my visit coincided with Spring Equinox Day ("Shunbun no hi" in Japanese), which is a national holiday. People watching was a pleasure in Enoshima: businessmen, families, and teenagers thronged Enoshima's tiny streets, enjoying the fresh sea air and paying their respects at the island's hundreds of shrines.
Kyoto
When it was time to go to Kyoto, I opted to take the famous Shinkansen or "bullet train." It follows Japan's Tokaido road, which links Tokyo to Osaka via Shizuoka, Nagoya, and Kyoto. This route was Japan's "highway" during the Tokugawa Shogunate, as it linked Tokyo with Kyoto and Osaka. Japan is larger than most people think: it is about the size of California or slightly larger than Italy. The journey itself runs around three hours, but I delighted in observing the change of scenery along the way: small towns neatly organized, wooded forests set high on the mountains, salt flats and beaches, and the omnipresent Mt. Fuji.
Kyoto was Japan's capital for most of its history, and it is in Kyoto where Japanese art and culture was nourished in close proximity to the imperial court. (The Emperor and the imperial court did not relocate to Tokyo until 1867 CE.) My week in Kyoto was solidly booked: Kinkaku Temple, Kyoto Imperial Palace, Sanjusangendo Hall, Kiyomizu Temple, To-ji Temple, and Arashiyama Forest. I also arranged day trips to Nara, where I would see the Todaiji Temple and Kasuga Shrine, as well as the small city of Uji, where I would see the beautiful Byodin Temple and the Fushimi Inari Shrine with its thousands of eye-popping, organge torii gates.
Kyoto is much smaller than Tokyo, but its transportation system is equally efficient. It is a sophisticated and cultured place where ceremony, etiquette, and tradition resonate with great potency. Kyoto contains over 2,000 temples and 20% of Japan's National Treasures. In short, it has something for everyone. A real highlight during my first couple of days in Kyoto was visiting the Sanjusangendo Hall. Built in the 12th century CE, Sanjusangendo Hall is a Buddhist temple dedicated to the "Thousand Armed Kannon," who is the goddess of mercy. This temple is filled with over a thousand life-sized statues of the "Thousand Armed Kannon" in 10 rows and 50 columns. Most of these statues date from the 12th or 13th century CE. 28 Guardian deities surrounded the thousand Kannon statues, which have their origins in Hindu India. The hall itself is a gem of Heian architecture, and it remains the longest wooden structure at 120 m (394 ft) in length.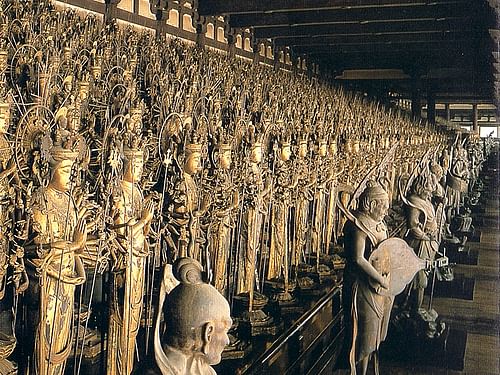 Another place where history comes alive is To-ji Temple in Kyoto, which was founded at the beginning of the Heian Period in 796 CE. A UNESCO World Heritage Site, To-ji Temple and its surrounding halls offer the visitor a fine introduction to ancient Japanese architecture.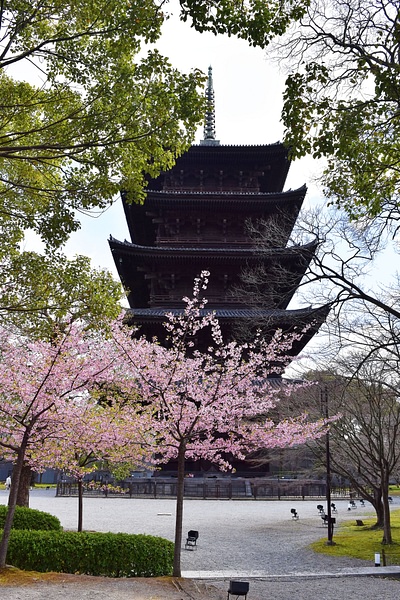 On my last night in Japan, I visited my ryokan's onsen, where I pondered the profound variety and artistic splendor, which is seemingly ubiquitous across the country. Japan remains, as ever, a place of contrasts despite its deeply rooted social and cultural traditions. It is not a country easily summed up by a few clichéd words. "Enigmatic," "enchanting," and "enlightening" are the most apt words that come to mind when I revisit the pictures from my journey. Japan is a stunning travel experience, and the warmth, generosity, and the curiosity of the Japanese made an indelible impression in my mind and heart.
On behalf of Ancient History Encyclopedia, I would like to thank the Great Britain Sasakawa Foundation for their willingness to allow us to share Japan's history and heritage with our users. We were delighted to visit, and we hope to explore and cover more Japanese history again in the near future.
This content was made possible with generous support from the Great Britain Sasakawa Foundation.