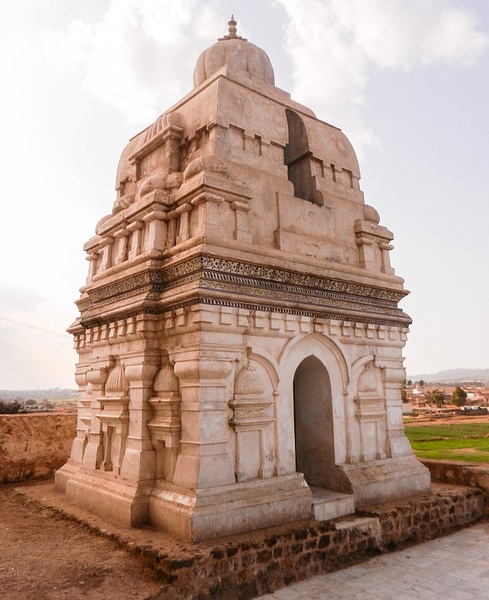 The Katas Raj Temples near Chakwal in Punjab province of Pakistan are attributed to the eras of the Hindu Shahis (kings) dating from about 615-950 CE and are dedicated to Lord Shiva. As such they constitute one of the most important Hindu pilgrimage sites in Pakistan and are still in use to this day by members of the Hindu community both in the country and those who make the journey there every year from abroad.
It is believed that the site was visited by the Pandawa brothers of "Mahabharta" fame and this complex of temples was constructed to commemorate their visit. It is said that this is the region called Dvaitavana in the epic and here is where the Pandawas lived during their exile and also where the series of questions occured between the Pandawas and the Yakshahs. The location of the Sath Ghara or Seven Temples is said to be the place where the Pandawas made their home during their 12 year exile.
A Brahmanical story relates this site directly to Shiva, whose unconsolable grief at the death of his wife Sati led to a rain of tears which formed two pools of water, one at Pushkara near Ajmer and the other at Katas.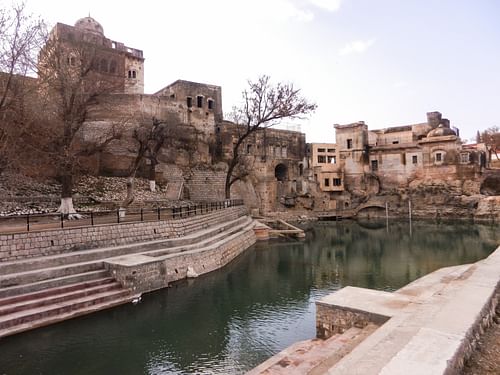 Architectural Highlights
Prior to its Hindu roots the site held a Buddhist stupa said to have towered 61 m (200 ft) in height with ten streams around it as described by Alexander Cunningham, the first Director General of the Archaeological Survey of India, in 1872-73 CE. This verified the account of the Chinese pilgrim XuanXang who had visited this region during the 7th century CE and described the various Buddhist sites on the subcontinent.
According to Cunningham, the complex of 7 temples that sits at the highest point on the site is the most important part of the site and echoes the architectural style of the Kashmiri temples of the Karkota and Varma dynasties who ruled from 625-939 CE. These temples have certain defining characteristics such as dentiles, trefoil arches, fluted pillars and pointed roofs which are present in most of the temples that are found all along the Salt Range foothills. The main building material is soft sand stone which is plastered over.
Katas Raj thus has a collection of buildings and ruins that stretch in an unbroken line from the Buddhist era down to British rule, thereby, preserving at least 1500 years worth of history in that particular space.