Edvard Grieg (1843-1907) was a Norwegian composer known for his songs, piano music, and the Peer Gynt suites. The composer was famous in his own lifetime, touring extensively to play and conduct his own works across Europe. Grieg's Romantic music is celebrated for its warmth and melody, evoking visions of the wild nature and fjords of Norway.
Early Life
Edvard Grieg was born in the Norwegian port of Bergen on 15 June 1843. His father Alexander was of Scottish descent, indeed, the family name had been spelt Greig before Edvard's great-grandfather changed it upon receiving Norwegian citizenship. The family was a prosperous one, with Alexander Grieg a wealthy merchant who was also the British Consul in Bergen. Edvard's musical talent came from his mother, Gesine Hagerup, the daughter of a provincial governor and a fine pianist. Gesine taught her son and encouraged him to study the works of Wolfgang Amadeus Mozart (1756-1791), Carl Maria von Weber (1786-1826), and Frédéric Chopin (1810-1849).
When he was in his teens, Edvard's piano playing caught the ear of the violin virtuoso Ole Bull (1810-1880), who visited the Grieg family in 1858. Bull convinced Edvard's parents that he should study in the Conservatory at Leipzig in Germany. Edvard was accepted there, and he studied piano under Ignaz Moscheles (1794-1870) and composition under Carl Reinecke (1824-1910). Edvard was not happy in Leipzig; he later said that his teachers pushed him to master works too complex for his abilities at the time. His health suffered, too; after a bout of pleurisy and a collapsed lung, Edvard would endure pulmonary troubles for the rest of his life. The young musician returned to Bergen and then moved to the Danish capital Copenhagen in the spring of 1863. There he studied under the famed Danish composer, conductor, and violinist Niels Gade (1817-1890). Grieg was encouraged to compose, and he came up with his only Symphony but, dissatisfied with it, the composer would not allow any future public performances. Grieg's Symphony would not be heard again until it was performed in 1981.
Marriage & Character
It was in Copenhagen that Grieg met his wife Nina Hagerup, a soprano singer. The couple, who were cousins, were engaged in 1864, and they married in June 1867. Nina's family did not approve of her marrying a musician, and no relative of the bride attended the wedding. The couple had no surviving children as their only daughter, Alexandra, died of meningitis aged one. Grieg wrote many of his 140 songs specifically for his wife Nina to sing, and he regarded her as his best interpreter. The composer was not always a faithful husband, but the marriage endured.
Grieg was inspired by Norwegian folk tunes, dances, & the unique sounds of folk instruments.
Grieg had fair hair and sky-blue eyes. With his diminutive size and slightly untidy drooping moustache, his whimsical appearance was reminiscent of the famous trolls of his homeland. Grieg was known for his unassuming charm and dry wit, which made him popular wherever he toured. He was showered with honours later in his career, receiving honorary doctorates galore, including from both Cambridge and Oxford universities. After he was made the Knight of the Order of Orange-Nassau, he explained in a letter to a friend why he accepted such baubles: "Orders and medals are most useful to me in the top layer of my trunk. The customs officials are always so kind to me at the sight of them" (Schonberg, 445).
Norwegian Nationalism
Grieg was inspired by Norwegian folk tunes, dances, and the unique sounds of folk instruments, which he came across on his regular walking trips in the mountains of his homeland. Another source of inspiration was his discovery in 1868 of a book of Norwegian folk songs. This creative input fitted well with Grieg's sympathy for the Norwegian nationalist movement, which sought to promote Norwegian music in a period when classical music was dominated by the traditions of Germanic and Central European music. Grieg became friends with Rikard Nordraak (1842-1866), who was heavily involved with this movement. Grieg and Nordraak intended to form a society to promote Scandinavian music before the latter's premature death from tuberculosis. One of Nordraak's songs became an unofficial national anthem (and the official one from 2019). Nordraak's untimely death may well have increased Grieg's desire to carry the flame of Norwegian music at home and abroad.
Grieg once remarked, "I am sure my music has a taste of codfish in it".
The use of folk song motifs can be seen in Grieg's Piano Concerto, completed in 1868. The composer travelled to Italy in 1866 and again in 1869 when he met up with Franz Liszt (1811-1886), who reacted favourably to his work. The pair met again in Weimar when Liszt, celebrated for his great ability at sight-reading, played Grieg's Piano Concerto complete. This gave the Norwegian confidence to continue composing, although he tinkered with the Piano Concerto many times over the next three decades.
Christiania
In Norway, Grieg gave a well-received concert of his own compositions in October 1867. The composer had moved to the capital, Christiania (renamed Oslo in 1924), and there he tried to form the Norwegian Academy of Music in 1867, but the project was hamstrung with poor finances and a general lack of interest from the city's press. Grieg was constantly frustrated by the provincial attitudes in the capital, a far cry from the great musical centres like Vienna and Leipzig. Norwegian orchestras at the time were often below par and the audiences apathetic. This may explain the composer's controversial decision in 1898 to bring in the Amsterdam Concertgebouw Orchestra for the Bergen Festival that year and not use the local orchestra. The entire organising committee was appalled at the decision, and all of its members resigned in protest. Grieg was obviously not one to compromise when it came to music.
Grieg was appointed director of the Christiana Philharmonic Society, a position he held jointly with Johan Svendsen (1840-1911). Grieg worked on music for performances with theatre plays. The first was 1872's Sigurd Jorsalfar by Bjørnstjerne Bjørnson (1832-1910) which told the story of King Sigurd I of Norway (r. 1103-1130). The work was played at the Christiania Theatre of which Bjørnson was also the director. Grieg memorably described Bjørnson, a fellow nationalist, as "Norway's grandest waterfall, roaring and raging, fuming and foaming" (Steen, 728). Grieg's matching of words, images, and music, in Sigurd Jorsalfar was a foretaste of the masterpiece to come.
Ibsen & Peer Gynt
Grieg's most well-known work today is his instrumental music written for the 1867 play Peer Gynt by Henrik Ibsen (1828-1906). The two Norwegians had met in Rome in the winter of 1866. Ibsen wanted to stage his verse play to music, and he persuaded Grieg to compose the work now known as the Peer Gynt suites. Peer Gynt is a Norwegian folk hero, a young peasant who must save himself by securing a woman's love. In a series of adventures through the five-act play, Peer Gynt does indeed meet a woman who loves him – Solveig – at the wedding feast of an aristocratic couple. However, Peer Gynt shuns Solveig and instead abducts the bride. He eventually abandons his prize, though, to embark on a voyage across seas and desert. Our hero becomes rich and famous but finds neither happiness nor love. Finally, he returns to his home in Norway where Solveig has been waiting for him all this time; her love assures Peer Gynt's survival.
The instrumental music was first performed with the play in Christiana in February 1876. Grieg later reorganised the music into two suites, each of four movements. Suite No. 1 contains the pieces Morning, Death of Aase, Anitra's Dance, and In the Hall of the Mountain King. Suite No. 2 has the songs Abduction of the Bride and Ingrid's Lament, Arabian Dance, Peer Gynt's Homecoming, and Solveig's Song. Several other songs may be added to the standard presentation, and these are Wedding March, Solveig's Cradle Song, Prelude, and Dance of the Mountain King's Daughter. In 1888, the two suites were arranged for piano solo and then in 1893 for piano duet. The most famous segments are undoubtedly Morning, with its distinctive and highly evocative use of flute and oboe, and In the Hall of the Mountain King, with its repeated theme rising to a crescendo finale. Grieg, with his gift for melody and atmospheric effects, creates a musical vision of green forests and blue fjords, an excellent example of Romantic music (1790-1910) where sound is used to stir a deep emotional response from the listener. Certainly, Grieg's music has caused a far more lasting impression than the play for which it was written.
Tours & Composing Retreats
Rising to international prominence in the musical field thanks to the success of Peer Gynt, Grieg received financial help for his work from the Norwegian state. Grieg was now famous enough to conduct concert tours across Europe where he both conducted and played piano. Like several other composers, notably Johannes Brahms (1833-1897) and Gustav Mahler (1860-1911), Grieg preferred solitude and nature when composing in the summer months. Grieg's favourite retreat was a small wooden cabin by a lake in the region of Hardanger. The inspiration of Norwegian folk tunes can be heard in many of his songs from this period, for example, Fyremaal (1880).
From 1885, he spent summers in his purpose-built villa near Bergen called Troldhaugen (meaning 'Hill of the Trolls'), which included a writing cabin looking onto Lake Nordås. Inside the cabin was a piano and a rocking chair to contemplate the view. Amidst dramatic fjords and distant from all urban distractions, Grieg continued to explore the possibilities of incorporating folk music and dance into his own compositions, seen, for example, in his Haugrussa ('The Mountain Maid') cycle and the Holberg Suite for strings. Grieg even composed an ode to his home in the lyric piece Wedding Day at Troldhaugen. In one of his final compositions, the Slåtter (Norwegian Dances), traditional tunes played on the Hardanger fiddle were reworked. For a short time, he was also the director of the Bergen Philharmonic Orchestra (aka Harmonien).
Grieg's Noted Works
140 songs
66 Lyric Pieces for piano (1867-1901)
Concerto in A minor (1868)
Sigurd Jorsalfar (1872)
Peer Gynt Suites (1874-5)
Holberg Suite (1884)
Slåtter (1897)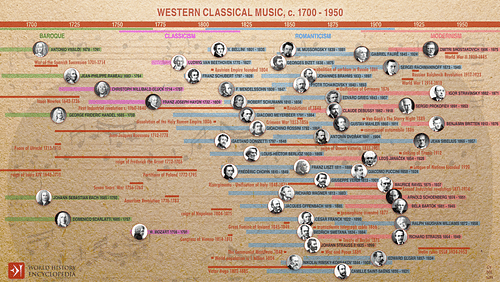 Undoubtedly, Grieg's Scandinavian roots brought something fresh to the classical music genre. The composer himself once noted, "I am sure my music has a taste of codfish in it" (Thompson, 140). He was also influenced by the piano pieces of Robert Schumann (1810-1856), which he heard performed by his widow Clara Schumann (1819-1896). Grieg is often described as a 'miniaturist' for his preference for shorter, small-scale works as opposed to grand thematic symphonies.
The direct use of Norwegian folk music in Grieg's own works has perhaps been overstated, as noted by the musicologist R. Layton in his essay on Grieg in The New Oxford Companion to Music:
More than any other artist before him, he evokes the character of a nation's music. Yet in his songs he hardly ever quotes folk music directly, though his music breathes its spirit. He was indeed adamant on this point: 'Out of all my hundred-odd songs, only one, Solveijg's Song, has a borrowed tune.'

(785)
Grieg's lyrical approach to Romantic music was not to the taste of all; Claude Debussy (1862-1918) memorably described his music as "bonbons wrapped in snow" (Schonberg, 442). Critics often note that Grieg's work is rather narrow in scope and too often it is presented on too small a scale for him to be considered one of the truly great composers. Nevertheless, for those who explore beyond Peer Gynt and some of the more syrupy Lyric Pieces, Grieg offers many miniature masterpieces, what Schonberg summarises as "short, quiet, exquisite pieces of music" (445).
Death & Legacy
Grieg was ill with lung disease from 1900, and he was obliged to spend several spells in sanatoriums, but he kept performing right until the end. In 1906, he visited England on what would be his last concert tour. He performed before King Edward VII (r. 1901-1910) at Windsor Castle but twice stopped his recital because the king was intent on chattering through the performance. Grieg was just about to return to England when his doctors insisted he seek hospital treatment. Edvard Grieg died the next day in Bergen on 4 September 1907. The composer's ashes were interred in the cliff face of the fjord at Troldhaugen at a spot bathed each day in the soft light of sunset. Grieg's villa is now a museum dedicated to the composer.
In his later years, in particular, Grieg had often acted as a mentor to younger musicians. He influenced his friend the Australian composer and pianist Percy Grainger (1882-1961). The English composer Frederick Delius (1862-1934) was another beneficiary of Grieg's generosity and tutorship. Grieg was also an inspiration for fellow-Scandinavian composer Jean Sibelius (1865-1957).
Grieg's life was the subject of the 1970 biographical musical The Song of Norway. The film was a financial and critical flop, mirroring Grieg's general demise since the high point of his great popularity in his own lifetime. Like Johannes Brahms, Grieg's music was seen as dated in the first half of the 20th century as composers like Richard Strauss (1864-1949) and Igor Stravinsky (1882-1971) produced more experimental music. Unlike the resurgent Brahms, for many, Grieg's music awaits to be discovered. Like the Norwegian fjords themselves, Grieg's work is familiar, perhaps even occasionally visited, but rarely nowadays explored in depth.