Video
Send to Google Classroom:
The Battle of Pelusium was a battle waged between Ancient Egypt under Pharaoh Psametik III and Cambyses II, King of the Achaemenid Persian Empire. The most recognisable feature is the Persian victory due to Cambyses' use of animals (especially cats), and the image of the goddess Bastet to win the war. The battle resulted in the first Persian conquest of Egypt, and Persia was victorious because of Cambyses' knowledge of Egyptian culture, although it is thought that he probably would have won anyway with his greater experience in war compared to Psametik.

Because Cambyses II knew of the Egyptian culture, he knew of their veneration of the goddess Bastet, so he had the image of the goddess painted onto the shield of his soldiers, and before the front line herded a number of animals that the Egyptians held dear to them, including dogs and cats. Upon seeing their beloved goddess on the shields of their enemies, and worrying that they would injure the animals in front of the Persian forces, the Egyptian army surrendered.

— ATTRIBUTIONS —
You can find all attribution and credits for images, animations, graphics and music here - https://worldhistory.typehut.com/the-battle-of-pelusium-a-persian-victory-decided-by-cats-images-and-attributions-4649

The music used in this recording is the intellectual copyright of Michael Levy, a prolific composer for the recreated lyres of antiquity, and used with the creator's permission. Michael Levy's music is available to stream at all the major digital music platforms. Find out more on:
https://www.ancientlyre.com
https://open.spotify.com/artist/7Dx2vFEg8DmOJ5YCRm4A5v?si=emacIH9CRieFNGXRUyJ9
https://www.youtube.com/channel/UCJ1X6F7lGMEadnNETSzTv8A

— THUMBNAIL IMAGE —
Illustration of the Battle of Pelusium
Simon Seitz
https://staublicht.artstation.com/
About the Author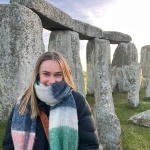 Kelly is a graduate from Monash University who has recently completed her BA (Honours) in Ancient History and Archaeology, focussing on iconography and status in Pylos burials. She has a passion for mythology and the Aegean Bronze Age.