Video
Send to Google Classroom:
The Persian Wars, also known as the Greco Persian Wars, were a series of battles fought between Ancient Greece and the Achaemenid Persian Empire in the 5th century BCE. The most famous of these battles are the Battle of Marathon, the Battle of Thermopylae, the Battle of Salamis and the Battle of Plataea. The beginning of the Persian Wars saw the Achaemenid Empire ruled by Darius the Great, and the main catalyst of the wars was the Ionian Revolt and Athenian and Eretrian sack of the city of Sardis which was under Persian rule.

The first major battle between the Greek City-States and the Persian Empire was the Battle of Marathon with the Greek City-States led by either Callimachus or Miltiades and the Persians led by Datis and Artephernes. Before the next major battles Thermopylae and Artemision, Darius the Great died and his son Xerxes succeeded him as the new ruler of the Persians. The next major battle was the Battle of Salamis (a naval battle) after the Persians beat the Greeks in the Battle of Thermopylae. After the Persians were defeated by the Greek City-States at Salamis, their final major battle of the Persian Wars was in 479 BCE at the land Battle of Plataea, in which the Greek City-States emerged victoriously.

— ATTRIBUTIONS —
You can find all attribution and credits for images, animations, graphics and music here - https://worldhistory.typehut.com/the-persian-wars-ancient-greece-vs-the-persian-empire-images-and-attributions-4377

The music used in this recording is the intellectual copyright of Michael Levy, a prolific composer for the recreated lyres of antiquity, and used with the creator's permission. Michael Levy's music is available to stream at all the major digital music platforms. Find out more on:
https://www.ancientlyre.com
https://open.spotify.com/artist/7Dx2vFEg8DmOJ5YCRm4A5v?si=emacIH9CRieFNGXRUyJ9
https://www.youtube.com/channel/UCJ1X6F7lGMEadnNETSzTv8A

— THUMBNAIL IMAGE —
https://member.worldhistory.org/image/4650/greek-trireme-artists-impression/
Total War / The Creative Assembly / SEGA
Copyright
About the Author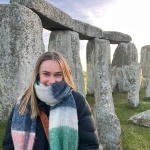 Kelly is a graduate from Monash University who has recently completed her BA (Honours) in Ancient History and Archaeology, focussing on iconography and status in Pylos burials. She has a passion for mythology and the Aegean Bronze Age.