Video
Send to Google Classroom:
Mesopotamia is an ancient region in the Middle East, east of the Mediterranean by the Zagros mountains, between the two rivers Tigris and Euphrates. The name 'Mesopotamia' comes from the Greek meaning 'between two rivers'. The region is now known as Iraq but once included some parts of modern-day Iran, Syria, and Turkey. This area is also known as the Fertile Crescent, and as the Cradle of Civilization.

This video is a small snapshot of the vastly rich history of Mesopotamia, which a small introduction to some of the key names from this time. From this short introduction, it will be very clear how much the modern city - and culture overall - have to thank Mesopotamia for!

If you like our videos, please support us by becoming a member or donating to our non-profit company:

- https://www.ancient.eu/membership/
- https://www.ancient.eu/donate/
- www.patreon.com/ahe

Ancient History Encyclopedia
www.ancient.eu
About the Author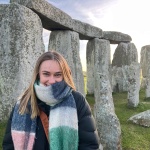 Kelly is a graduate from Monash University who has recently completed her BA (Honours) in Ancient History and Archaeology, focussing on iconography and status in Pylos burials. She has a passion for mythology and the Aegean Bronze Age.