Navigation
Biography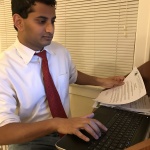 Phil Mathew is an ancient historian who specializes in Ancient Warfare. He holds a Masters in World History from Norwich University. His areas of expertise are: Greek Mythology, The Greco Persian wars, Philip II and Alexander III of Macedon, and warfare in the late Roman Republic and the Roman Empire. Phil's capstone in graduate school focused on the use of Military Intelligence in Julius Caesar's army during the Gallic War. Ancient military intelligence has been an often overlooked topic and Phil hopes to contribute to this topic extensively. Phil has also volunteered making articles for Wikipedia on Ancient, medieval and modern military history.
He is also a member of the Association of Ancient Historians and the Society for Classical Studies.

When not researching history, Phil is very active. He loves running, swimming, golfing, lifting weights, and traveling. He has been to Rome and has enjoyed the Ancient Roman sites, which tell the stories of Roman civilization.
Analytics
24,886 people have read this user's contributionsⓘ