Server Costs Fundraiser 2023
Running a website with millions of readers every month is expensive. Not only do we pay for our servers, but also for related services such as our content delivery network, Google Workspace, email, and much more. We would much rather spend this money on producing more free history content for the world. Thank you for your help!
Review
| | |
| --- | --- |
| Rating: | |
| Title: | The Ghosts of Cannae: Hannibal and the Darkest Hour of the Roman Republic |
| Author: | O'Connell, Robert L. |
| Audience: | General Public |
| Difficulty: | Medium |
| Publisher: | Random House |
| Published: | 2010 |
| Pages: | 408 |
This book is recommended for anyone interested in military history. The author provides a different narrative of the Second Punic War and Hannibal's victory at Cannae. It is intended for a general audience and military history enthusiasts. It is unique because it offers the redemption story of the Roman soldiers exiled to Sicily following the defeat at Cannae. Although exiled, Scipio Africanus gave them a chance to redeem themselves.
In history, famous battles define the generalship and reputation of military leaders, such as Gaugamela for Alexander the Great, Austerlitz for Napoleon, and the Battle of Cannae for Hannibal. Robert L. O'Connell's book The Ghosts of Cannae: Hannibal and the Darkest Hour of the Roman Republic offers a well-analyzed perspective on the Second Punic War and the Battle of Cannae. O'Connell was a senior analyst for the National Ground Intelligence Center and now primarily works as a military historian with many other publications on battles in history. The Ghosts of Cannae also provides a glimpse into the soldiers who survived the battle and were exiled to Sicily. If you are an aficionado of the Punic Wars, this book will help you delve further into that conflict.
There are other good works on Cannae but The Ghosts of Cannae is unique.
This book is aimed at a general audience, particularly those interested in military history. The first few chapters talk about the First Punic War, the origins of the second war, and a comparison of the Roman and Carthaginian cultures. While the militaries of both cultures are examined, O'Connell emphasizes that Rome was more militaristic while "the Carthaginians were good at business and bad at war" (64). This, however, is a flaw because both nations engaged in both aspects. His emphasis on Carthage as a trading center neglects Carthage's culture and only portrays them as a commercial trading hub.
When he examines the Battle of Cannae, he utilizes methodology from John Keegan's The Face of Battle (1976). O'Connell gives readers insight into the battle itself and how it feels to be in the heat of conflict. His analysis is solid, but his language at times involves unnecessary hyperbole. Nevertheless, it gives a good overview of Hannibal's tactics and why this battle is considered his greatest victory and Rome's worst defeat.
The main reason why this book is titled the "ghosts" of Cannae is that the Roman Senate banished over 10,000 Roman soldiers who survived the battle to Sicily. There they settled in languish until Scipio Africanus brought them out of exile. Scipio understood that these soldiers wanted to redeem themselves and thus gave them the opportunity. He added them to the core of his revitalized Roman army at Zama. It was there that they crushed Hannibal and ended the Second Punic War. These soldiers recovered their reputations by winning this victory. This part of the Second Punic War is usually overlooked, and by giving attention to this understudied history, this book presents a different perspective that not many other books on Roman history have when studying Hannibal.
This book contains several maps, with the first one on Rome and Carthage at the time, several more on the different maneuvers at Cannae, and one on the Spanish theater of the war. The maps are accurate but there are hardly any other illustrations. Regardless, this is a very informative book.
There are other good works on Cannae but The Ghosts of Cannae is unique for telling the story of the soldiers exiled to Sicily, and it is a testament to the author's reputation as a military historian. This book is highly recommended for those interested in that aspect.
Buy This Book
$8.99
plus shipping
By purchasing books through this website, you support our non-profit organization. World History Encyclopedia receives a small commission for each book sold through our affiliate partners.
About the Reviewer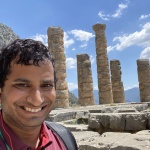 Ancient Historian and Professor