Navigation
Biography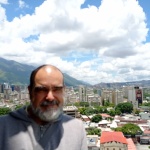 I was born in Caracas, Venezuela (1967). Son of Spanish immigrants, In 1972 my parents moved to Spain where I complete my first 3 years of basic education. In 1976 we moved back to Venezuela where I completed my education.

Months before I entered college (1985), my parents encouraged me to study English as a second language an advice that I took and it has been great for my professional and personal live.

In 1991 I obtained my degree in electrical engineering and thanks to my profession I've had the opportunity to travel to many countries (Canada, EEUU, Spain, Italy, France, Germany, Colombia, Brazil, Mexico and Argentina). Those trips were great because I had the time to visit Museums ( El Prado, Louvre, The British Museum, Imperial war Museum, The Musée de l'Armée (Paris), Museo Naval (Spain), etc.) improving my knowledge of history.

My love for history started when I was a child living in Spain where in absence of TV my main source of entrainment was an Encyclopedia and my toy soldiers.

Through the years I've built my personal library at home and today I can say that I have more titles in world history than electrical engineering books.
Analytics
65,406 pageviews on this user's contributions