American Revolution Fundraiser
We are raising funds to create the American Revolution section of our free encyclopedia. Become a part of our educational mission and help us share this pivotal chapter in American democracy and world history with readers worldwide!
Review
| | |
| --- | --- |
| Rating: | |
| Title: | Stanley Lane-Poole 1st edit/1 print Saladin and the Fall of Jerusalem 2002 [Hardcover] Lane-Poole, Stanley [Hardcover] Lane-Poole, Stanley |
| Author: | Lane-Poole, Stanley |
| Audience: | General Public |
| Difficulty: | Medium |
| Publisher: | Generic |
| Published: | 2002 |
Poole's detailed account of the life and achievements of Saladin is surprisingly positive and portrays the desert Sultan's life with great admiration. The book is simple and loaded with information; it details every aspect of his life in an easy to understand and general manner. It is perfect for learning about the real man, stripped of his legendary status, and yet still impressive.
Chivalry, magnanimity, generosity, discipline, honor, conviction, faith, and genuine care for his subjects made Saladin highly famous even during his lifetime. Whatever gap was left, writers and scribes working under his patronage were quick to fill. While his character has been subject to widespread scrutiny throughout the centuries that followed, even his biggest critics must admit that the man was impressive by the standards of his time.
Stanely Lane Poole's Saladin and the Fall of Jerusalem is simple to read and very comprehensive, it details all the facts and events related to the Sultan's life. A reputed orientalist and archaeologist from Great Britain, Poole shows a great understanding of the Muslim culture and the teachings of Islam in all of his work and judges Saladin as a man, a human being, with a great level of fairness. He starts the story of Saladin in 1137 CE when his father escaped the clutches of his enemies and found refuge in the court of the Zengids. From there, the author takes his readers on a rollercoaster ride through a Muslim world torn apart by civil unrest and the Crusades and highlights the efforts of this man in bringing stability to his people and defeat to his enemies. As someone, who had barely known Saladin (the real Saladin) before reading this text, I appreciate the effort that Poole put into his work, and how he researched even the slightest details about his life and mission.
The account ends with the death of the Sultan, in 1193 CE, but leaves a lasting impact on the reader. I for one was impressed by the gripping narrative and the fairness of Poole's judgment, however, I should note that, at times, he did alienate the Crusaders, which seems a bit harsh. While some may object to this mistreatment of the Crusaders, it is important to understand that the text primarily concerns Saladin.
For the whole picture, I would recommend Harold Lamb's duology: The Crusades, which treats both sides equally, but for a detailed account of Saladin's life and struggle, Poole's work is my number one recommendation. Overall, a great read, enlightening, inspiring, and truly remarkable.
About the Reviewer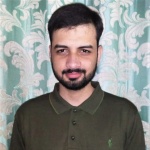 Muhammad is a biologist, history enthusiast, and freelance writer, he has been actively contributing to the Encyclopedia since 2019.
Cite This Work
APA Style
Khan, S. M. (2020, December 18). Saladin and the Fall of Jerusalem. World History Encyclopedia. Retrieved from https://www.worldhistory.org/review/237/saladin-and-the-fall-of-jerusalem/
Chicago Style
Khan, Syed Muhammad. "Saladin and the Fall of Jerusalem." World History Encyclopedia. Last modified December 18, 2020. https://www.worldhistory.org/review/237/saladin-and-the-fall-of-jerusalem/.